Like stories like this? You'll see every article as soon as it's published by reading the print edition of Grassroots Motorsports. Subscribe now.

Story by Scott R. Lear • Photos As Credited

It's easy to take modern automotive aerodynamics for granted, as most cars built in the past couple of decades have been shaped either in a wind tunnel or via computer simulation. Either way, the goal is the same: to cut through the air without too much fuss.
The benefits are many. Fuel economy goes up. The ride is quieter at speed. And in the case of anything even vaguely performance-oriented, carefully shaped undertrays, factory wings and other aero tricks work to negate or even overcome the unnerving sensation of lift that used to appear as a car approached triple-digit speeds.
It was not always thus. In the 1950s, the archetypical sports car–from the Porsche 550 and AC Ace to the Ferrari 250 TR and Jaguar D-Type–was an open-cockpit affair. No matter how low-slung or swoopy the bodywork of these beauties appeared to the human eye, however, parasitic turbulence was sapping horsepower at speed. By the early 1960s, with maximum velocities climbing and aero becoming more of a factor on the long straights of Le Mans and elsewhere, competitive evolution had begun shaping the future.
Although they stuck up higher than the open-top racers, aero-sculpted coupe designs were showing their legs on the flat-out bits, and everyone scrambled to come up with their own slippery hardtop. Carroll Shelby's once-potent Cobra was in need of a new profile to keep pace in international racing, and Peter Brock noodled up a solution. The team couldn't have been more fortunate: Brock's resulting Daytona Coupe design was capable of nearly 200 mph given enough road, and the Shelby went on to beat the Ferrari 250 GT for a World Sportscar GT class championship in 1965.
Nostalgia on Wheels
Swipe left to the new millennium, where the majority of modern GT racers are coupes or even sedans. The legendary roadsters from the '50s and '60s have become collectible unobtanium for the average weekend warrior, destined for museums instead of the paddock. To fill the gap, several companies have started selling kit cars inspired by the iconic Cobra. One of them, Factory Five Racing, decided to take a stab at a spec racing series to bring back some of that open-cockpit magic for drivers and fans alike.
The Factory Five Challenge Roadster of the early 2000s used the running bits from a Fox-body, 5.0-liter Mustang mated to a welded steel frame cloaked in fiberglass bodywork. It was affordable and fast, the FFR competitive field ballooned rapidly, and the series was a huge hit for the National Auto Sport Association.
Onto this stage entered John George, an aspiring racer looking for a way to get on track. "I've always watched racing on TV," explains John. "My dad got sick of it and he said, 'If you like this crap, go out and do it.'"
This was around 2001, and John decided that the Corvette was just the car for him. "They're fast, nice cars, but we looked at prices and were like, Whoa, wait a minute."
John's dad got the idea of building a car, pointing out that if you build it, you'll know how to fix it when it breaks. A bit of research led them to Factory Five Racing and NASA's Challenge series. "They tell you exactly what you need: brakes, suspension, engine, etcetera. You assemble it like a giant Lego kit and go race."
They bought the kit in November of 2003, and had it ready to race by July of 2005 after spending many spare hours learning how to build a car from scratch. "Then I needed to learn how to race," grins John. "I did the four-day Skip Barber school. They gave me a provisional race license, and I took that to NASA at Virginia International Raceway, where they were having the Factory Five Challenge nationals." (This was before NASA started hosting a unified national championship event.)
John found himself squarely in the middle of a Factory Five frenzy. "There were 32 cars," he laughs. "I qualified I don't know where, but I finished 10th. The brakes were all screwed-up because I had the wrong bracket in the back, but I was happier than anyone could be. It was pretty awesome. The next couple of events, I was slow, I didn't know what I was doing. It was comical."
Like so many racing newcomers, John also discovered the camaraderie that makes motorsport that much more addictive. "Jim [Schenck] and Dave [Riha] were really into racing, we hooked up, and I went to all the events."
John, who already had an I.T. background, jumped into data analysis, putting a Racepak G2X data logger into service. "Because it was such a close-knit community, we all shared data like crazy."
After a few years spent honing skills, pooling data to improve and racing against other FFR stalwarts, John was a regular on the podium. He joined Ed Boothman's Factory Five effort at the NASA 25 Hours of Thunderhill, and together they employed aerodynamic enhancements and other tweaks outside the spec FFR Challenge ruleset.
And after a few years of almost-there attempts, John won the FFR national championship at Mid-Ohio in 2012, after the FFR spec was changed to allow new cylinder heads that bumped the output of the 5.0 from 220 to 320 horses.
Changing With the Times
Despite the power bump, the class had fallen on hard times. The economy and other factors were having an impact on racing, and the once-robust FFR Challenge field was drying up. When the NASA Nationals came to VIR in 2015–the same site as John's 32-car debut experience with FFR–competition was sparse.
"Nobody showed up–we couldn't even get four cars for the class," laments John. "I didn't have local competition, so I decided, All right, the car kinda fits in Super Touring 2."
NASA bills their Super Touring classes as their "premiere open marque racing series." Grids attract modified exotics and high-output sports cars. Horsepower-to-weight ratios are used to place entrants in one of the four available classes, with Super Touring 2 being the second fastest group.
Another Factory Five racer, Pat McMahon, was running ST2 in John's region, so he made the switch. "I put on some Hoosier tires and won a couple of races, mostly out of chance," says John. He followed the same changes he'd made for Thunderhill, adding aero and maximizing the brakes, chassis and suspension.
Around this time the supply of old 5.0-liter Mustang engines was drying up and rebuilds were getting expensive, going for as much as $6000. After discussing his options with Jim at Factory Five, John decided to swap to a more modern Coyote 5.0-liter Ford V8 engine out of an F-150 pickup.
"They're dirt cheap, like $2000," John says of the newer V8. "There's millions of 'em if you pop one. It's got more torque and less horsepower, which is better for the ST2 rules. It's newer, so you can hook it up to a laptop and play with the tune. Corvettes were doing this crazy throttle-based rpm thing to modify their curves to be flat; I did the same thing and ended up winning a bunch of races."
Even with the new engine, during the 2016 NASA championships at Watkins Glen, John found himself in third chasing the field, particularly the Corvettes. Although the race leaders came together in the last lap and John sailed by to score a surprise win, he left the race feeling outgunned. "That whole weekend I was chasing them due to aero," he explains. "They had 5 mph on me everywhere, front and back straight. In a draft I could stay with 'em, by myself I couldn't."
History Repeating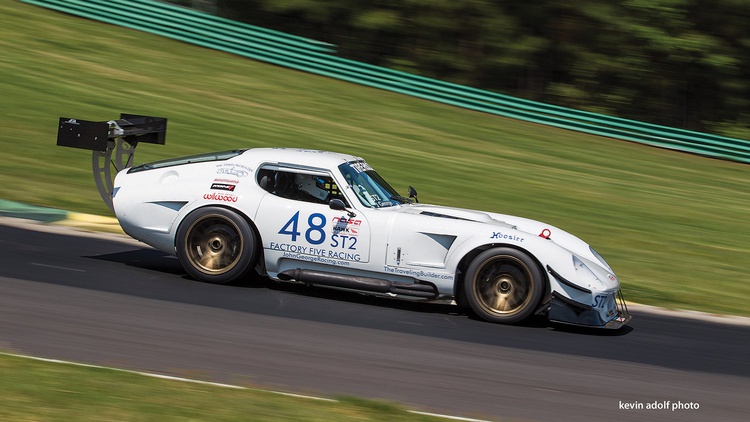 Sometimes, living in the future saves you a lot of the trouble when it comes to solving the problems of the past. Factory Five already offers an homage to the Daytona Coupe called the Type 65 Coupe. John couldn't help but laugh as he followed in Shelby's footsteps by simply picking up the phone.
John spoke with Jim Schenck at Factory Five and found that the Type 65 was being upgraded to Gen 3 specs, and they were in need of a few beta builders to assemble the first cars. John promised he would get the job done in a hurry, and on January 1 he received the first race frame kit from Factory Five. The goal was to swap the running gear from his FFR Challenge car to the Type 65 Coupe in time to go racing in March.
"There was no build manual because Jim didn't have it written yet," laughs John. He teamed up with Mark Dougherty of The Traveling Builder, a master fabricator who makes a living helping others assemble their kit cars. John took long weekends from work to travel the 6 hours to Mark's home in Pennsylvania so they could rush assembly on the Coupe.
"This is all Mark, his son Brendan, and sometimes Sean Lingle," says John, "Mark and Brendan knew what to do. I'm no slouch mechanically, but it went by so fast I don't even remember what was what." Just 25 work days later, John had a running coupe.
A Winner in any Era
The new Coupe was instantly quick. They unloaded at VIR in March and John was ecstatic to turn 2:00.3 in his second session, running on worn Hoosiers from his previous Nationals event.
His track record in the old car was a 2:05.3, but John admits that it's not an apples-to-apples comparison; that lap time was set with the old engine, small brakes, no aero and slower tires. However, the new car is faster. "I definitely picked up 5 mph," he says.
The Coupe provides a more stable chassis, too. "It's wicked stiff, and that's a good thing," notes John. "The whole chassis has such rigidity. The ability to change directions and go over bumps, and the adjustability is tremendous. Make a 1-degree camber change and you can instantly tell, and it shows up in the temperatures. It's easier to tune because it's so reliable and consistent."
You'd think the addition of a lid might cause claustrophobia, but it wasn't an issue for John. "You get used to it," he reports. "Jim added a bunch of bars that I thought would be intrusive, but I didn't notice it."
Some luck in timing and the rapid completion of the car meant he also scored some wind tunnel time with Factory Five and Snap-on. John's crew learned that the aero tricks they'd been using at the 25 Hours of Thunderhill were sound, while they could also project the front splitter even further–another 5 inches or so–without detriment. He also found that his old APR Performance GTC-300 wing was generating a lot of drag for the downforce, but the company's GT-1000 model delivered similar downforce even when trimmed almost completely out for minimal drag.
John encountered two issues during the shakedown period, but he points the blame squarely at himself. "I wanted to run massive Wilwood calipers," he says, "pads almost an inch thick–my goal is to do the 25 Hours and I don't want to change pads." He went with beefy six-piston calipers front and rear for ease of spares. "I noticed a crap-load more pad knockback than I've ever had, first in the front, then it was the rear. The final fix was full floating rotors front and rear, and now I'm really happy with it."
The second hiccup came just a couple of weeks before John joined us for our Tire Rack Ultimate Track Car Challenge at Virginia International Raceway. "The initial junkyard engine that was in my old Roadster, it was from a pickup in New Hampshire that had hit a pole dead center. It had a V shape in the bumper aimed right at the balancer. I figured it was 6 or 8 inches away," he explains. "No way it hit."
"But after a year at 7200 rpm," he continues, "the second race of the season, the crank broke at the balancer and blew up. Oh, crap."
The Coyote V8's abundance paid off, as John was able to source another engine from a junked F-150. He swapped engines in time to score seventh overall at the 2017 Ultimate Track Car Challenge, posting a best time of 1:58.985 around VIR.
John's swap from an iconic roadster body to an equally iconic coupe has paid off: "I think I'm on par with the Corvettes, which is a lot to say because they're very slippery to start with."
A SOLID UPGRADE: SWAPPING A ROADSTER FOR A COUPE
Jim Schenck, Director of Research & Development at Factory Five, is also an avid racer with many hours at the helm of FFR Challenge and other company racing projects. The Gen 3 Type 65 Coupe is the company's latest masterpiece.
"The Coupe was our oldest design," Jim explains. "All our other cars had either been designed more recently or gone through major overhauls up to that point." He notes that they applied lessons learned from more recent projects, including the 818, '33 Hot Rod and even their GTM Supercar, to the upgrade of the Type 65.
"The Coupe was also space challenged from both a seating position and an ingress/egress standpoint," he continues. "We had 15 years of feedback, plus lots of ideas of our own, and we decided it was time."
He notes that 15 years ago, their very first Type 65 prototype was so diminutive that none of the Factory Five team members could fit; this resulted in a second prototype that was 6 percent larger all around. For the Gen 3, in addition to exceeding their expectations for driver space, Jim proudly reports that the car became Factory Five's new flagship for chassis stiffness efficiency.
"Our initial goal was to dramatically increase chassis rigidity without adding any weight," he says. "In the end we would have been able to do that, however for a very small penalty we were able to make another major jump in stiffness. We ended up about 35 pounds heavier in the [Gen 3] chassis, including a swap from a 1½-inch roll cage to 1⅝."
He further explains that the flat floor and lower driving position have preserved the car's low center of gravity, and the addition of a second set of suspension mounting points for racing height means the whole car can be lowered without changing the suspension geometry from its street configuration.
"The Coupe won't have a dedicated series like the Challenge [Roadsters], but I do feel that it is better for us in terms of development at this point," he says. "We are running against some very strong benchmarks in the ST and Unlimited classes, and that effectively speeds up the development as you have to keep getting faster or you will be left behind."
Like stories like this? You'll see every article as soon as it's published by reading the print edition of Grassroots Motorsports. Subscribe now.
Comments
View comments on the GRM forums
You'll need to log in to post. Log in