This is mine. 1996 Volvo 850 Turbo, meaning it is a turbo but that's also the trim level. A little higher featured than the GLT models that had a turbo. $-- SOLD.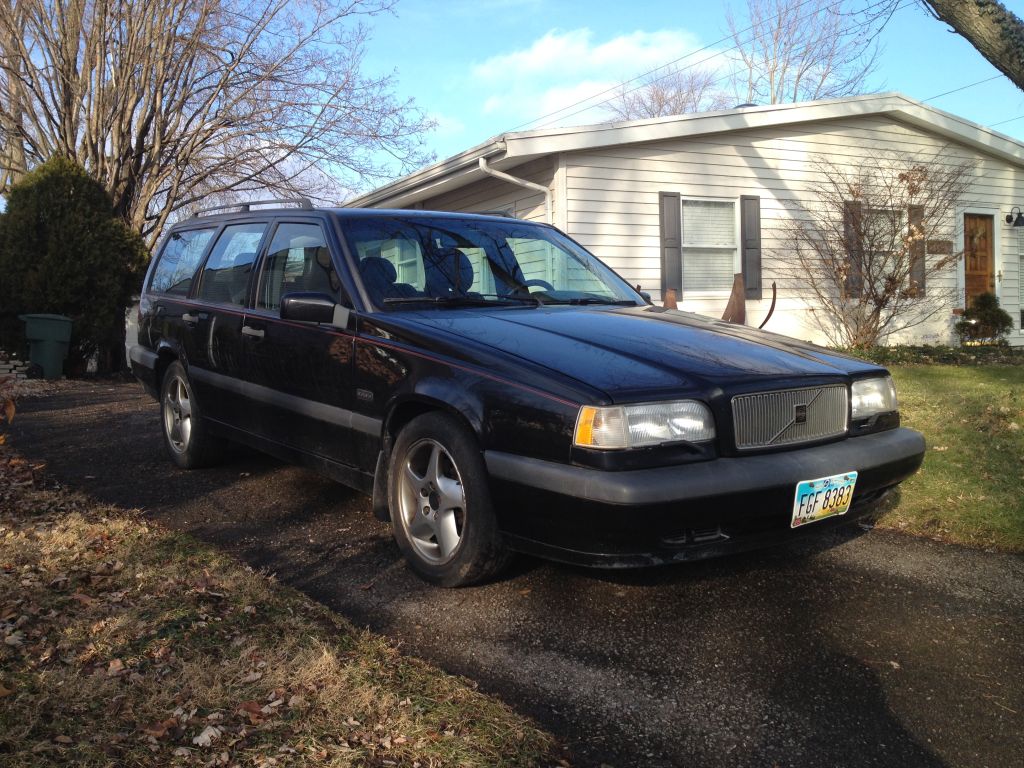 Unknown miles (odometer reads 131,872 but hasn't worked for years so it's undoubtedly much higher).
I bought this car from a friend, it was a bit neglected when I got it and I refurbished it to make it a nice daily driver. I've owned it for about 5 years.
The body is in excellent shape for the age and price. There are a couple small dents but no rust at all and no big dents. I spent some time replacing damaged bits like the etched tail lights and damaged/missing trim pieces. The paint is decent except for the roof which has peeling clearcoat. I always intended to paint a Swedish flag up there but never got around to it.
The interior is in nice shape. The driver's seat was torn up when I got it so I replaced the front seats with ones from a '99 that are in good shape. Some lines in the leather but no tears and they're quite presentable. The power driver's seat works great, the passenger side is manual, both seat heaters work great. Back seat is in good shape except where Volvo saw fit to have it hit the center console when it's folded up. There's a depression in the leather there. All power accessories work, the windows, locks, sunroof, mirrors, everything. Working A/C! Heat is good. Climate controls work. Stereo works, and I have the unlock code for when you disconnect power to work on it.
The engine runs well but uses some oil. I believe it's from the turbo seals. Since I've owned the car, I've replaced the PCV system, plugs, wires, turbo boots (used FCP silicone boots), and more that I'm sure I'm forgetting. It could probably use a timing belt, I have no idea how old the one on there is.
The suspension is great; I replaced basically everything in it since buying the car. That is, shock and strut mounts, spring seats, shocks (used Bilstein Touring shocks), control arms, ball joints, bushings, both front axles, front wheel bearings, all four brake rotors and pads, etc. The only thing I didn't get around to doing is the rear thrust bushings, and I have those on hand and they go with the car. The ride is great, a little firm but very controlled from the Bilsteins.
It does have the typical old Volvo rattles. There's just too much hard plastic and it's all been removed and reinstalled too many times. It's not bad but when you're used to Lexus level of rattles it seems comical at times. There were a lot of missing screws when I got it and I've replaced a bunch of them but I'm sure some are still missing.
The car needs tires badly. I've been keeping an eye out for a used set for a while now but just haven't found anything I liked and didn't plan on keeping the car long enough to justify new ones. The front tires are completely bald on the outside edges. One wheel is bent at the rim (holds air though) so you'll want to replace at least that one. Coupled with that you'll want an alignment so you don't wear out your new tires.
To sum up:
-great running and driving car
-reliable and looks good, not embarrassing to be seen in
-needs tires badly
-should do the timing belt
-could probably use a turbo or turbo rebuild
More pictures: