1998 Dodge Neon
216K miles
$2000 Firm
Car is located in southwest Ohio just a little east of Cincinnati.
Due to a new project, the time has come for me to sell my Neon rallycross car. I've been racing this for several years, and upgrading it, including a 2.4 swap and a Quaife helical limited slip. Its been a competitive car, including winning the Modified Front class for WOR and OVR in 2016. Here's the build thread: Neon Rallycrosser. I built it to be sturdy, easy to drive, and reliable, and it has served me well. If I had more space, I'd probably keep it, but I want to work on getting the Beetle ready for the next season. Despite being an Ohio car, it is very solid - very little rust, mostly just light surface rust on spots where the paint has been scratched. I think it was originally a Virginia car, and since I bought it, it has not been driven in the winter. Would make a great rallycross car for someone, or with a little suspension work, I assume it would be good for autocross or trackdays.
Engine:
-2.4L swap with 18xK miles
-Mopar ECU
-24 lb/hr injectors
-2g Neon fuel pressure regulator
-disconnected balance shafts
-underdrive pulley
-urethane filled engine mounts
-ported intake manifold
Transmission:
-Quaife limited slip differential
-Maddog short throw shifter
-Booger bushings
Suspension/Steering:
-Mopar SRT-4 lowering springs (raises a 1st gen Neon a bit)
-Neon ACR 16:1 steering rack
-polyurethane bushings in front lower control arms
-Neon RT rear sway bar
Wheels/Tires:
15" 2g Neon alloy wheels with General Gmax AS-03 195/55R15 tires
14" 1g Neon alloy wheels with Dmack DMG3 175/70R14 rally tires
Other:
-Mishimoto radiator
-battery relocated to trunk in a vented battery box
-aluminum skidplate
-Autometer oil pressure and voltage gauges
-Scangauge-e connected to ODB port to use as a water temp gauge
-Corbeau Forza driver's seat
Spares:
-alloy and steel wheels
-stock radiator
-stock hood
-two cylinder heads
-header
-stock springs
-used axles
-stock driver's seat
-lots of other stuff
Major issues right now:
-CEL is on, P1390, Timing belt skipped 1 tooth or more. It's a bogus code, as I've checked and the belt is good. Picture below. It went multiple years on the Mopar ECU and just started throwing this code this year, not sure why. Maybe due to a 2.4, when the computer is expecting a 2.0, and its different cam profiles. I should have a set of 2.0 cams in the parts stash from my old engine.

-Occasional idle surge. It's had this since the swap, I've just lived with it.
-Squeaks, rattles, and clunks. Suspension could definitely afford to be gone through and refreshed, most likely struts and strut tops.
More pics: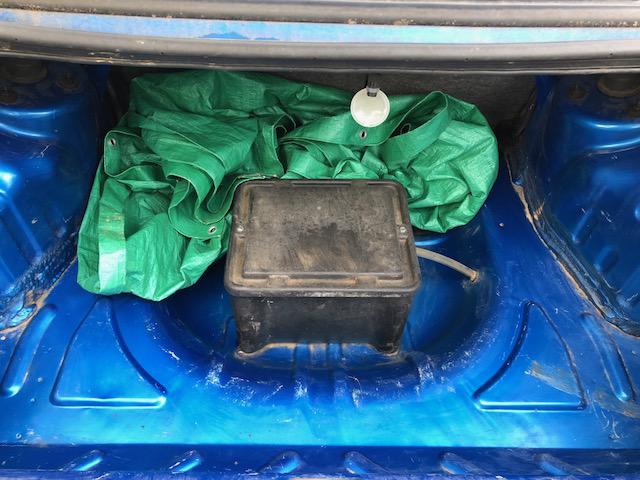 Let me know if you're interested or have any more questions. If you PM me and don't hear back for a while, it may be because I have a yahoo account tied to my GRM id, you can try to email me at ohiotim at hotmail.