Aug. 26, 2010 8:46 a.m.
Our 1978 Datsun 280-Z project has a good running 1969 Chevrolet 350 V8 with a 700R4 4-speed automatic. It has a Holley 4160 carb on top of an aluminum intake, Mallory electronic distributor, custom headers and a recent starter. The body looks good with 15 inch 1985 300ZX alloy wheels and great tires. The black interior has a dash cap and 300ZX seats. Give Daiv a call in Three Rivers, MI (home) 269-279-5613 or work (269) 273-9127.. or email corndog64@yahoo.com
Aug. 29, 2010 1:31 p.m.
More pics...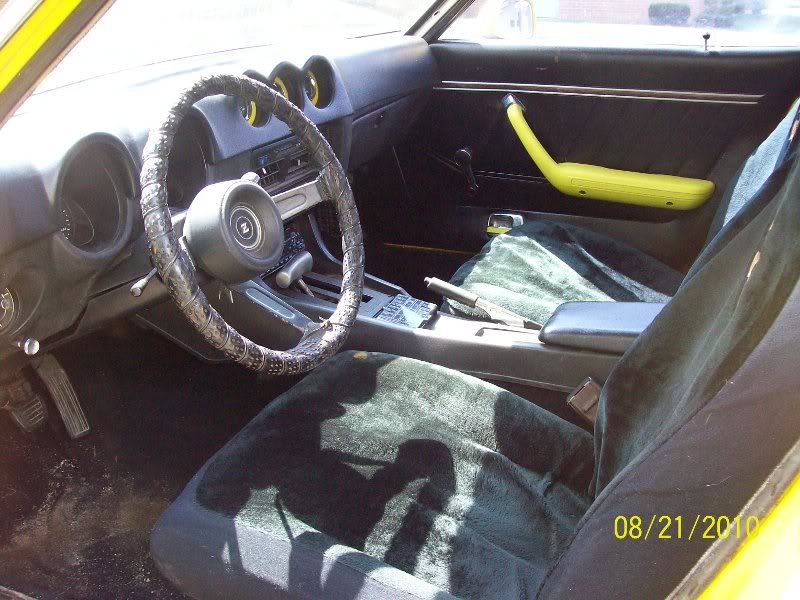 Aug. 29, 2010 3:23 p.m.
Your pictures don't show up unless we're signed into the forum they came from.
Aug. 29, 2010 9:58 p.m.
Yea, Id really like to see this car, please post pics or email to blackhatcontracting@yahoo.com
thanks
Aug. 30, 2010 12:45 p.m.
In reply to dorri732: Pictures fixed! plus here's the engine compartment:
Sept. 19, 2010 2:36 p.m.
The 'Z is still in the driveway...
Sept. 19, 2010 4:04 p.m.
I will get a hold of you later in the week Daiv, I may know someone who may want this.
John
Sept. 19, 2010 4:22 p.m.
Trade a 90 2-up Skidoo and an 84 Rm250 project bike? I'm up in Grand Rapids
Sept. 20, 2010 6:25 p.m.
Cancel my previous statement Daiv, I talked to the guy and he is buying a swapped 240z tonight.
John
Sept. 20, 2010 7:22 p.m.
Does it have heat and a working defroster? A few inquiring minds in CT want to know
Sept. 20, 2010 8:12 p.m.
Too far away. Google maps says 721 miles, 12 hours 0 minutes...
Thank goodness.
You'll need to log in to post.
Also on Grassroots Motorsports
Birthdays