Sept. 16, 2009 10:58 p.m.
I really do hate feeler threads so I'm a bit reluctant to post this but...would there be any interest in my '87 325is?
I need to eliminate a project and free up some cash, space, and time.
It's still a bit of a project, a sturdy weekend of work will have it road worthy for sure.
It has a new salvage yard oil pan and oil cooler (the p.o. put a hole in the pan with much help from the oil cooler and a/c compressor.)

Ireland Engineering poly motor mounts.

New struts in the rear.

New pads and rotors.

BavAuto springs.

Lamin-x covers on the high beams in yellow.

Aftermarket air dam, I don't know who makes it.

Aftermarket sway bars.

17" Koing wheels, (I don't know the model, I think they are Imagines) painted black with polish lip, they're a bit beat up.

The throwout bearing is making some noise, it's on my list to replace.

The headliner is gone, sunroof doesn't work, the on board "your tail lights are out" box is gone, no radio or speakers.

Needs alignment.
Since I've owned it, I've replaced the oil pan, oil cooler, motor mounts, removed the demonic Viper 300+ alarm, painted the wheels, added the lamin-x, new spark plugs...uh, I'm sure other things.
I can't think of much else right now, ask me questions and I'll answer. I've owned it for a few months, clean title in my name in hand. Never road registered by me.
I got the car for free, basically, so I'm not trying to get a whole lot for it, but I do have some cash and time into fixing it. Also I'll consider trades for non-projects or drivable projects, honestly a OBD-1 Golf with A/C would be perfect. Depending on what it is, I could possibly throw some cash at it too.
Pictures
Thems the only pictures I have on this computer (they aren't actually on this computer they're on the Readers' Rides page). I can get more if anyone needs them or would like them.
Oh, I'm in central North Carolina, you'll have to pick up, I have no way to deliver and it's not registered.
Let me know! Especially before I realise selling is a daft idea and change my mind.
Sept. 17, 2009 12:20 a.m.
More pics and price to lesburchett aaat yahoo daht com?
-Les
Sept. 17, 2009 12:45 a.m.
Les, you'll get that email tomorrow evening. Can't find the pictures so I'll have to take some more.
Sept. 17, 2009 1:12 a.m.
No biggie, but am interested! I have wanted one of these for a loooooong time!
-Les
Sept. 17, 2009 9:03 a.m.
I remembered a few details since my initial post, the car has the typical E30 things like, non-op odo, cracked dash cover, and the shifter needs to be rebuilt.
I don't have a set price, I'm just considering offers for money or trades. I'd trade it for a Miata hardtop, I'd think.
Sept. 17, 2009 9:13 a.m.
Here are some more pictures I took with my phone on the way out the door this morning. The ground is wet, but the car isn't that's the actual shine of the finish. There is a bit of paint chipping on the air dam where the P.O. curbed it. I also included the dent on the driver's fender, otherwise the body is very straight.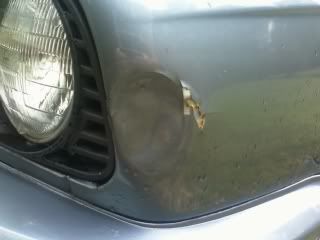 Sept. 17, 2009 1:56 p.m.
Interested. Fairly local and could pick up. Tried to send you a message via the board, but it bounced.
Thanks!
Sept. 17, 2009 2:39 p.m.
Any idea how much you'd want?
Sept. 17, 2009 6:58 p.m.
I really don't know what I'd want for it. I was thinking maybe around $1500, but I'm flexible. I was hoping to get some offers so I'd better know what to ask.
I keep remembering things it has:
Braided stainless brake lines on all four corners.

Momo shift knob, boot, and pedal covers. Their actual Momo items with Italy and P/Ns stamped on them (if that didn't just seal the deal, I don't know what will )

PowerAdder intake kit.

Ansa exhaust

Basically the previous owner went through BavAuto and got one of everything.

About a month before I got it (and the guy put it on the curb) the guy had $1700 in work done. I've misplaced the receipt, I think it's in the car, but it was basically: new rear Bilsteins, new half shafts, new parking brake cables, new rotors and pads at all corners.

I have, new in the box, a timing belt and valve cover gasket for it.
Sept. 17, 2009 8:02 p.m.
I blew the motor in my track car last week and am interested in picking this up to take its place for HPDEs until I can afford to rebuild my engine.
I really don't care what it looks like as long as the suspension and engine are all set. I am in Charlotte and have a trailer to come pick it up. putnamjohn@hotmail.com
Sept. 17, 2009 9:01 p.m.
Emails sent to all that requested one.
You'll need to log in to post.
Also on Grassroots Motorsports
Birthdays