Oct. 18, 2012 6:55 a.m.
Selling my '83 RX-7 GSL Track Car. This could make a very nice challenge car, and a lot of the work is already done. Looking for $2,000 OBO picked up in Beckley, WV. More info and pics can be found here: http://www.rx7club.com/1st-generation-rx-7-1979-1985-vehicles-109/1983-rx-7-gsl-track-prepared-1012475/ Email: jason.g.franklin@gmail.com Phone: 304 894 2507
Oct. 18, 2012 7:24 a.m.
I am not allowed to view the thread on RX7 club unless I have 5 posts.
Oct. 18, 2012 7:39 a.m.
Year: 1950 Make: Mazda Model: RX-7 Price: $2500 Mileage: 150000 Color: Brown Private or Dealer Listing: Private Listing Location (US State/Canada/Int): WV
FOR SALE 1983 MAZDA RX-7 GSL
I'm selling my '83 RX-7 track car that could be a good candidate for HPDE/Chump/GRM Challenge, ETC. Car is very light and handles well – Lots of good parts on the car – Extensive spares package - Many stock parts included as well Motor and transmission have been refreshed. Have receipts for all the parts associated in the 12A build.
Highlights and Parts:
Racing Beat Springs Tokico Blue Struts and Shocks Racing Beat Swaybar Rebuilt & Ported 12A Rotary Short Shifter and Shift Knob MOMO Steering Wheel MOMO Hub Adapter MOMO Pedals Modified Stock Carburetor Rats Nest fully removed Velocity Stack Intake & Heat Shield Racing Beat Header Racing Beat Full Exhaust System Autopower Rollbar G-Force Harnesses (D&P) MOMO Race Seats (D&P) Custom Seat Brackets (D&P) Extensive Weight Reduction Racing Plug Wires New NGK Plugs Bosch Distributor Cap & Rotor Aftermarket Tachometer Hawk Race Pads Motul RBF600 Brake Fluid Limited Slip Differential Fresh Fluids Two Sets of Wheels & RA-1 Tires Heater Core Delete
Spares Package:
Set of wheels with RA-1s Hood Front Fenders (both in GC) Ignition Wires Ignition Parts Brake Pads Brake Rotors Limited Slip Differential Wiring Manuals Fluids All Removed Parts Dash
I'm selling the car for $2500 firm. I believe that is a fair price considering the parts on the car and the spares. Contact me at 304-894-2507 or jason.g.franklin@gmail.com. Car is located in Beckley, WV, but can be delivered.
Oct. 18, 2012 7:53 a.m.
Beckley, VW is a great drive BTW. I pass through there all the time because it is so much better than the slog on the interstate and 95.
Oct. 18, 2012 8:17 a.m.
IT7 legal? Please post pics here so we can see!
Oct. 18, 2012 2:07 p.m.
Oct. 18, 2012 7:44 p.m.
damnit. again. There better be things like this on the board when I have money, or I'm going to throw a tantrum
Oct. 18, 2012 8:43 p.m.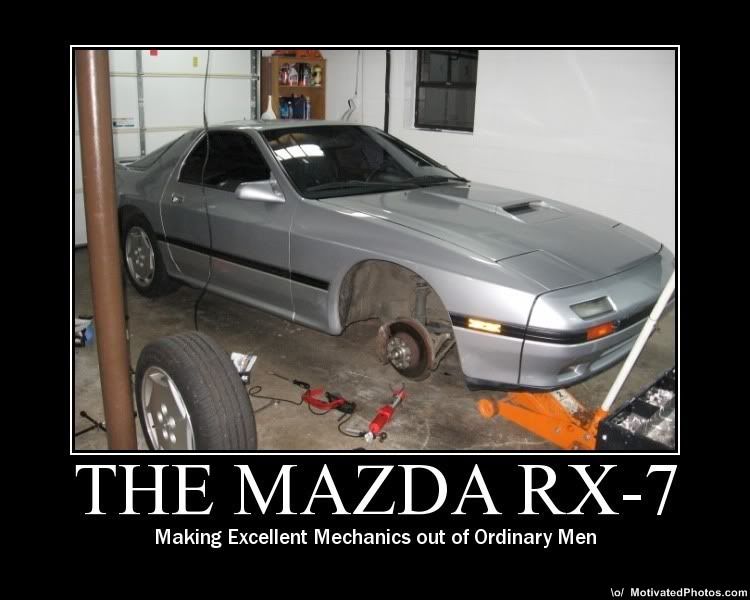 Oct. 18, 2012 10:18 p.m.
You've used that joke already. It wasn't funny the first time either.
Oct. 18, 2012 10:45 p.m.
I thought it was pretty funny..and I love me some RX7.
You'll need to log in to post.
Also on Grassroots Motorsports
Birthdays