Preface: Sorry I suck at formatting on this forum.
1991 Nissan Sentra SE-R.
Perfect candidate for LeMons or BaBe Rally (or both!).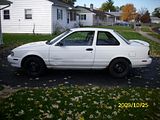 more pics:
http://s228.photobucket.com/albums/ee142/cghstang/SE-R/
Not in good cosmetic condition, but has been a reliable daily driver for me for the last year and a half.
Stock alloys spray painted black will come with car, not snow tires on steelies as shown in recent pictures.
The Good:
SR20 runs great.
Regular oil changes with Castrol high mileage.
Recently replaced:
both cv axles (advance auto, lifetime warranty)
entire exhaust system-megan racing stainless cat-back plus used flex pipe and oem cat
radiator and hoses
passenger side motor mount
plugs/wires/cap/rotor
Front sway bar bushings
New driver's rear hub/bearing assembly + junkyard strut.
New clutch cable included: kept in car for last year just in case.
No sunroof
Box of misc parts including nissport egr block-off plates, few misc interior trim pieces, extra jy passenger rear strut and original driver's rear hub/bearing assembly
Averaged 29.3 mpg over last 17k miles including many 3-7 hour trips.
The Bad:
250k miles on chassis, engine history unknown. Water pump and alternator appeared new when I purchased the car with 233k on the odometer.
Tachometer usually does not work
OEM viscous LSD is useless as far as I can tell
No headliner or trunk carpeting-interior and trunk are pretty dusty/dirty in general
Rust on rocker panels/door frames
Both doors are sagging: extra hinges included
Missing some interior trim
Dent on driver door
AC does not blow cold
Manual locks/windows- both window crank handles broken
New serpentine belt going on this week
Transaxle has recently started marking its territory, probably from Driver side axle seal, should be an easy fix
The Ugly:
Brakes have leaked from Master Cylinder since I picked some goop off that the PO had smeared on the MC/rear line junction. I've been topping of the reservoir with Valvoline Synthetic fluid every few days for over a year with no problems. New-in-box Tokico master cylinder included with car.
Car available after Nov. 7
Located in Dayton-ish, OH.
Also listed locally on Craigslist
$600 obo ($500 car, $100 master cylinder)