Dec. 17, 2012 2:07 p.m.
Time to clean out the garage a little, all prices are negotiable and shipping is extra/pickup can be arranged (PM me for more info/questions, etc.):
Weltmeister 924/944 lowering springs approximately 220lb/in rate. Looks like the dead coils have been cut off. $50 obo
Here's how they looked on my 924 when I picked it up: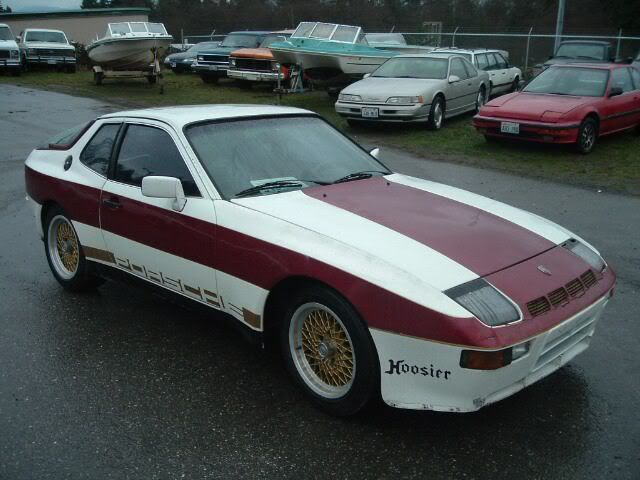 Rode fairly well with the KYB GR-2's and HUGE Weltmeister sway bar and 16" wheels.
Skunk2 2.5" springs from a Honda coil-over kit ($50/pair obo):
0700.2.50.006 = 336 lb/in x 6"
0700.2.50.008 = 448 lb/in x 7.5"
Advanced Racing Suspension shocks ($50 obo) 13.5" compressed, 18.5" extended.
Brand new 5x130mm to 5x120mm 1" thick bolt pattern adapters. ($75/pr. obo) Never used these as they were too thick for the intended use.
17x7 ET 35 "G.Z. Superspeed" dual-pattern (5x100/5x114) wheels. $200 obo (tires not included)
Porsche 924/944 taillight filler plate (lights up using license plate lights) $20 obo
1987 Shelby CSX "shelby signature" steering wheel and adapter hub. $175 obo
Dec. 17, 2012 2:34 p.m.
Are the shocks adjustable? Compressed/extended lengths? Do you only have 2?
Dec. 17, 2012 2:47 p.m.
I only have the two. Wanted to use them on my 924, but they were a little too long.
The shocks are adjustable (there's an adjustment built into the rod end next to the spring cup, also they can be pressurized via the schrader valve on the end).
I'll get the compressed and extended length tonight.
I'll try to get clearer information on the part numbers scratched into the tops tonight as well since the numbers don't seem to match what is here:
http://www.advancedracingsusp.com/index.html
Though they look like 2000 series shocks.
Dec. 20, 2012 9:04 a.m.
The shocks are 13.5" compressed and 18.5" extended.
Dec. 23, 2012 7:27 p.m.
Do you know if the steering wheel and adapter will fit a 90 shadow with tilt wheel and air bag? Thanks!
You'll need to log in to post.
Also on Grassroots Motorsports
Birthdays