So im a token new guy around here but i really enjoy the budget builds and would like to keep a log of the slow process of building something again. Long story short is i had kids(twins) and got laid off so i sold the race car/toys. Fast forward five years and i buy an 89 mustang notch 4cyl/auto car as a base to start with. Car was rougher then it looked online and i ended up buying it running for 400 bucks but ever body panel on it was dented. A few weeks later i seen this wagon sitting at a little dealership ive bought beaters from in the past so i stop and ask about it. Tell my wife about it and start debating buying it. Well last year on my birthday i came home and the wagon was parked out front. turns out my wife thought it would make a fun family cruiser!
first day home
Well it blew a brakeline on the drive home for her and the interior smelled horrible but it was a one owner car with 108k and she managed to pick it up for 200 less then the guy told me!. purchase price was a grand total of 800 bucks and the original manual, build sheet, and other dealership crap was included.
spent 2 weeks like this
Ended up with new brake hardware, lines, pads etc just to get it back to road worthy because the system was so old and dirty i replaced everything to make it safe to haul kids.
Next project was removing the nasty interior to get rid of the mothball smell and find out if the car was as solid as it appeared.
car was ordered with the optional rear carpet, ran into a slight dissapointment at this point. Most of the driver side floorpan peeled up with the carpet! being a native ohio car i wasnt horribly suprised but the next step was patching it.
is what the floor looked like. After this it was just a few small things to get it ready to drive, including exhaust, temp and oil pressure gauges and my leftover 5 inch tach(ricey i know)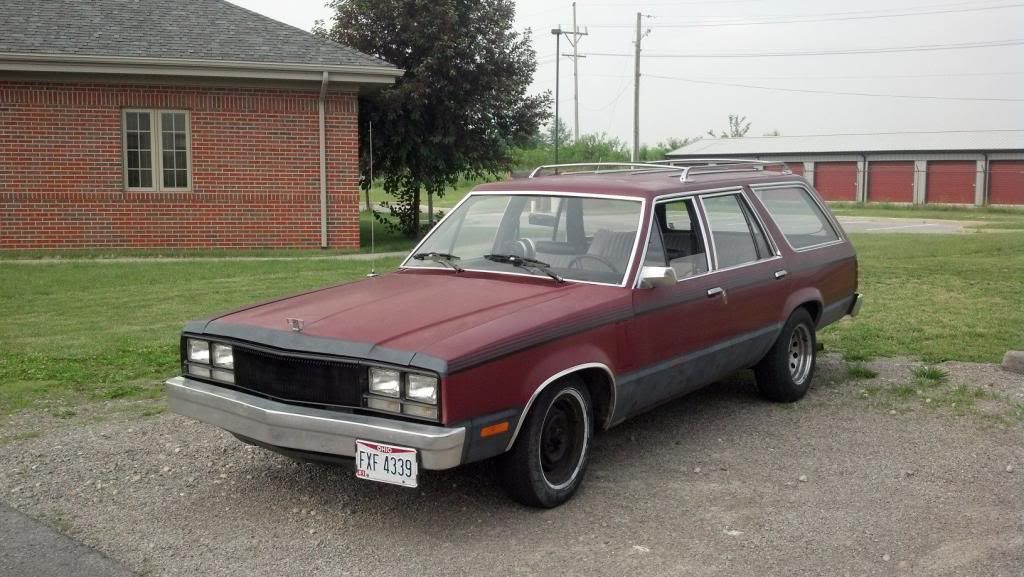 is how i drove it last summer, life got in the way of the engine swap this winter so i rolled it back out with the 200 and threw a new power steering pump on it and removed the spring helpers from the rear. My boss is a bodyman and has talked me into getting this ready for paint over the summer as funding allows. aside from a small rocker dent and a dent in the fender lip from someones door its just sanding work. Car will hopefully be back on the steelies in the rear soon. just have to get the 37x8.5 mud terrains i used as snow tires on the mustang dismounted and new tires mounted. Still not 100% sure what engine/trans it will end up with but being 2.5hrs from the nearest dragstrip has me considering actually trying to make this thing turn and try autocross!
is how it currently sits, i do have a diffrent DD but most of the summer i drive the wagon daily!