So, since I am bored and the race season starts ramping up next week, I thought I'd do my budget build thread for my tow truck
Many people feel the need to own a $50k diesel pickup to tow around 5000lbs of trailer and load, but I feel differently about the subject.
The purpose of this build is to highlight how, through the installation of appropriate parts and managing your load correctly, a 1/2 ton gas pickup can be a perfectly acceptable tow vehicle. I will have testing to back it up, as the truck will see 40,000kms of towing across Canada from next week until the end of the 2013 rally season
So, where to begin? As I posted elsewhere (see this thread for a discussion on TORQUES
) you can see the start of my machinations. But, just to take off from the beginning...
This is my 1993 GMC K1500:
It was free from a family friend. When I got it, it had 273,000kms on it (170k miles) and a blown transmission. My father knows a guy near where I live that has done a transfer case rebuild and front diff rebuild in his 2004 GMC k1500, so off the truck went to Craig. For $1500, he dropped the tranny, fixed everything with better than factory stuff (tranny is setup for towing now, firmer shifts, more clutch packs, etc), and reinstalled it. He charged me an extra $200 to install a tranny cooler, which is obviously more than it'd cost me, but hey, he gave me a screaming deal and I'm not the one covered in ATF now am I?
So, then what? Well, besides doing an oil change with Shell Rotella T6 full synthetic 5w40 diesel oil (my favourite oil ever because of it's high zinc/phosphorous content and inexpense price when on sale. Also ranks highly on BITOG), I added the biggest battery to it I possibly could for the cheapest I possibly could. $79 for a 770CCA battery? With two year no questions asked free replacement? Awww yea
The truck then sat for a while (moved some furniture), as I had written off the Talon, so there was no rally car to move around.
Fast forward to the beginning of September, and we hauled the new rally car back:
The truck handled it quite well. The trailer was obviously loaded improperly, a UHaul puts way too much of the weight on the tongue of the trailer, and doesn't allow you to adjust the position of the vehicle. That's the way she goes sometimes though. Towing 5500lbs down the highway at 105km/h, I got about 15L/100kms (aka 15.6USMPG). Not too shabby eh? That was mostly flat land driving though with some rolling hills. The nice thing about the older pickups (compared to the small bore new ones) is that they have tons of torques down low (300lb/ft @ 2800rpm). The torque converter would stay locked in 4th even when presented with a slight incline. It took an actual hill to get it to kick out (locked in 3rd).
So, where does that leave us? Well, I purchased this today:
20' long and only about 2000 pounds
All for the low price of $2700 all in!
Now, remember how I mentioned I'd be towing 40,000kms next year with this truck? 16,000 of those kms will be in the middle of winter
So, what are possibly the best winter LT (load range E) tires were purchased:
245/75R16 General Altimax Arctic tires. These, combined with the 4x4 and chains should make the truck unpossible to stop. I ALMOST ordered them with studs, but at the last minute I had an epiphany: STUDS AREN'T ALLOWED IN ALL PROVINCES
That would have been a long, cold night pulling studs out of tires.
You may be wondering about the suspension but FEAR NOT! I have just what the doctor ordered. The truck has replacement bilstein HD's on it in good shape, so good to go there. Being able to stiffen the truck at will though sure would be nice...
Ordered these bad boys up on Amazon.com (actually, I ordered a billion things on Amazon for the coming race season/tow truck, but I digress). I only want them for when I am at the maximum capacity of the truck (7000 pounds of trailer, 500lbs in the truck), keeping a truck level is important (obviously) for a number of reasons such as tire wear, headlight aiming, and steering/braking performance.
Speaking of braking performance, that's probably an important part of the towing equation eh?
Canadian Tire had an awesome sale on brake components, high quality ATE rotors and pads for 50% off. Who am I to pass on such a good deal?! I will have a review of these after the trip to Olympia, Washington on Sept 21 for the Olympus Rally.
And finally, lights. Glorious, glorious lights! GM pickups of this era have decent lighting, but the lenses tend to fog over really bad. I was thinking about busting out the wetsandpaper and some polish, but then stumbled across these:
While ricey, they were $77 shipped. Combine those with new 100w bulbs, and I think we'll be in business for light.
We're getting pretty close to rounding out this high performance towing package, but while we've taken care of the truck itself, what about the occupants of the truck?
The 4th gen Chevy pickup is (IMO) one of the comfiest riding trucks around, even in Z71 offroad guise. However, being a 1993 truck, some options like, oh I don't know, a bluetooth equipped mp3/cd deck with iphone controls were missing. The worn out speakers also had to go. So, in goes this:
and these: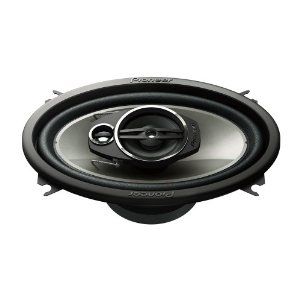 I've had really good luck with Pioneer's products. Decent sound quality for a decent price. The speakers were chosen because they fit in the factory locations without modifications required.
So whats next? Everybody always talks about gas mileage. Having done the math, if I gained 50kms per tank of fuel, that would only be around $700 worth of fuel savings over the course of 40,000kms
Since I have recognized this, I came to the conclusion that I basically have $700 to work with in improving the efficiency and bottom end torque on the truck. To that end, sometime this winter (preferably before the mountains of Big White are tackled), I'll be installing a comp-cams top end kit onto my truck. New cam, valvesprings, and double roller timing chain/sprocket. I am fairly certain that this will be BY FAR the biggest torque gain the truck will see. At $400, it better be. With only $300 left in the budget, I'll then replace the factory crossover pipe (super restrictive) and that will leave JUST enough money in the budget for a tune to accommodate the camshaft.
By that point, I hope the truck is ready to rock completely. For summer tires, I'll be running Michelin LTX M/S2. A truck tire that is geared towards highway miles, it is smooth riding and lasts the longest out of virtually any truck tire on the road. People see 60k+ miles out of them while towing! I will probably go for an oddball size (225/75R16) as to help get the cruising rpm in locked OD up from around 1750 to 1950 (I figure the RPM differential is worth it if the truck holds 4th locked more often vs kicking into 3rd all of the time). My truck is a rarity, as it came equipped with 3.73's instead of 4.10's. Of course, this helps me get awesome mpg while towing on flat land!
So, stay tuned for a shenanigan filled adventure next week, where I go from Edmonton to Chilliwack, BC, pick up my trailer, go down to Olympia WA, crew at the Olympus Rally, drive to Corvallis OR Sunday evening, turn around and sleep in Portland for the evening, and then head back to Edmonton through the Montana/H89 crossing... oh, did I mention the 1700L in race fuel I'll be carrying?
That's 3000 pounds of fuel, 2000 pound trailer, and probably a couple hundred pounds in stuff we've ordered down there (plus 400 pounds of Jeff and I). It should shake the truck down nicely, as we are avoiding the nastiness that is the TransCanada highway through the Rockies, but still going through the mountains.
Edit- Guess I should put down the monies invested eh?
Transmission + cooler = $1700
Tires = $700
Airbag Kit = $250
Battery = $80
brakes = $170
headlights = $100 (with bulbs)
all stereo equipment = $200 (deck, install kit, 4 speakers)
So far, we are up to $3200 for a fine truck. Yes, it is rusty, but the frame is good and that is all that matters. I have to MAKE it to the east coast, I don't have to look good while doing it.
$5 to $6k would get me into a newer truck at a similiar mileage, however, then I wouldn't know how the truck was treated all of it's prior life (75% highway mileage, 40 miles everyday). Our family friend also ran Amsoil synthetic and filters on it, so you know everything is in peachy keen shape. As with everything, as soon as you consider buying a used vehicle, some maintenance (such as tires) will be required. So, if you were to take out the consumables, I'd be pretty close to $2k still. Not so bad eh? Add another $700 for the torque upgrades, and this truck is sitting pretty (figuratively, not relatively
).