In the past, we've stayed pretty quiet about what we're building for the Challenge, but as I'm a lazy so-and-so, and always forget to put together a build thread after the big dance, here she goes - The $2009(?) Rusteevuh:
Making the journey back from the $2008 Challenge, sleep deprived and livers soaked in whiskey, we decided against bringing something "pretty" in 2009. All the cleaning and anal-izing on the soupRturd damn near killed us both, and "clean and pretty" really isn't our M.O. Anway, "Plan A" was the "Donk-ey Hong." Wayne had an 80 - something $100 carb'd civic in the yard collecting rust. Picture semi-truck wheels, the outside of the car covered in brown, monkey-esque fur, home-made hydraulics to "make it hop, y0," and a big molded baboon ass that shoots flames.
I honestly can't remember why we scrapped this plan, as it sounds way cool now, and would've been perfect for the "caveman class," but c'est la vie.
Having an unhealthy obses...er...affinity for the Haas crew's '49, we started talking "rat-rod." This would, in theory, keep us from having to go too nuts getting the car all cleaned up and pretty for the concours. And hell, flat black is apparently the way to go if you want to win the concours, right?
(I joke, I keeeed.)
Sticking with our philosophy of "use whatever's, cheap, light, and already in our possession" when selecting a platform, Wayne mentioned he had a Festiva that he had picked up for our buddy Kevin Boswell a couple years back. At less than 2000 lbs., and with a $100 purchase price (the 'old price') from the towing yard across the street from Wayne's place, it was a no-brainer.
We immediately called Kevin (who was towing his Challenge Tracer in front of us,) as he's familiar with all the Ford/Mazda recipes. Upon learning that a 1.8L BP motor would "fit," and with Kevin's new-found ability to make his own turbo manifolds, not to mention put together a Megasquirt, we had a plan.
As usual, we had a few months of "down time" after the Challenge, but Wayne kept busy scouring insurance auctions for a BP-powered somethingeruther. He eventually found a 93(?) Escort GT, running, complete with a key! A couple more months had passed when I received a phone call...at 10PM...on a Wednesday:
W: "Hey, I'm comin' over." (Wayne lives an hour and a half away.)
Me: "Um...okay? What's the occasion?"
W: "Boss is in town. Told me to clean all my sh*t out of the yard. I'm bringing you an Escort."
Me: "Oh. Um. Where are you?"
W: "I'm pulling into your neighborhood. Hey! I've got even better news! I'm bringing you a Festiva this weekend!"
Much to my wife's chagrine, we were now the proud owners of yet another pile of E36 M3 that takes up space in the driveway.
From "the morning after:"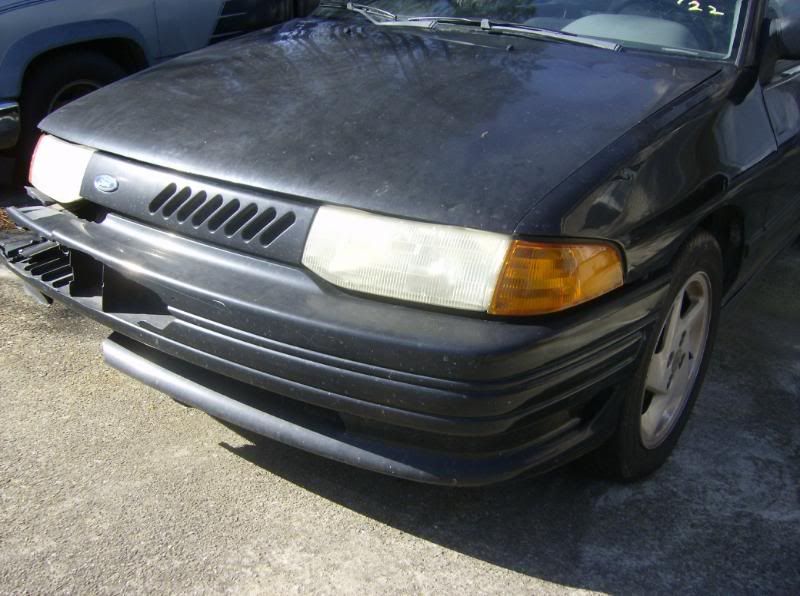 Thus, it was "on." We rallied the troops (Tommy & Kevin) for "hong day." Work commenced quickly on Saturday. As to loosely adhere to the "One in, one out" rule to keep mamma happy, I wanted everything we needed off the car before Wayne arrived with the Festiva, so that I could send him home with a pile of Escort.