Instead of posting little bits and pieces all over various threads here I thought perhaps I should make a condensed build thread of my car in case the hive was interested (and the weather is finally such that it's bearable to be outside messing with cars)
I bought this car like this: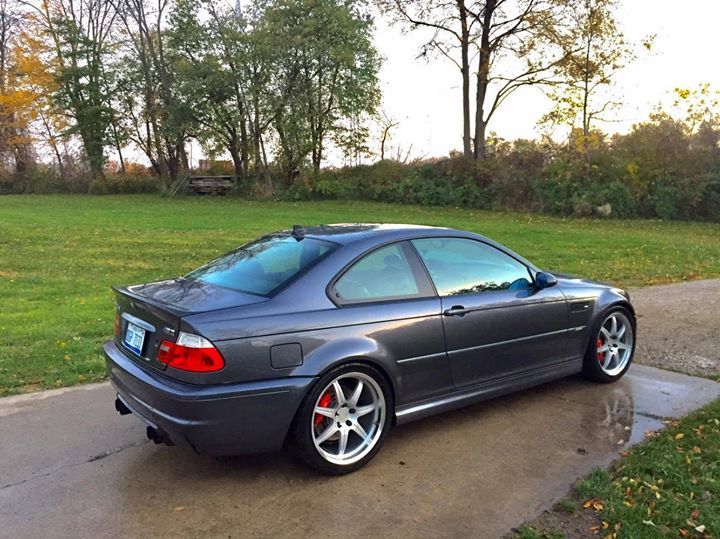 It was kind of higher miles but seemed well cared for and had every single part Dinan has ever offered for the car, which was perfect for me. Turning a stock car into a racecar means I wind up with a pile of parts nobody wants to buy that I feel bad about throwing away. Starting with a Pile of dinan parts means i've got a pile of parts I can turn into cash for racecar parts.
On that note the car did come with lots of spares, we drove my TDI jetta 10 hours away to pick up the car and then had to figure out fitting all this into the m3 and the tdi.
All the stock parts for the car as well as 4 snow tires and 4 used Michelin super sports. Between MI and MN I found a set of 18x10 apex ec7 wheels for sale on craigslist, I arranged for picking those up on our return trip as well because the 19" dinans on the car were heavy, expensive, and staggered
The Dinan savvy will be waiting for pictures of the supercharger, this car doesn't have that. instead it has an ESSTuning V550 kit. A fair trade off IMO, This kit has a massive intercooler and ESS tests the kits by doing hot laps at the Nurburgring so it should be fairly reliable.
It seems I don't yet actually have a picture of the engine bay so, here is a photo from autocrossing it last fall, the 18x10's work great with 255 hoosier A7's and are plenty quick enough to contend for FTD at our local auto-x events: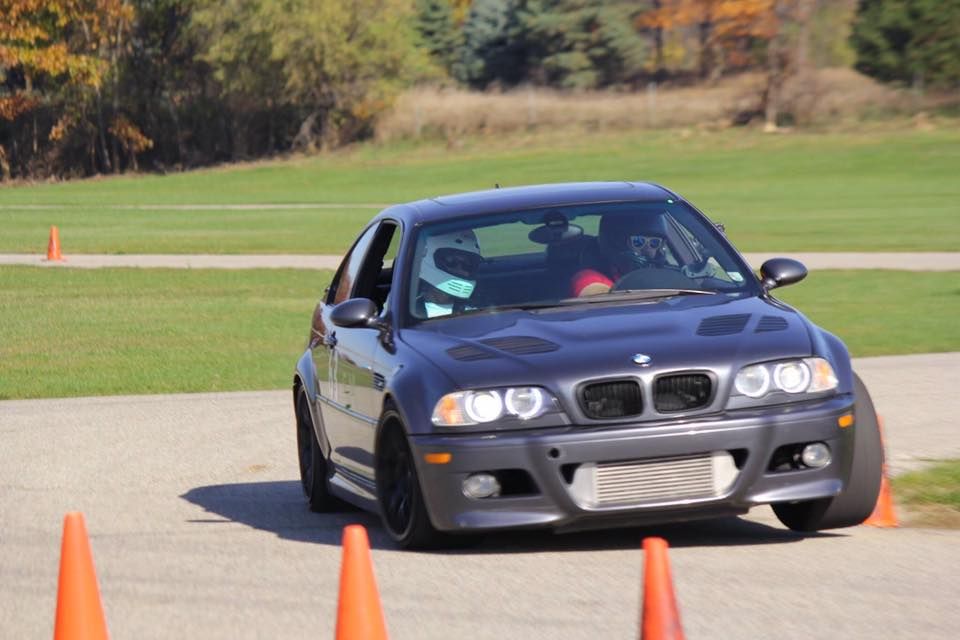 I only got 1 auto-x and 2 lapping days on the car before winter hit, but that was enough to at least start a list of changes.
Step 1, replace the rubber rear bushings with bimmerworld sphericals, additionally while the Dinan 3.92 lsd was probably pretty nice for a stock power m3 the shorter gearing just meant you arrive at redline that much earlier for Auto-x and track days, traded for a stock diff 3.62 differential plus enough cash to cover the spherical upgrades!
Next, the car was already fairly heavy as far as e46 m3's go, it had about every option, plus I added a roll bar which was even more weight. Note: factory seat replaced with OMP saved a few lbs: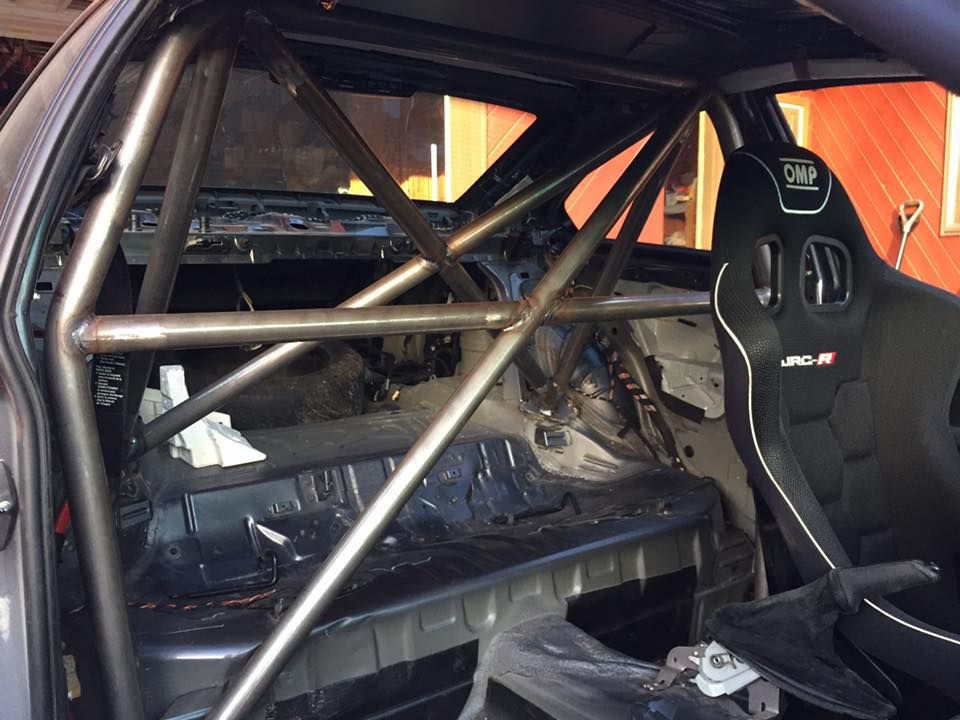 So I canceled the roll bar weight gain by replacing the dinan exhaust with a bimmerworld race exhaust! this cost nothing as the dinan systems are fairly sought after and I found the bimmerworld used for cheap and didn't have to ship: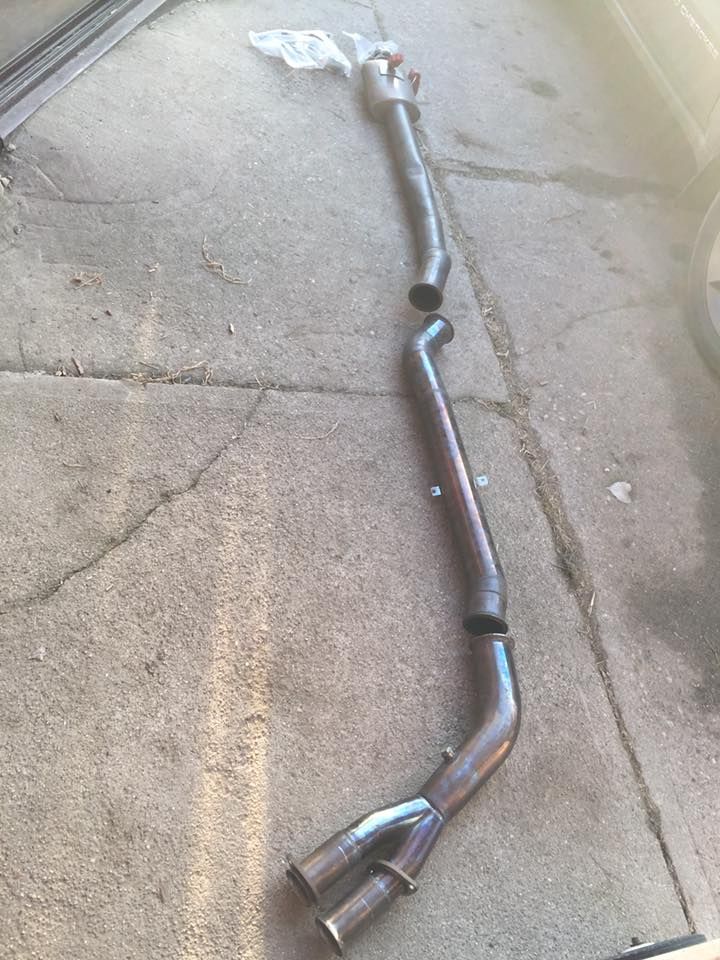 Alright, now how to make the car lighter? also, I need to paint the roll bar before it rusts.....Oh! I know:
That project was scary, once you drill the first spot weld out there is no going back, it's actually not very difficult in hindsight just time consuming and nerve wracking. The various e46 forums have some pretty detailed how to's for this. I lost about 55lbs off the highest part of the car after adding up sunroof and all associated bits. Bonus, I gained an extra inch of helmet room after switching to a non sunroof headliner.
It certainly does give you a better angle for painting the roll bar though!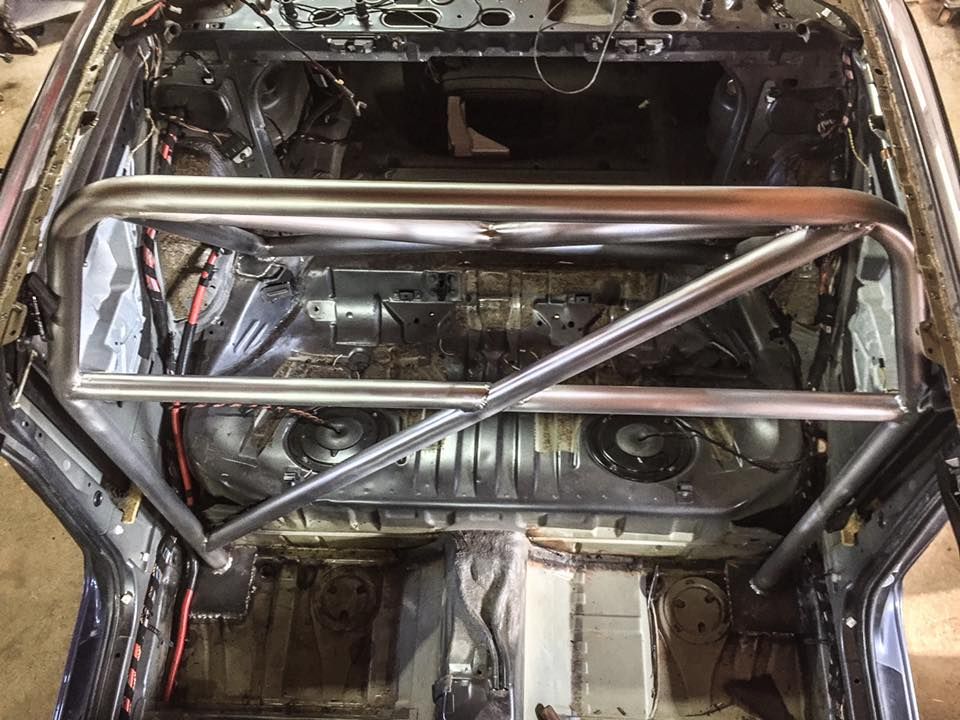 The trickiest part of gluing in the new roof was finding enough clamps....and figuring out how to hold the sides down, we had to improvise with a 2x8:
This was about the moment in the process where it started looking like a complete car again and I had confidence it would run again: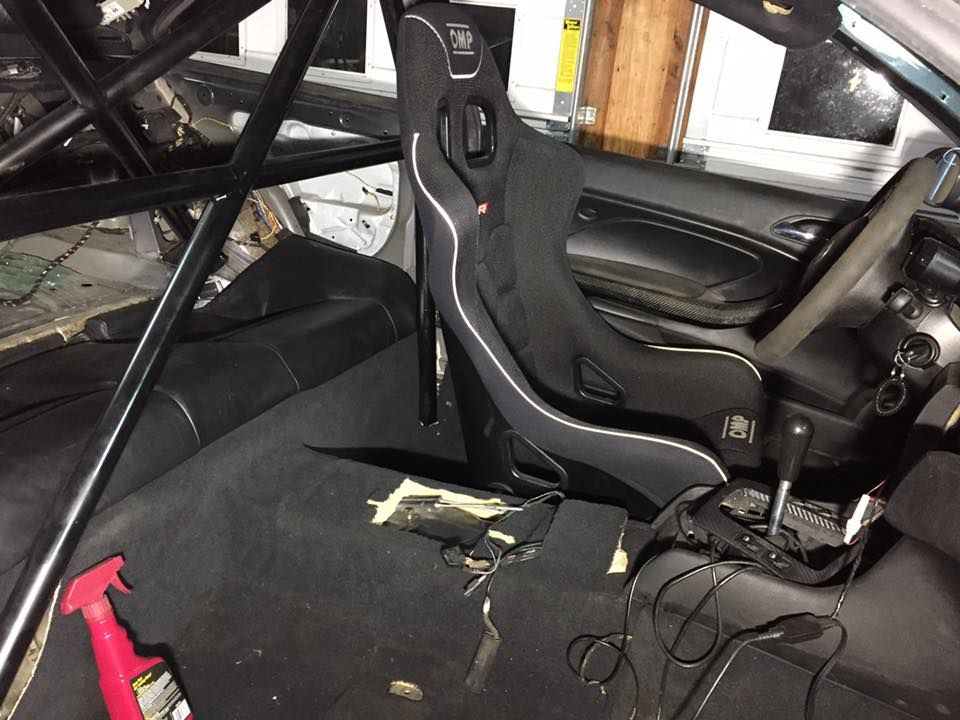 One last winter upgrade before the maiden spring voyage. My friend Matt (who competed in One Lap with me) decided to upgrade to Remote Reservoir shocks so I purchased his MCS 2 way non remote reservoir shocks to replace my dinan JRZ suspension setup:
I got those on my car just before we went to One Lap, dropped the car off for alignment and then ran out of time for a test drive! DOH!
The day after we returned home I took it on a maiden voyage to visit our local clubs first auto-x of the season. The bimmerworld exhaust is too loud for me to run at this particular venue so shakedown would have to wait until a bit later but it made the trip to-from the track just fine:
All back together in 1 piece!
This past weekend was the 2nd local auto-x of the year at a venue with no noise concerns, the event was held at our local amusement park which makes for a cool back drop. I haven't seen any pictures of the car in action yet but hopefully some surface soon. So far I'm pretty happy with the changes, the car feels much like it did last year but a bit tighter and more responsive/agile.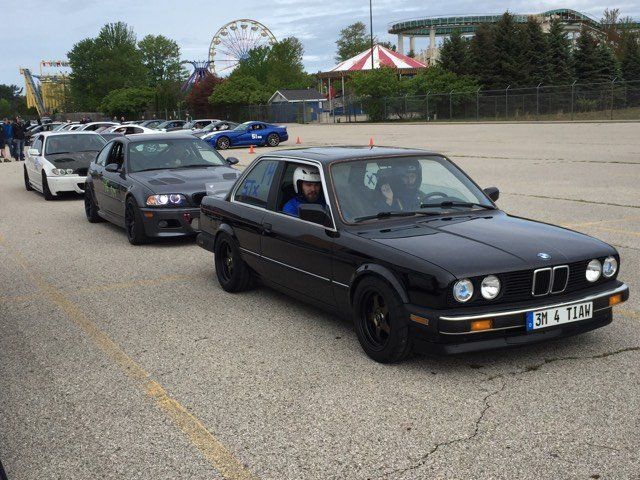 Our next event is in 2.5 weeks at Gingerman Raceway. Gridlife time attack. with over 130 cars signed up for time attack it's one of the biggest time trial events in the midwest. This event also includes exhibition drifting, a car show, hpde sessions and a music festival in the evenings. Over 5000 people turn up and it's pretty surreal at the grassroots level to have turns/straights filled with cheering spectators while you're driving.
I've got a few things I want to finish on the car before then and now that I've officially started a build thread hopefully that reminds/motivates me to take more/better photos.
I have some more photos of the above projects but was trying to condense as much as possible as I know I have a tendency to ramble on.