I've been racing "36" since 2003. Well, honestly, "36" has been four different cars, but as I transition from one car to another, enough parts seem to migrate that I consider them the same car. It is an early (for the most part) 944.
Current "36" was built as a SPEC-944 car, to the letter of the law. Unfortunately, that is not a NASA class that has gotten much traction in my area, so I have run it (in fairly underdog status) inside of GTS-1. As classes come and go, GTS1 is now thinning out, with many guys moving to GTS2 or to something else.
A couple of weeks ago, my son James and I headed to Dominion Raceway, a new track about halfway between DC and Richmond. My plan was to race the 944 and James was to attend his first HPDE. It's a 2.0 mile, 12 turn track that is still under development, but I am super excited to have a new track "close" to home. We got there Thursday afternoon and helped build some tire walls just beyond turn 1.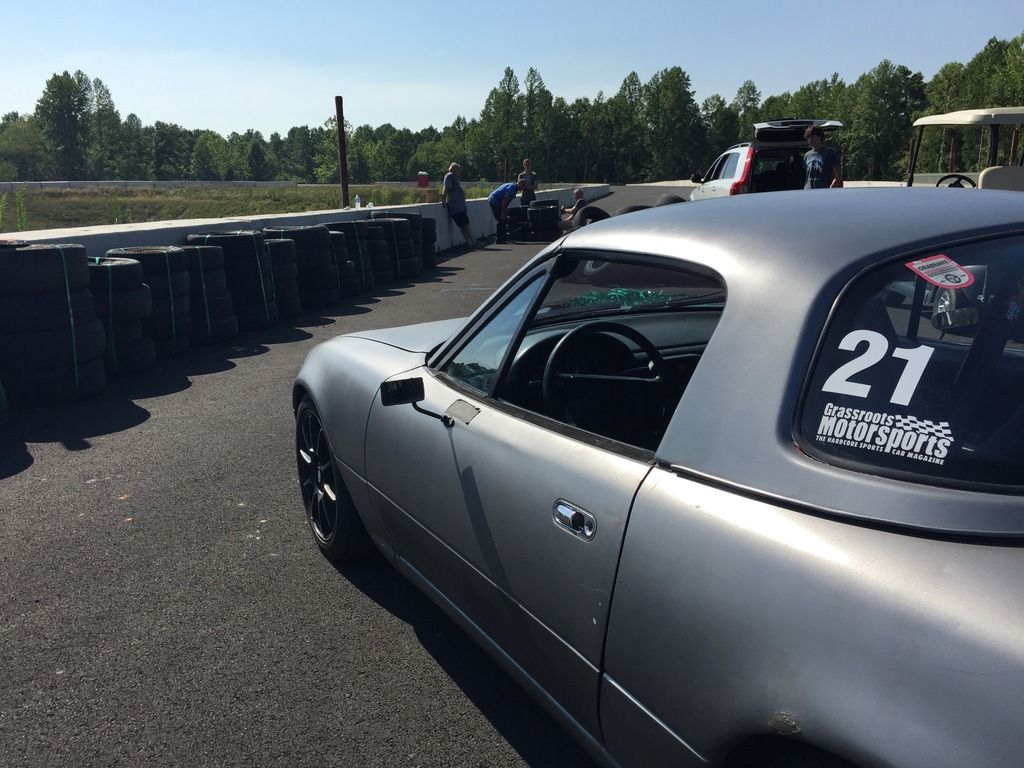 We pulled the 944 with our Wanderlodge, which is a relatively new acquisition, and it makes a fantastic race support vehicle (and doubles as a NASA Official's Remote Command Post during particularly hot days). Also, the diamond plate roof makes a killer observation platform.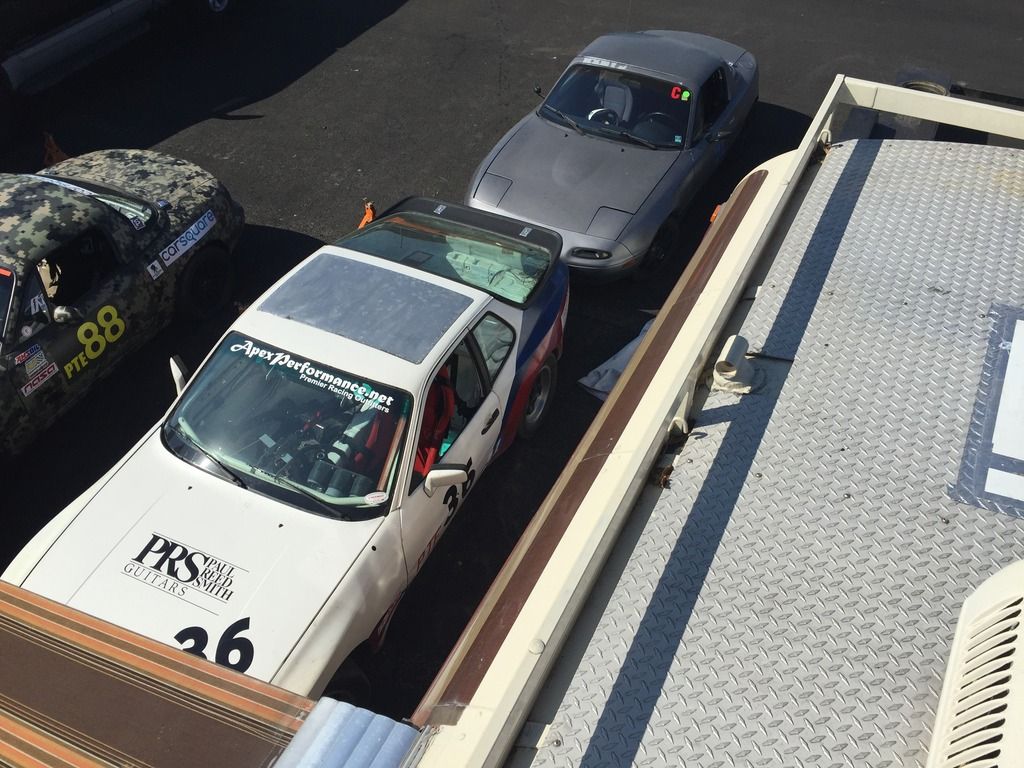 We signed up for the Friday test and tune. Unfortunately, I hold the distinction of being the first racer to completely grenade an engine at the new track. Session two, second lap. I don't have any rear facing video, but it was as though I was coming out of a perpetual tunnel, bright in the front and pitch dark in the rear. The inside of the cockpit sounded like a paint shaker doing its job with a can full of pebbles. I pulled off track left, coasted to a stop (irritatingly close to pit in) and waited for the hot pull, bathing in oil smoke and a 115 degree cockpit. Back at our paddock, I let the car cool down and then took a peak at the top…looked pretty normal. Looking below, I found A CLUE.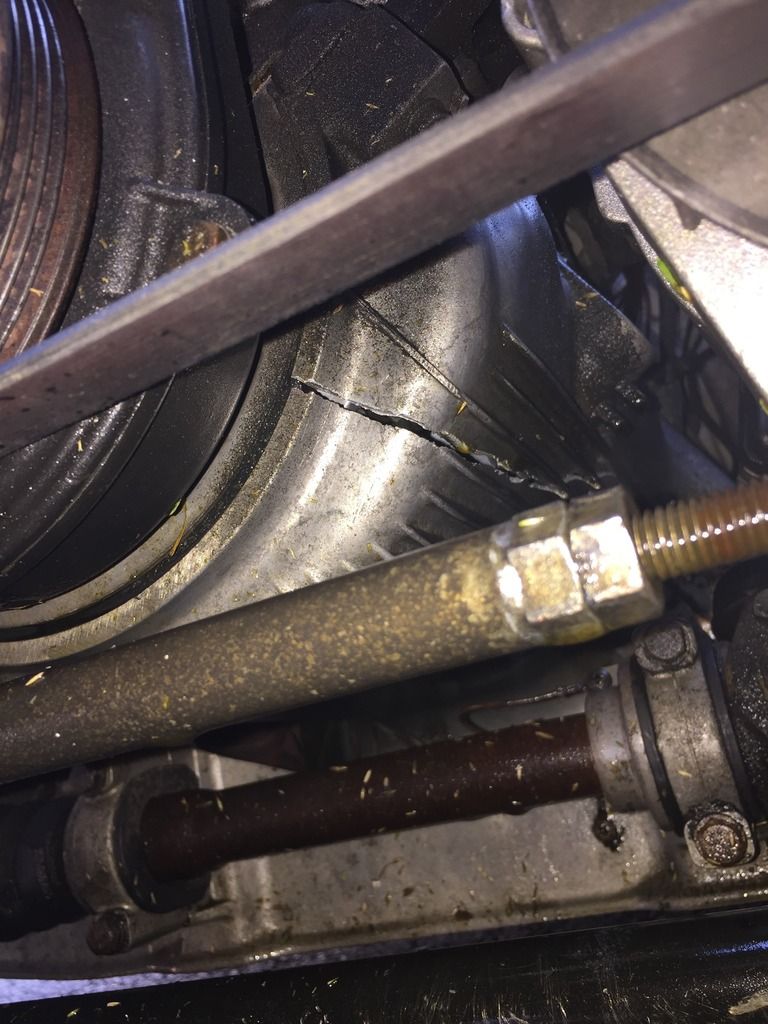 Seeing there was no chance of repair at the track, we pushed the car on the trailer (with the help of new friends) and I enjoyed watching James. We had a spectacular weekend visiting with old friends and meeting new ones (the bus was parked in a prime spot for air conditioned viewing of turns 1-8….you tend to make friends in such situations). James experienced the classic "stuck in reverse" 1990 miata syndrome along with a failed clutch slave cylinder, so his weekend was also cut a little short. There's no such thing as a bad day at the track and we enjoyed the rest of the day and a nice drive home in the bus. This weekend we pulled the engine. I was fairly impressed with the first look.

So…what to do? Prior to this explosion, I was toying with selling the 944 and changing classes. Maybe an E36, or Miata or build something crazy like an old mustang. Now, I'm thinking it would be fun to bone up on the Performance Touring rules and see what the little car can do, given half a chance. I poked around the paddock at Dominion, spoke with Xavier, the series liaison, who gave me advice on rules and offered to help me along as I strategize the build. Having run with the PTE group at Summit Point earlier this year, I know they are a great bunch of guys with a healthy field of cars. I need to double check my math and script the build before I start spending money, but it looks like we could go a couple of different ways. We could go with a pretty intense build and keep the car at its class weight. Or I could pick up about 15HP over the current engine and lose some weight. I'm sort of leaning toward a mild build, try to land around 150 HP to the rear wheels and lighten the load a bit. Mainly because I'm cheap. Picking up a few ponies, going back to Hoosiers, and not adding weight seems like a good time in the making. Thus begins a new chapter in Higginbotham racing, and a new incarnation of "36".