I've been going on about the unending process of taking apart "The World's Cheapest Radical" to swap in a Suzuki 1300 Hayabusa engine while also taking time to rectify a lot of really dodgy legacy work done by the previous owner's "race shop".
In short - in D sports racer trim w/ a GSXR1000 motor the car scaled at 1227# w/ it's (old, fat) driver and post race fuel load. Class minimum weight w/ driver is 900# though - so it would never be competitive, even regionally. CSR is 1300#, however, and a Suzuki Hayabusa 1300 bolts in. This, it would seem is the answer.
(I've never done a "build thread" with all the delicious pictures, so I figured this was my one shot. I'm aware that a guy with both machine and fabrication shops at home working on his fancy English sports racer isn't necessarily "GRM" - but I'm 100% DIY where I can, and maybe I can share tips about designing and fabricating good parts that work the first time)
The car was disassembled at the end of last season and the search for a motor began. Simultaneously, I demolished our master bathroom out to bare studs, masonry and joists. The race was on to see which would render me bankrupt and crazy, first.
Acquiring all the parts was not terribly hard, just painful. If you want a flapper-baffle oil sump for a Hayabusa motor in a car that pulls more than 2Gs, you options are limited, and expensive. The car it turned out had a welded sheet aluminum tank - not a legal fuel cell. 4 places on earth will make something that will fit, fuel safe takes an interest in actually doing the work. Cha-ching...
The exhaust system was a bitch. The system on the car had been built by a decent fabricator for when the car had a carburated Kawasaki ZX10 motor. That had been modified w/ GSXR1000 spigots for it's next incarnation, and I tried to find someone to build something. I can TIG weld OK - but not great, and I'm disinclined to spend 100s of hours designing and fabrication to get to a system that actually makes power. Eventually I'd found a guy who'd build a stainless 4-2-1 tri-Y header for about $1300. I made a fixture for him to work from, and spent a weekend modifying the existing system to the Hayabusa as a stopgap measure. It still fit miserably, and the primary lengths weren't uniform.
I gave up and pulled the trigger on the full system available from Radical. Again, spendy, but it fits perfectly and the lengths should be optimal for the motor.
The car's wiring was a mess, and a GSXR1000 tach and a couple Autometer gauges made up the dash. I'd need to do something about this, and figured that while I'd fallen down the fiscal worm hole, why stop now? I ordered a Stack dash w/ coolant and oil temps and oil and fuel pressure plus a tach that displays 0-6k rpm the first 1/4 of it's travel, and 6-13 over the last 3/4. I popped for the programmable 5-LED sequential shift light.
Numerous other orders covered motor mounts+suspension hardware kits from Radical, a burly clutch pack/springs/clutch slave brace/EGR port covers/low profile breather/oil cooler AN fittings/gauge sender fittings from Schnitz, and a ton of little stuff from Jegs and McMaster-Carr.
As the shifter pushrod can no longer go through the fuel tank, I got a Morse cable and some Heim joints to run it below the fuel cell. After months of demolition, design, framing, plumbing, electrical, HVAC, drywall, paint, tile, and trim carpentry - I could finally dig in.
I design, machine and fabricate stuff for a living and have most everything already. I needed to buy a Riv-nut tool and a set of Oetiker clamp pliers. I did finally buy a new welding helmet which helps a lot...
I started with:
A chassis on stands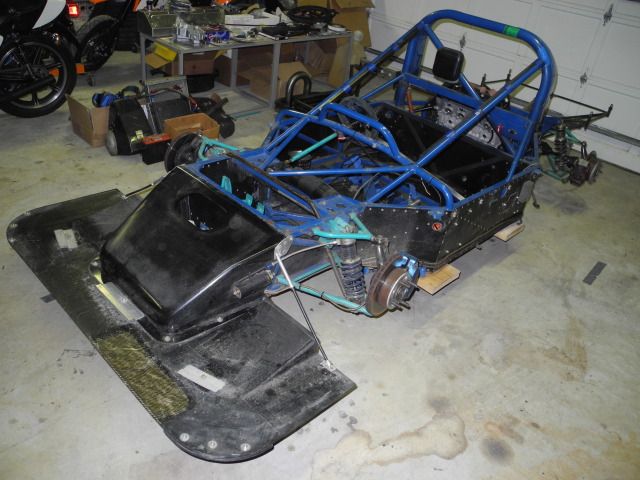 A table of parts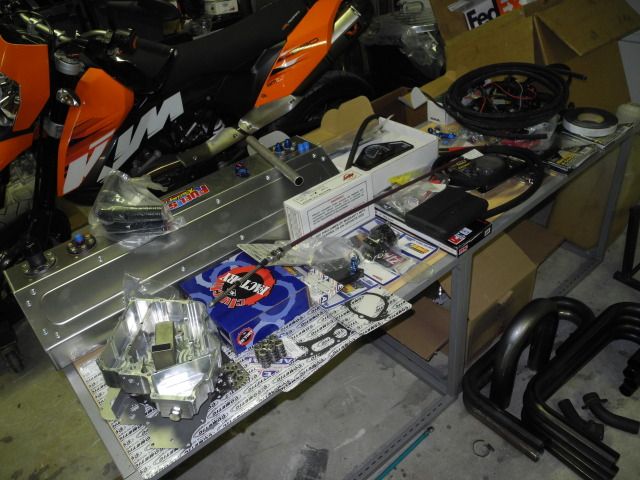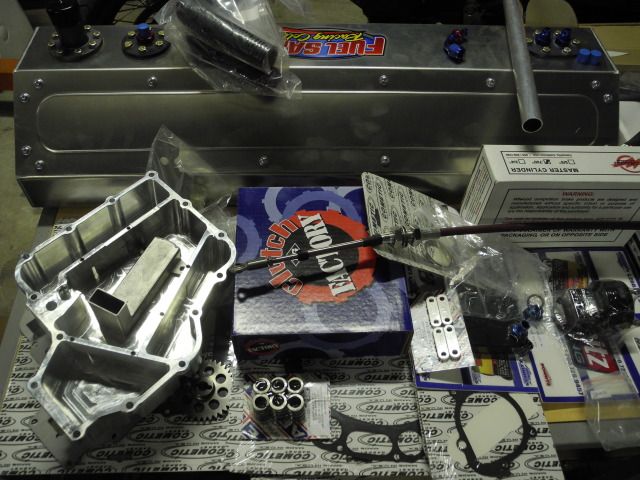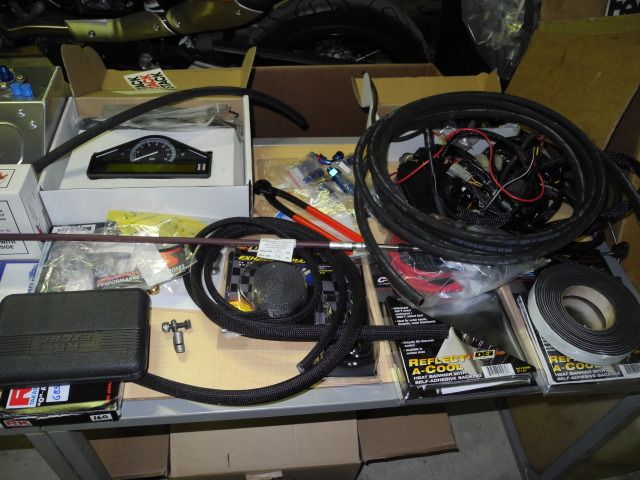 Hayabusa motor fits...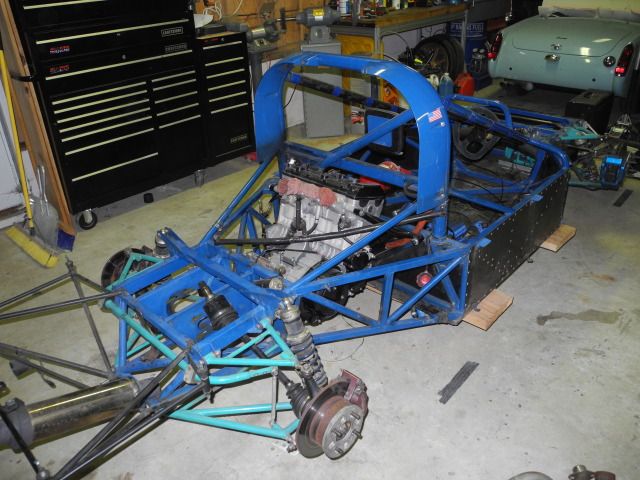 Comes back out for shiny bits...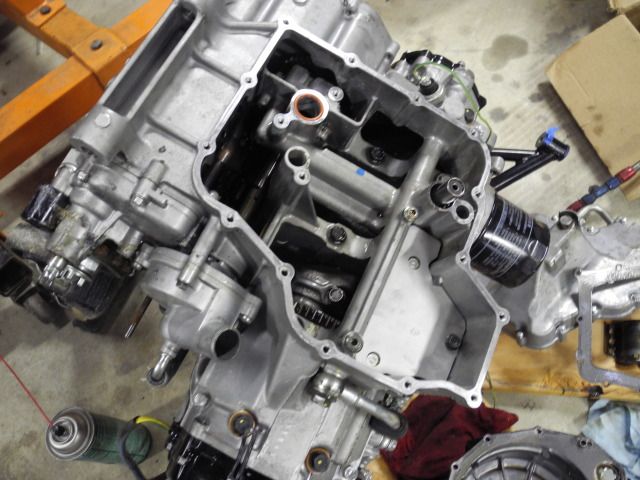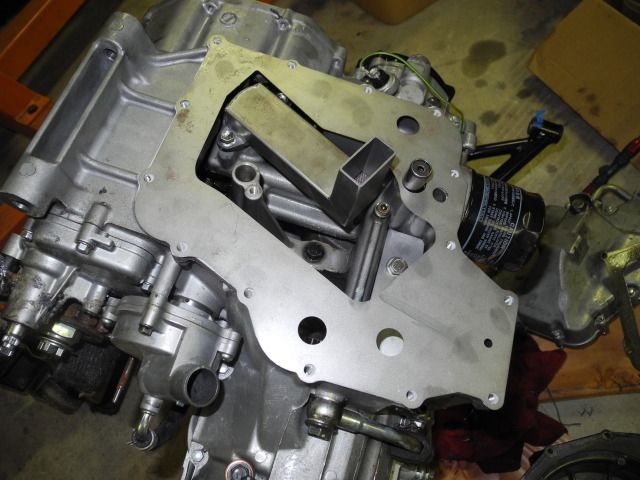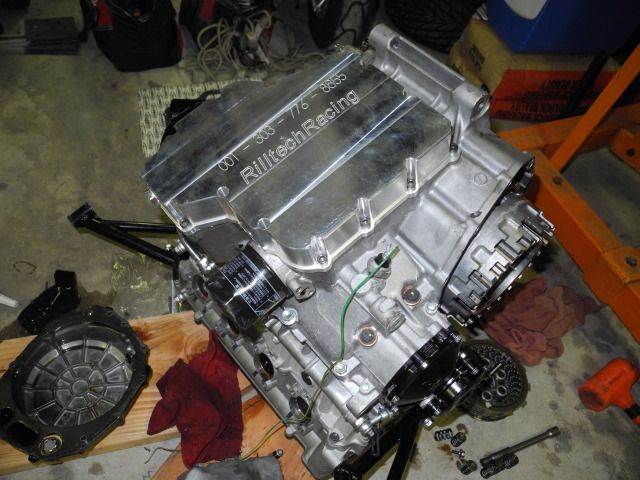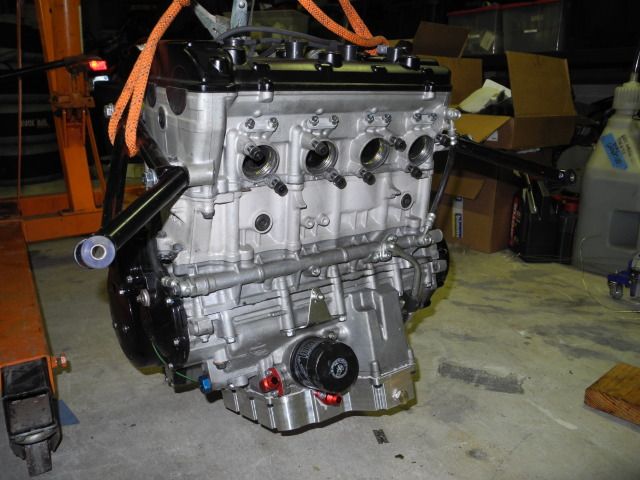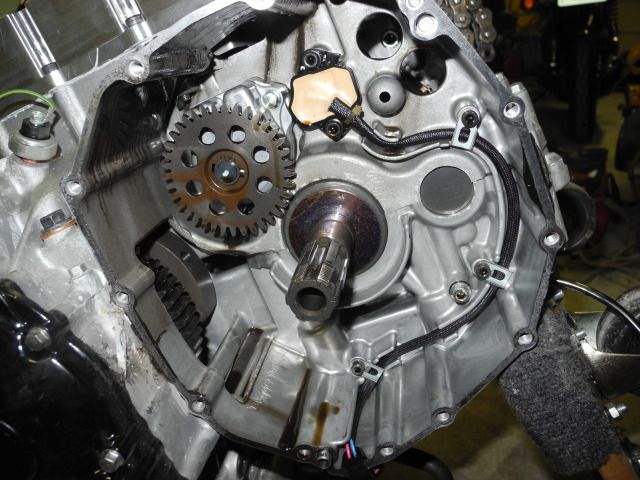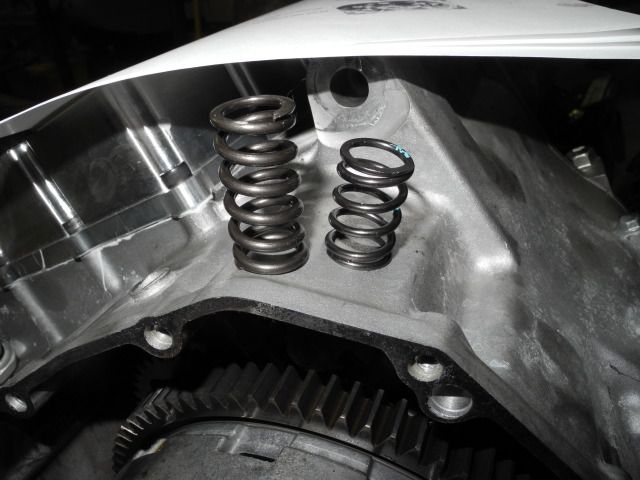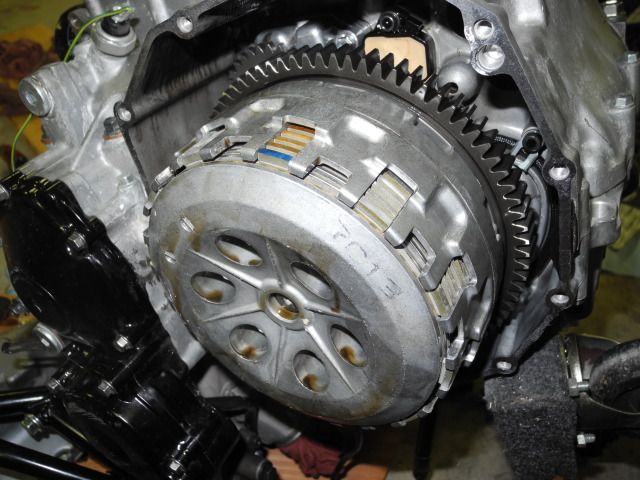 Fuel cell fits...
And the exhaust is awesome, but it occupies space formerly held by the high-pressure fuel pump in it's big-ass swirl pot.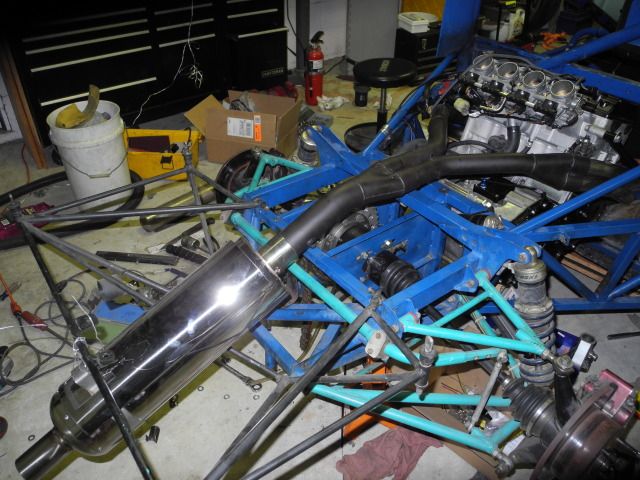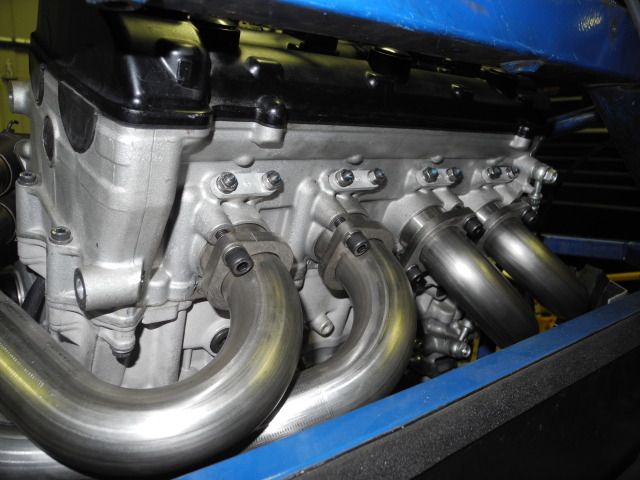 It appears there's room to move both pumps into the cockpit inside the perimeter of the cage, but the rear bulkhead needs a pump-dormer...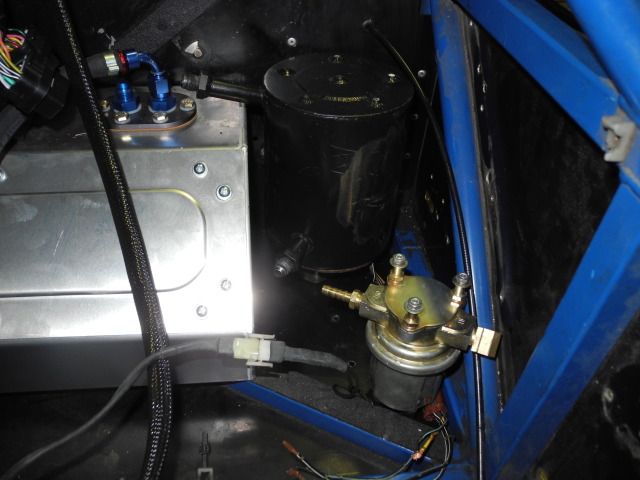 Like this...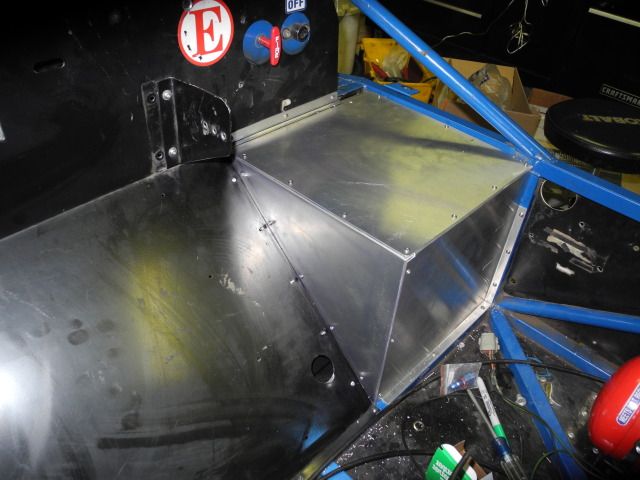 For which I need to hold the swirl pot firmly but removably and clear a chassis tube, so I made this...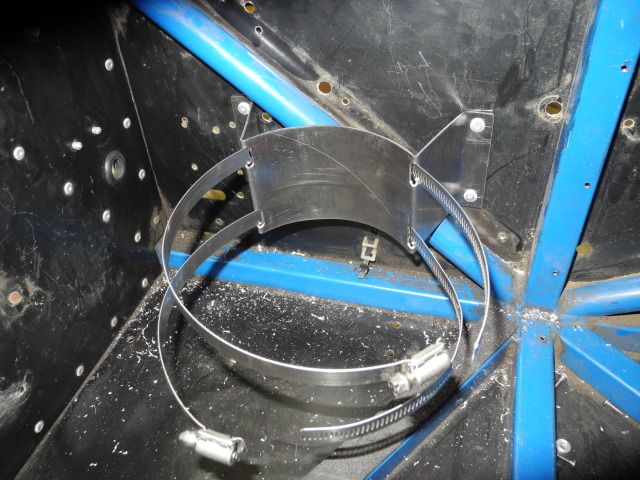 The dash is finished and fitted. TIG welding the .060 aluminum instrument well to the panel was not easy.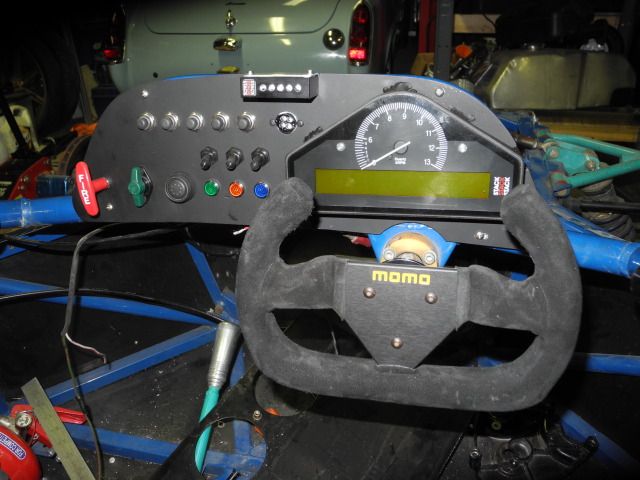 Rear of dash: