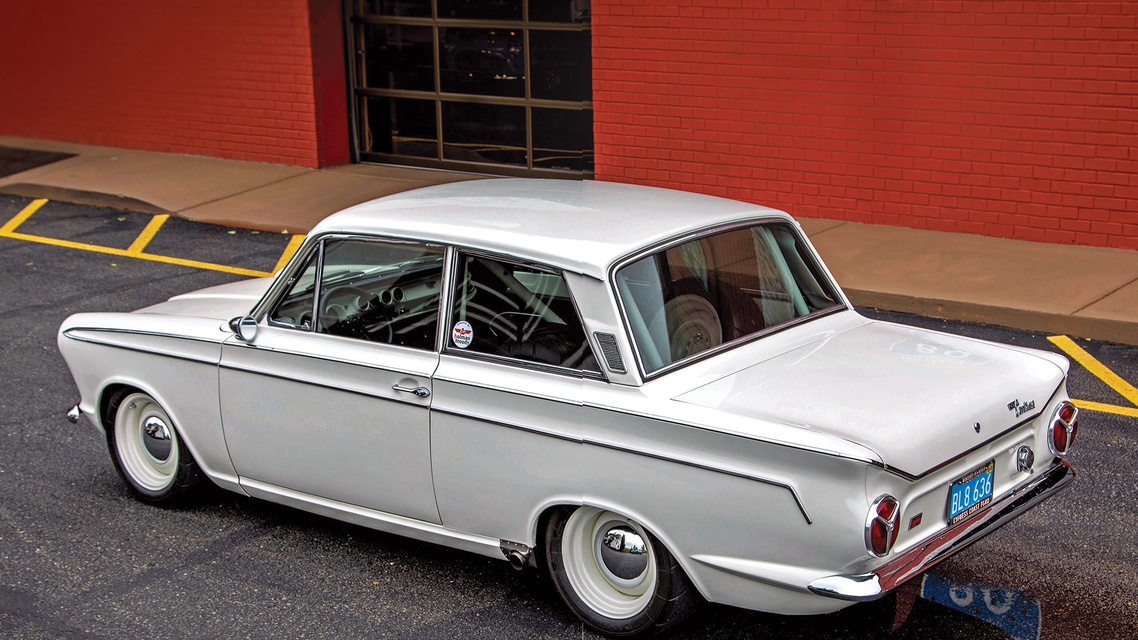 Story and photos by John Webber
Why would a longtime collector and accomplished vintage racer with a shop full of rare and wonderful Porsches build a quirky British outlier into a weapons-grade screamer?
Because he had a vision, that's why.
As Jerry Peters tells it, a humble, early Lotus Cortina GT helped ignite his lifetime passion for cars. In the mid-'60s, when he was a delivery boy in Jacksonville, Florida, making his rounds along a wicked section of road the locals called Dead Man's Curve, he spotted a pair of fast-approaching cars. As they wailed by, he was astonished to see a tiny, boxy sedan–he had no clue what it was–pull a nifty pass on an unsuspecting, and no doubt humbled, '64 Pontiac GTO, then considered king of the streets.
Jerry tracked down the little flyer at a local hangout, where he learned that it was a Lotus Cortina built in the U.K. and powered, to his amazement, by a four-cylinder engine. His enlightenment occurred around the time the potent Shelby-created Sunbeam Tiger was surprising a lot of would-be racers, so naturally he thought, "This car ought to have a Ford 260 or 289 V8 under the hood–sort of a Cortina Tiger." On that moment, Jerry vowed that he would someday own a Cortina, and he would, indeed, stuff a V8 in it.
In those days, Jerry was driving a VW delivery truck for Brumos, the famed Porsche dealer. Whenever the van broke down, he was allowed to drive his boss's Porsche 356 Super 90. After that, Jerry says, "I was always looking for ways to disable that truck."
As the years passed, his interest in small, agile sedans like the Lotus Cortina (he was a Jim Clark fan), Datsun 510 and BMW 2002 grew because he liked their "sleeper" looks. "My interest in cars helped me focus," Jerry says. "I loved cars, but I knew that took money. I wasn't college material, so I knew I'd have to work extra hard to get them."
Decades later, his efforts paid off with business successes, and he was able to indulge his passion. Even as he bought and traded Porsches and other exotics, he stayed on the lookout for a Cortina.
He first bought a Mark II, but soon realized that the body style just wouldn't do. "It had no fins and no 'ban the bomb' taillights," Jerry says. So he located and began chasing a rust-free, 23,000-mile 1965 Cortina from Canada. He kept tabs on it for several years as it passed between various owners. Finally, he was able to acquire it through a trade deal that involved a Bentley once owned by Vanna White–yes, that Vanna White.
Once he acquired the Mark I GT, Jerry started collecting parts for his dream. When his plans to modify it became known, he risked the ire of some purists in the Cortina community. They thought the car too nice to modify, even after Jerry pointed out that Carroll Shelby had been known to modify a British car or two. He won back some friends when he shipped all the car's running gear, at cost, to a Cortina enthusiast in the U.K.