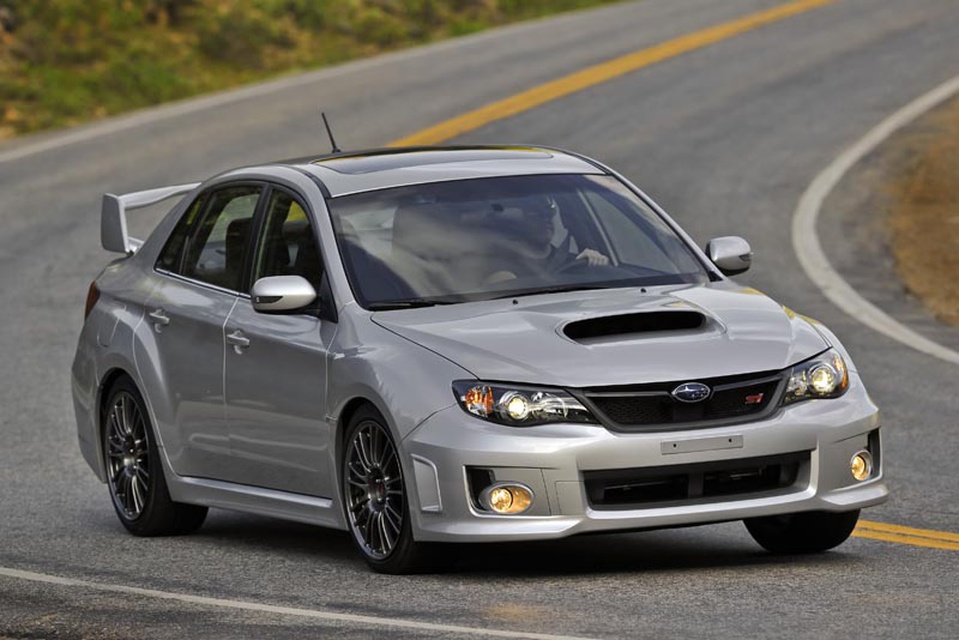 In addition to sampling the revised 2011 Subaru Impreza WRX, we got to see the 2011 Impreza WRX STI. The higher-output STI also gets some fairly big changes for the 2011 model year:
The Four-Door Sedan Returns
The original U.S.-spec STI only came in one body style, a four-door sedan. That configuration seemed to work fairly well.
When the Impreza received its redo for 2008, the STI package migrated to the five-door wagon. The STI sedan had become a thing of the past. Subaru said that the wagon made a better rally platform, but the enthusiasts did what they did best: complain.
Well, now there's a freedom of choice as the STI comes in two flavors: wagon or sedan. According to Subaru, there's little weight penalty between the two: 3384 pounds for the sedan and 3373 pounds for the wagon. (For those of you without a calculator, the wagon weighs 11 pounds less.)
There's a Retuned Chassis, Too
The changes aren't limited to the body, as the chassis received some work, too. First, ride height has been dropped by 5mm.
The anti-roll bar rates are also up, as both the front and rear bars have grown one millimeter thicker: 20 to 21mm up front and 18 to 19mm out back.
The spring rates are also up: 16 percent on the front end and 53 percent on the rear end. (Looking for real figures? The fronts have gone from 39.8 N/mm to 46 N/mm, while the rears have moved from 34 N/mm to 52 N/mm.)
One more big suspension change: Where the front control arms were secured with rubber bushings, starting in 2011 rod ends are used.
New Wheels
Finally, the STI gets new wheels. The base sedan receives a new 18-inch Enkei wheel. At 23.1 pounds, it's 4 pounds lighter than the base wheels previously used. The wagon and Limited sedan come with forged 18-inch BBS wheels. Each one weighs 20.1 pounds.
We should also mention the prices. The four-door STI starts at $33,995, while the Limited will cost you $37,345. The five-door only comes in one flavor, and it retails for $35,995. (And as Subaru notes, while the five-door price has gone up by a grand, it includes the BBS wheels, a $2000 option in the past.)