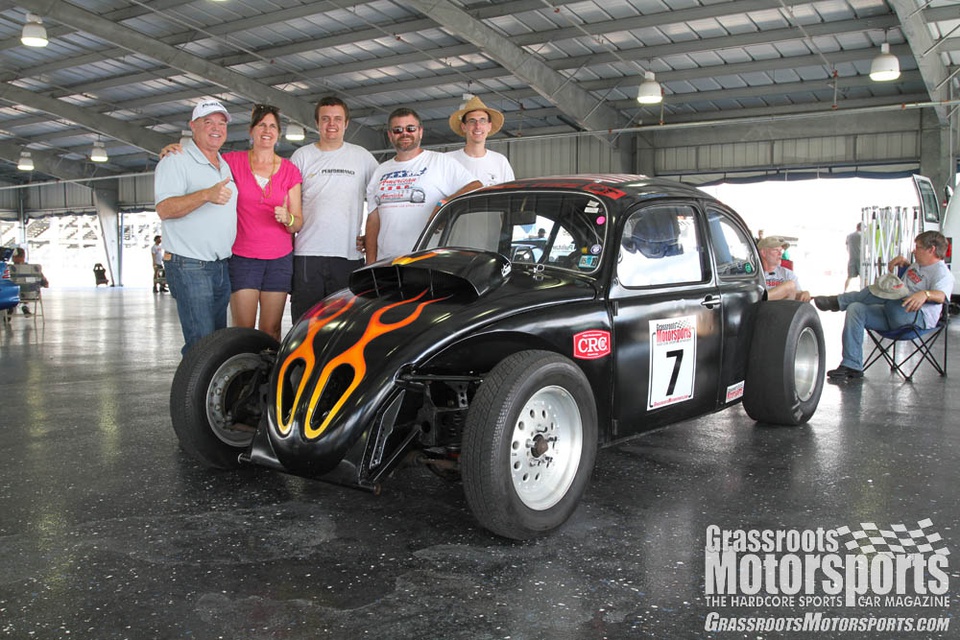 A homemade fastback Mazda Miata that resembles the brand's Le Mans winner; a Volkswagen Beetle hotrod that can gobble a quarter-mile in 10 seconds; a Chevy Camaro that's an exact replica of a popular video game ride: They can be found together in only one place, the Grassroots Motorsports $2015 Challenge. The event meets every year at Auto Plus Raceway in Gainesville, Florida, seeking the finest and fastest cars that competitors can build on a budget of two grand and change. Challengers are judged based on their autocross performance, quarter-mile times and concours scores.
The Grassroots Motorsports $2015 Challenge Driven by General Tire and sponsored by CRC Industries, Miller Electric Welders and Pulstar Spark Plugs kicked off on Friday, October 23, with the autocross portion of the competition. The course was fairly tight, ultimately rewarding some of the more agile cars. The Texas A&M engineering team made their presence known with a dominant autocross run in their corn-fueled turbo Mazda Miata. Their autocross time was 1.323 seconds faster than the second-place car.
As evening fell, Challengers moved over to the Auto Plus Raceway drag strip for the quarter-mile portion of the Challenge. Andrew Nelson, known for posting 10-second Challenge drag times, broke a U-bolt in the rear suspension of his V8 Volkswagen Beetle on his very first pass. After hours of welding, Andrew and family had mended the suspension well enough for one more run. They made that single run count with a 10.369-second time, earning them a healthy win in the drag racing portion of the Challenge and a narrow lead overall over the Texas A&M crew in the overall standings. The $2015 Challenge would come down to the concours portion of the event.
If Texas A&M could score two points higher than the Nelsons in the concours, they would drive home champions. However, such triumph would not be enjoyed. The Nelsons rounded off the event with the highest concours score in the field. That boosted them to a first-time victory after 11 years competition in the $2000 Challenge.
Click here for full results.. A photo album will be added to our Facebook page with more images from this year's event.
A special guest attended the Challenge this year. Al Unser Jr. acted as one of our judges for the concours portion and even took the wheel of some of the Challenge cars for autocross runs. He says he is definitely planning on returning. Thanks to Pulstar Spark Plugs for helping to make that possible.
The General Tire Challenge returned to this year's schedule for its second running. It pitted 21 Challengers against each other on an autocross course, and everyone drove the same Mazda MX-5 and Mazda 3 fitted with General Tire high-performance rubber. Forty-two autocross runs later, Barry Miles claimed top honors and a free set of tires from General Tire.
Thanks to everyone for coming out and making this year's Grassroots Motorsports Challenge one of the best yet. And thank you to our partner, General Tire, and sponsors CRC Industries, Miller Electric Welders and Pulstar Spark Plugs for making it all possible.
Not a subscriber? You're not getting the full story. Read all about every car that made its way to the Challenge in an upcoming issue of Grassroots Motorsports. Subscribe here.