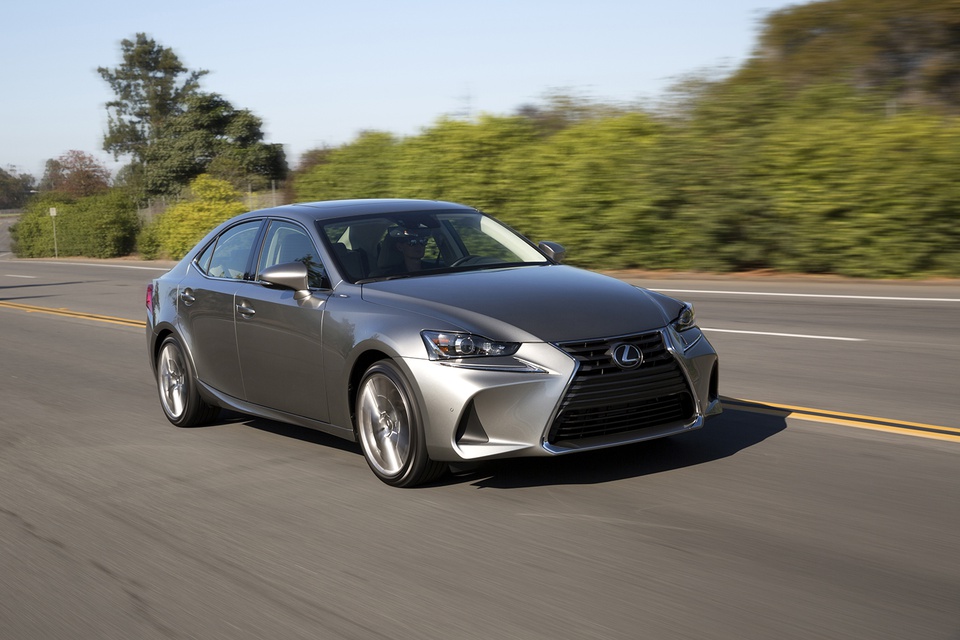 Despite some manufactures shifting away from sedans (hello, Ford?) Lexus has been fleshing out their IS line. Here, we're going to crib from their official media site:
"The 2018 IS 300 and IS 350 are available in RWD and AWD. Both offer an F SPORT model that further revs up the bold style and handling agility.
"The IS 300, in RWD form, features a 2.0-liter twin-scroll turbocharged inline four-cylinder engine with intercooler. This super-smooth powerplant produces 241 hp and quickly builds up a wide torque plateau of 258 lb.-ft. from 1,650-4,400 rpm. Variable Valve Timing intelligent – Wide (VVTi-W) allows the engine to switch between the Otto and Atkinson combustion cycles to maximize efficiency. The D-4ST fuel injection system combines a high-pressure direct fuel injection system with a low-pressure port-injection system.
"The IS 300 RWD comes equipped exclusively with the eight-speed Sport Direct Shift (SPDS) automatic transmission that integrates advanced G-force Artificial Intelligence (G-AI) system to choose gears intuitively. Steering wheel paddle shifters are also available for those who prefer to shift for themselves.
"For those seeking all-season grip, Lexus offers the IS 300 AWD model with a 260 hp, 3.5-liter V6 producing 236 lb.-ft. torque at 2,000-4,800 rpm. The electronically controlled all-weather drive system, also available for IS 350 models, is designed to help enhance traction and grip under most driving conditions by automatically varying front-to-rear torque distribution from 50:50 to as much as 30:70. The AWD models use a six-speed automatic transmission. The IS 350 delivers dazzling performance from a 3.5-liter V6 that produces 311 hp and 280 lb.-ft. of peak torque. The RWD model uses the eight-speed Sport Direct Shift automatic transmission."
New for 2018:
• Enform Safety Connect Complimentary for First 10 Years of Ownership.
• Enform Service Connect Complimentary for First 10 Years of Ownership.
• Available Comfort Package includes Blind Spot Monitor with Rear Cross-Traffic Alert.
• Backup Camera standard on all models.
• Adaptive Front Lighting System Available.
• Five Horsepower Increase (IS 300 AWD, IS 350 RWD and IS 350 AWD).
• Limited Slip Differential (IS 350 RWD with F SPORT only).
Our test car was a rear-drive IS 350. Base MSRP is $41,830, while options boosted it up to $48,509. The biggest ones were the navigation and Mark Levinson audio system ($2835); Comfort Package that included lots of power accessories ($1220); and Intuitive Parking Assist ($500).