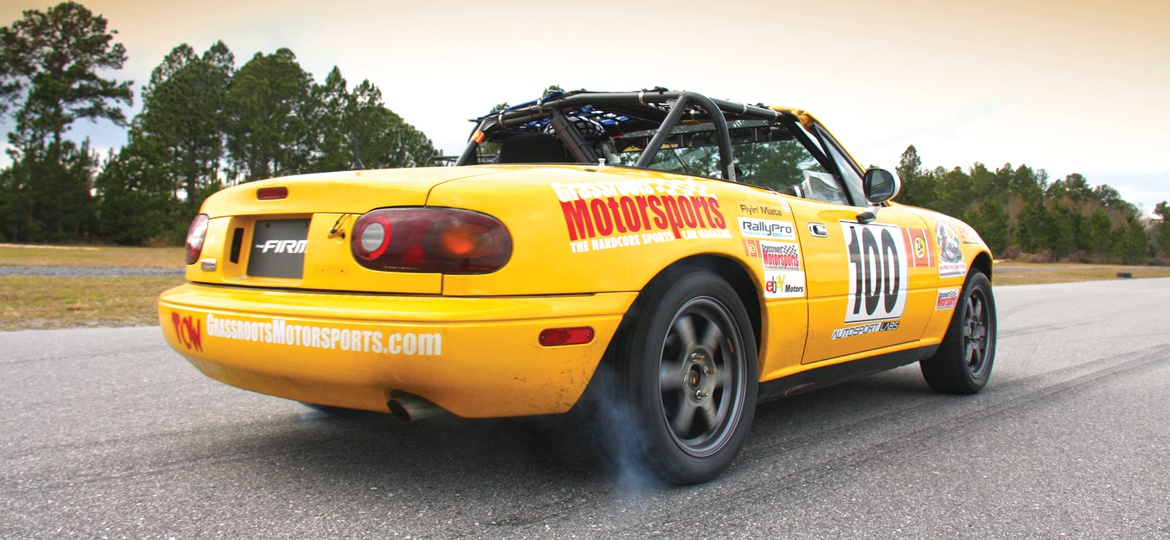 Like stories like this? This one is from an older issue of our magazine. You'll see every article as soon as it's published by reading the print edition of Grassroots Motorsports. Subscribe now.
story and photos by alan cesar
We always hear that lightweight wheels are better. Reducing unsprung mass theoretically helps a car's suspension work more effectively. Reducing rotating mass should make the car accelerate and stop faster as well.
But how big of an effect is this? We've compared light and heavy wheels a few times before, and the results consistently showed a negligible difference in autocross times–even with extreme differences in wheel weight. Of course, autocross testing involves a lot of variables, including changing track conditions and driver fatigue. We thought we'd give it one more shot with some different test methods.
We took our little yellow LeMons race car–yes, a little foreshadowing–two sets of wheels and tires, and an AiM Sports Solo DL to our test track, the Florida International Rally and Motorsports Park. We'd use their kart track to compare lap times, then run a few zero-to-60 blasts up one of the main track's straights. Using an underpowered car like an old Miata would help emphasize the wheels' effect on performance, whereas a more powerful car may mask the difference with its oomph.
To determine a trend on the kart track, we took one warmup lap and timed five flying laps. This would show the effect on the car's suspension and cornering ability, leaving out the time spent accelerating from a stop. And unlike a single run on an autocross course, completing several laps in succession would allow our drivers to become comfortable and their lap times to establish a trend.
Launching the car for the zero-to-60 times was easy: Rev the engine to 6000 rpm and dump the clutch. Our Miata has a viscous limited-slip differential and left some impressive skid marks–regardless of which wheels it was wearing.
For rubber, we used the BFGoodrich g-Force Sport Comp-2; each set of wheels got its own tires. Our heavy wheels for this test were a set made by Masitaly, a company that is, as near as we can tell, no longer extant. The light ones were Volk's TE37 wheels. We measured the backspacing and determined they were half an inch apart, which necessitated spacers and long wheel studs to accommodate them.