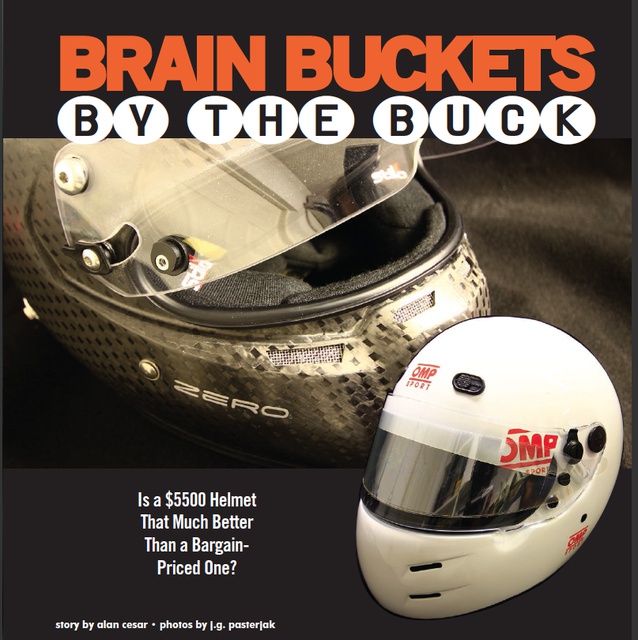 How much is your head worth? That's how we answer a popular question: What helmet should I buy?
To be honest, though, that answer-in-the-form-of-a-question is overly simplistic. Helmet prices vary wildly, and in theory nearly all the ones aimed at our market meet Snell's latest SA2010 specs.
So what do you get for your money? Perhaps we should compare a pair of helmets—each from opposite ends of the spectrum.
We got a modest OMP OS 70 Sport ($249 suggested retail) and a Stilo ST4F N Zero 8860 (suggested retail $5500), both from HMS Motorsport. It's clear from looking at both helmets that there's a cost and quality difference, but is it a mid-four-figure difference?
Both helmets have some nice details to improve fit. They have generous spaces for your ears—too many helmets these days don't allow for the comfortable use of in-ear radios, and both of these are designed with the radio use in mind and have suitable ear and mouth clearance.
There was some difference regarding initial quality, though. We could tell just by poking around that some of the padding in the OMP helmet was only lightly glued in place and started to come off with just a little prodding. If you're using the helmet a lot, this glue may not hold after a full season.
Then there's also the weight difference. At first, it seems minimal—around half a pound. But consider your possible crash speed before you entirely dismiss it. Impacting a wall at 100 mph and decelerating to 0 in a tenth of a second transforms that 8 ounces into 23 extra pounds of force acting directly on your neck. That's a great argument for a head and neck restraint, but also a good one for a lighter helmet. Consider also the extra strain as you pull 2-hour stints at high g-loads in an endurance racer.
One thing we hate about modern helmets—and both of these are offenders—is a painfully short strap. Helmet makers, take note: Straps should be long enough to reach so you can put them on with gloves, in a hurry, with no fear of it coming loose.
Does all this mean that you need to toss your old open-face autocross helmet and spend double your $2013 Challenge budget to protect your head? Of course not. Most helmets are ultimately bought based on fit, comfort, style and the required safety rating.
Whether you'll be satisfied with the least expensive possible unit likely depends on how much time you'll spend inside it and what you'll be doing. That diesel-powered Chevette crapcan racer won't see 70 mph, but a Viper Competition Coupe at Canada Corner is a whole other matter.