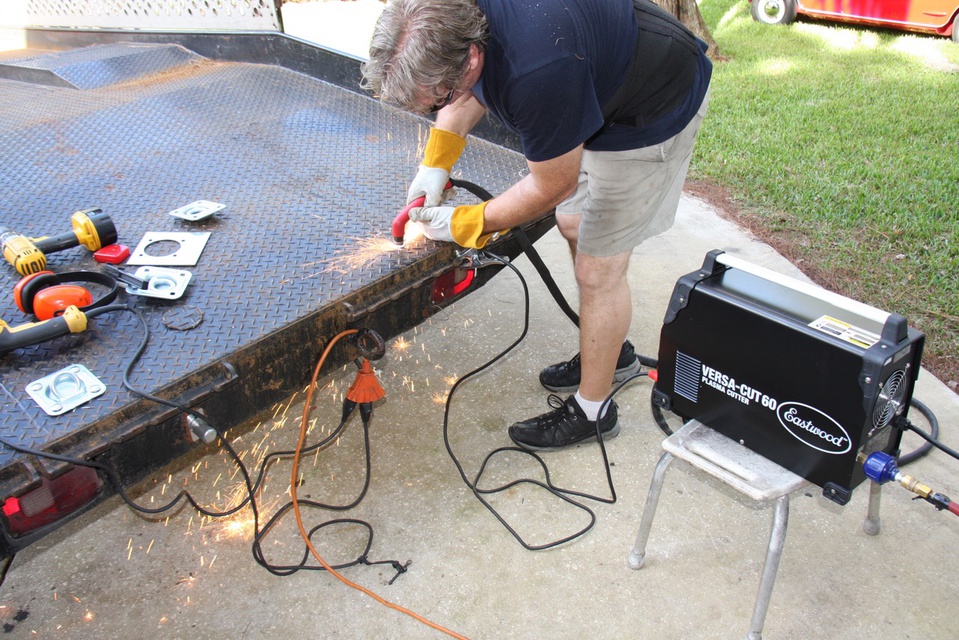 Oddly enough when we bought our ramp truck, it had no tie down hooks. The previous owner had apparently only held cars down with the winch and a strap from the back of the car to the tail of the truck.
We wanted some real tie downs, not only for cars, but also for stuff like car parts or lumber, should we decide to use the truck to carry such items.
For car tie downs, we found the right pieces at Northern Tool. We picked up eight of them for just a few dollars each. We chose eight as we wanted to be able to secure cars of various sizes. We mounted four in the back and four in the front in both inboard and outboard locations.
With our Eastwood plasma cutter, mounting these tie downs was quick and easy. We just traced the hole we would need in the truck's deck that we would need install each tie down, and quickly got all eight pieces mounted.
To hold down any future parts and lumber of unknown siza and shape, we ran lengths of 1.5" angle iron down both sides of the truck. We drilled holes every 12" and welded this angle iron to the side of the truck's bed.