I've been following info about the 03-07 Crown Vic front suspension swap because I have a need to replace the front suspension in my 1977 Plymouth Roadrunner. That's a Volare gents. Now, it's been common practice to swap the Volare torsion bar front suspension into Ford trucks for some years now, however, from a performance standpoint, it's pretty lame. Adequate would best describe that set up.
So I ask myself, "Why can't I do that with my Volare?". Several problems come to mind. Track width for one (60.5" for the Volare vs. 67.5" for the Crown Vic). I may be actually able to work with that utilizing fender flares from the Volare\Aspen Super Coupes. But, the biggest hangup is the mounting of the lower A arm on the Crown Vic IFS. It shoots WAY back. On the stock Vic, the frame bows outboard and the A arm bolts to the INSIDE of it. With Ford truck frames, they don't swoop downward too much and the Ford guys make a bracket to bolt to the UNDERSIDE. The Volare frame swoops downward so if I tried to install the Vic IFS, the A arms would foul it. I hope you can see the pic. Top is the stock Volare setup. Bottom is the Crown Vic IFS in a vintage Ford truck: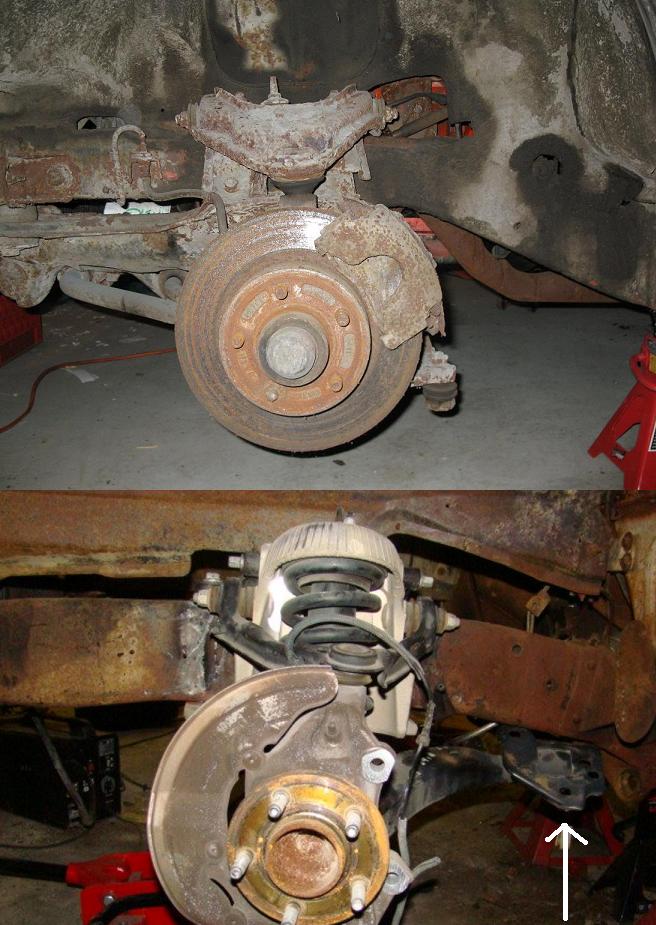 So, using my limited knowledge of front suspensions, I'll have to ask. Can the Crown Vic IFS be installed in the reverse direction with no ill effects on handling? That is, with the A arms pointing towards the front and using the power rack from a rear steer setup?
Any ideas? That would solve the frame fouling issue I'd have.
It's real nice looking piece...
Thanks.
Greg