Oct. 12, 2011 2:45 p.m.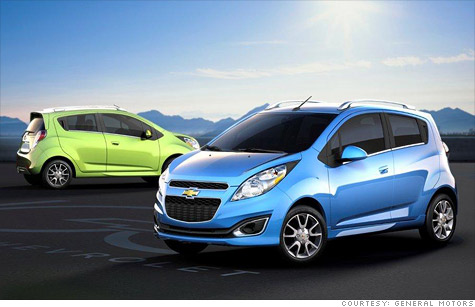 CNN Says: NEW YORK (CNNMoney) -- General Motors, maker of the Chevy Volt plug-in hybrid, will sell a small totally electric car beginning in 2013, the automaker announced Wednesday. The Chevy Spark EV will be sold in limited markets in the U.S. and other countries, GM said. Smaller than a typical subcompact, the Spark is a so-called minicar. It's a couple of inches shorter than a Mini Cooper. A gasoline-powered version of the Spark is expected to go on sale here early next year. In the past, GM (GM, Fortune 500) executives have expressed doubts about the market for purely electric cars because of their limited driving range. The automaker attempted to market a two-seat all-electric car, the EV1, in some states in the 1990s. GM stopped making the car when laws requiring the sale of electric cars ended in 2003. GM began selling the Chevrolet Volt, a plug-in car that can drive about 35 miles on a fully charged battery before turning on a gasoline engine to generate electricity for further driving, at the end of 2010.
If you hated the Volt, prepare to loathe the Spark. (Although I really liked the Volt...)
You'll need to log in to post.
Also on Grassroots Motorsports