I am just about to start my swap but thought it was time to put together a build thread. I bought the e28 at the end of the summer after selling my practical e46 AWD wagon. I bought the e28 without a motor but a bunch of suspension goodies already done. LS1/T56 was the plan from the beginning.
I recently picked up a wreck 99 z28 with 55k miles. Just about done parting it out....this really was the best was to go to make the swap inexpensive.
I am a school teacher and the plan is to get most of the swap done over my break which begins in just under 2 weeks. Or at least the engine in, mounted, and most of the fab done.......so the heavy lifting work.
I have done a bunch of engine swaps but this will be both the first in an e28 and with an LS1.
Not many pictures yet but I normally go overboard with pictures...
Here is one of the car it is going in, 85 528e, red sport interior, euro bumpers, bunch of suspension mods.
And the LS1/t56 that is going in...pretty much stock, other than bigger TB, SLP Maf, SLP under drive pullys, the headers will not fit so they will be coming off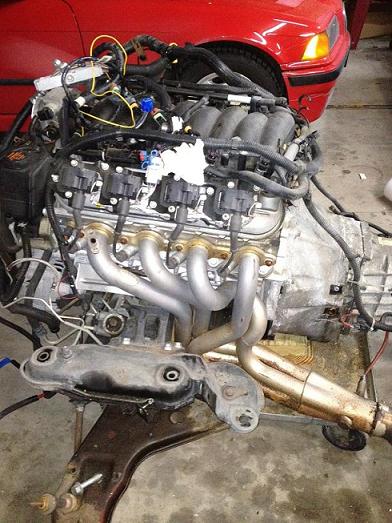 This car will have everything as it would from the factory, ac, cruise, etc etc. I may try and use all the AC stuff from the camaro, other than the parts in the dash.
just a small update.....more will happen tomorrow.
Got the garaged cleaned up some and the e28 up on the lift. Engine came out (it had half an m30 in it, head was gone) had to make a scrap run (m30, old m10, more random camaro parts)
The GTO oil pan will get swapped on tomorrow and the LS1 will get dropped in. I did some simple measurements and it looks like with the shifter in the middle of the console opening the heads will be in front of the brake booster. I have a remote booster from a e34 540 if needed but I will start with trying to keep the stock booster.
I have decided to drop both the front and rear subframes and have everything powder coated. The first stage will be to have ALL the mechanical bits of the car refreshed.
The firewall insulation is pretty beat up (what do you expect for an 85). A new one is NLA so I need to figure out if I want to just leave it or replace with something different. Any suggestions?
On to some pictures.
The lab...
The patient
Old m30
It's new heart
It's new home
I normally take a bunch of other random pictures so as I am sitting on the couch and need to figure something out I have pictures to reference. They all get dumped here for this project. www.theguestroom.net/e28 Feel free to check them out.
Engine is in, sitting on the sub frame and some blocks of wood. I will make the mounts tomorrow, look pretty straight forward and I already have a plan. I was hoping to keep the stock brake booster but there wasn't enough room to push the engine back far enough. I have a 540 remote booster that will work. I might look at the Porsche 944 booster and see if that would work too. Either way I have a solution so...
Steering is all clearing nicely.... The only trouble is going to be the passenger side exhaust manifold but I have a couple ideas. I can always make something if it comes down to it. Not any big deal.
On to some pictures
open wide!!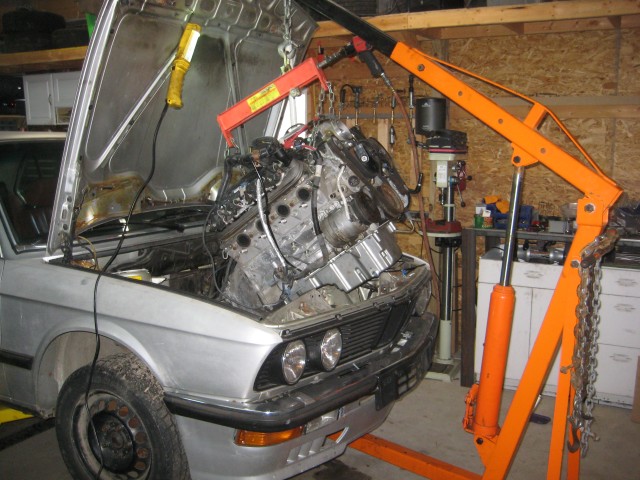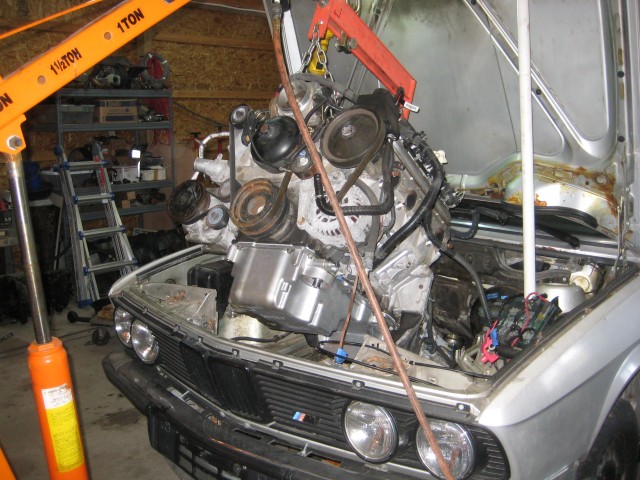 sitting in (passenger side)
sitting in (drivers side)
Like it was made to be there....I had this shift knob sitting around and it is the threaded type from a 2002...and it threaded right on. Not sure if it will be there at the end or not.
Trans/shifter in tunnel
clears suspension/steering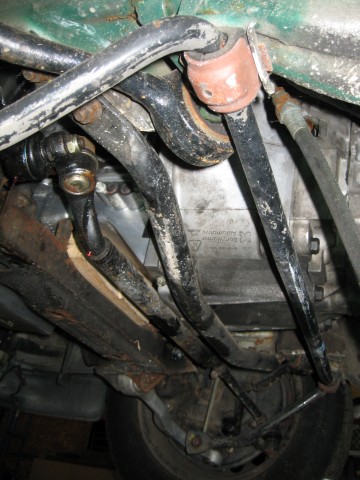 underside in front - I might lower it one board, unless it starts to hit the suspension. Things are pretty close back there