Oct. 4, 2010 8:28 p.m.
Nice! Here are a few pictures of my work on the Miata head.
As this was a super-cheap top end rebuild, I didn't knock out the valve guides, so I had to work around them during the porting work. It's far from ideal, but good enough for my goals. This is a shot of the finished intake and exhaust port bowls. I cut them a little deeper, but I wanted to keep a smooth flowpath along the port ceiling down to the valve seat, so I didn't do a hack of a lot of cutting. I do a LOT more on MINI Cooper heads (first gen. BMW, not the old-school ones). Those ports are pretty nasty from the factory.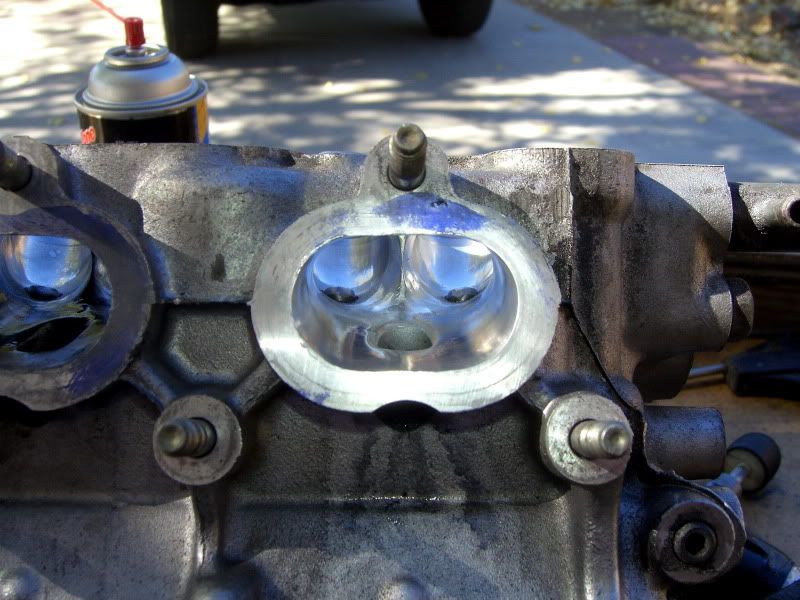 This is a view down the intake runner. As has been mentioned above, I worked almost entirely on the port ceiling. The port floor was only cleaned up, with no real cutting there. I did thin doen the septum a bit, but I didn't go too crazy. Honestly, for stock cams these ports are pretty big already, so I didn't want to decrease the air speed if possible.
It seems no matter how many pictures I take of a project, I want more. This time, I forgot to take pictures of the finished exhaust ports. They look about the same, though, with cleaned up runners and slightly deepened bowls.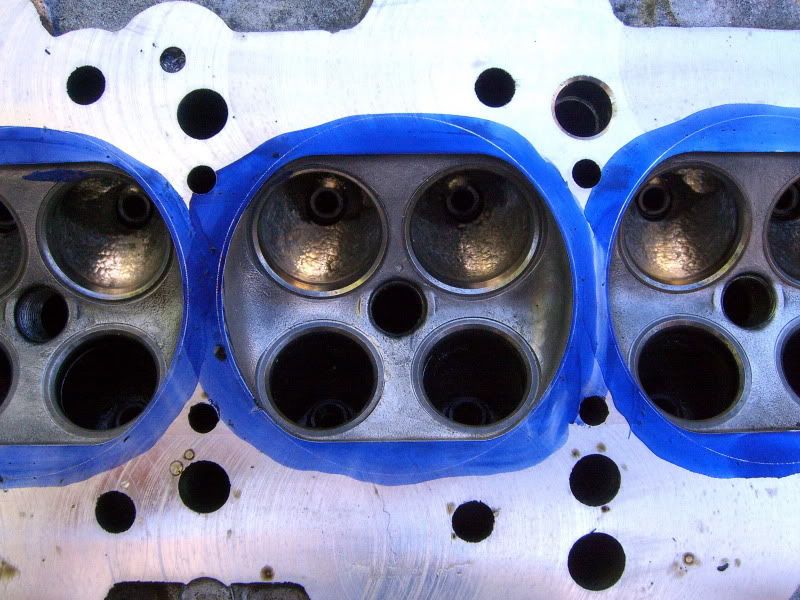 One of the things I researched before cutting this head was valve shrouding. Given the lower compression built into the old BP05 engines, a bit of material removed from the combustion chamber isn't going to hurt. Besides, I had to deck this head 0.012 inches to get it flat again. So, I put the head gasket on the head and marked where the gasket laid on each combustion chamber.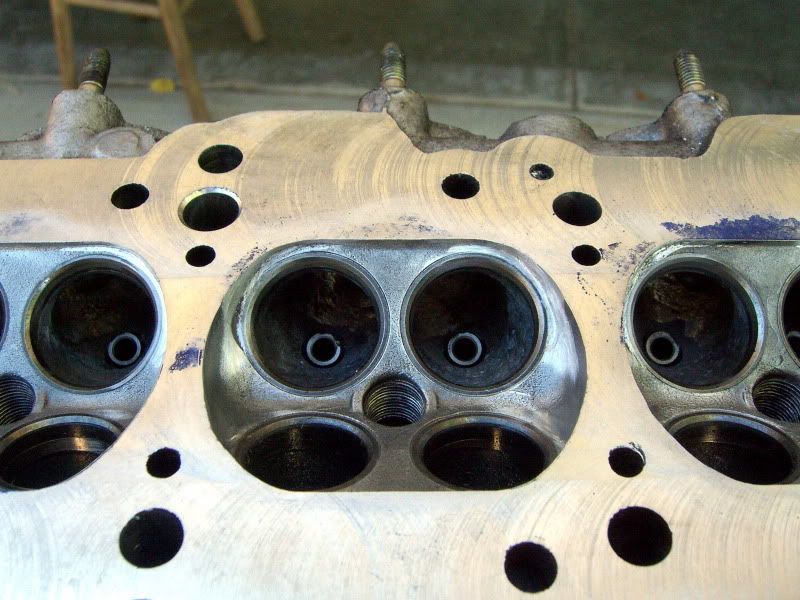 Using the markings as a guide, I cut back the head around the corner of each port to unshroud the valves a bit. I did this for both the intake and the exhaust.
BTW This is my idea of a GREAT Saturday. Perfect weather, and a car to work on.
Anyway, even with the stock cams in place, the results are VERY evident on the butt dyno. The engine benefits from the work mainly at the bottom and the top; these mods have straightened up the torque curve a bit. Driveability around town is particularly nice, as the engine has a lot more off-idle torque, and the top end is a little more robust as well.
You'll need to log in to post.
Also on Grassroots Motorsports
2 days ago in News
April is "Member's Month" at SCCA's Track Night in America.
2 days ago in New Car Reviews
The Audi A4, BMW's 3-Series competitor appeals more to the luxury market than the performance market. However, don't discount the ...
2 days ago in News
It's a back-roads adventure to the Classic Motorsports Mitty
3 days ago in Articles
If something puts a smile on your face or makes you a better person, share it.
3 days ago in News
Haley Oosterhof and Elayne Man have proved to be outstanding SCCA members.
4 days ago in News
We're headed to the Firm this Saturday for some rallycross fun.
5 days ago in News
Now is a great time to renew or start subscribing to our magazine.
5 days ago in Project Cars
We put an AEM engine management system in our Mustang.
6 days ago in News
Porsche will be the featured marque at the Mitty, and we have a Porsche legend for you to meet at ...
6 days ago in New Car Reviews
The internet has doled out a lot of mixed opinions on the BRZ and its twin, now called the Toyota ...
6 days ago in News
This is no ordinary Ranger.