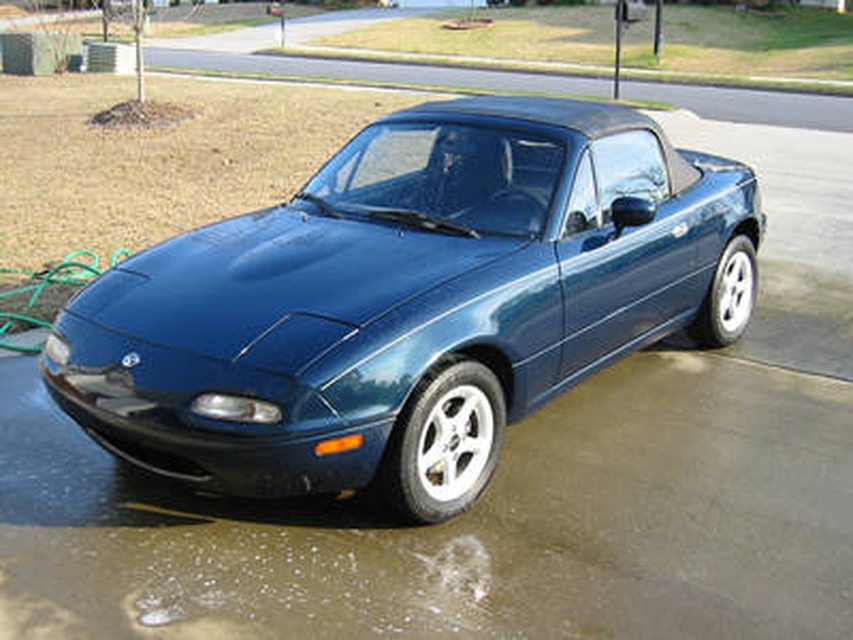 Honestly, we haven't done much on our Miata lately, but we did help get another one into the family, as our editor's brother, Matt, recently picked up a 1996 model.
For the past year or so, he's been nosing around new cars, figuring it was time to replace his trusty Nissan Altima. The Subaru Impreza WRX caught his eye, but the $24,000 price tag didn't thrill him--for the same money, he eventually realized, why not get an early Boxster?
That argument evolved: Why drop $24,000 on a used Boxster, when a fraction of that would buy a used Miata--a car that can be just as fun?
Matt had a few requirements during his search for a Miata: Ideally the car had to be less than $5000 and have less than 100,000 miles. Also, no red cars, stating that the color is a bit too common.
The search originally centered on 1992 and 1993 black-and-tan models, but eventually he spied an ad for a 1996 Montego Blue Mica Miata that was at a local new-car dealer. The mileage was in the 70,000-range, while the asking price was $6000.
Friend of the family Rob Ebersol (http://www.roadsterrage.com) gave the car a once-over and pronounced his blessing. The verdict: While the trunk lid and hood had some hail damage, the rest of the car couldn't be cleaner.
A seal of approval in-hand, Matt returned to the dealership to work his Jedi mind tricks. The original asking price was $6000 plus tax, tag, title and dealership fees. In the end, he drove out of there after stroking a check for $4900.
The first mod done to the car was the installation of a JVC KD-SX980 head unit that can handle traditional compact discs as well as MP3s. Thanks to a 10-percent-off coupon, the final total was $196 at Best Buy; the regular price is close to $230. We'll keep you posted on future mods, anticipating some involving the car's suspension.
While it has little info on Miatas or even cars in general, check out http://www.mattwallens.com for some funny stuff, all courtesy of our editor's brother.