"Meet the new boss, same as the old boss…"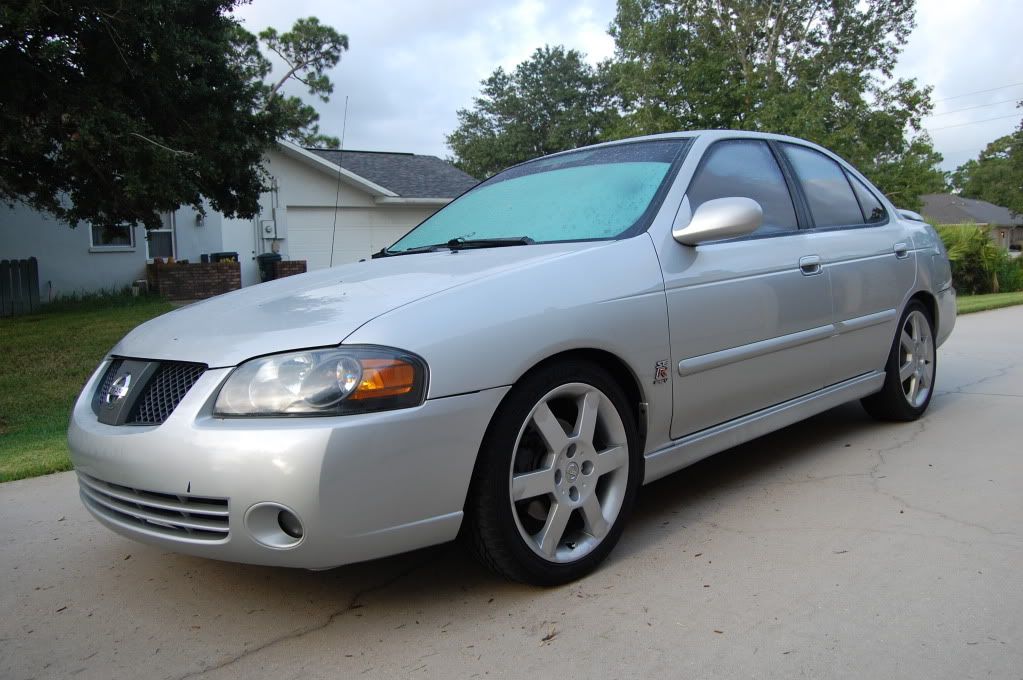 Yes, I bought another Sentra. Traded black for silver, sort of. It's also a little newer, '06 vs. '03. You can also see that it's been lowered a little. Other than that, it's almost exactly the same as my old one. With one minor difference under the hood: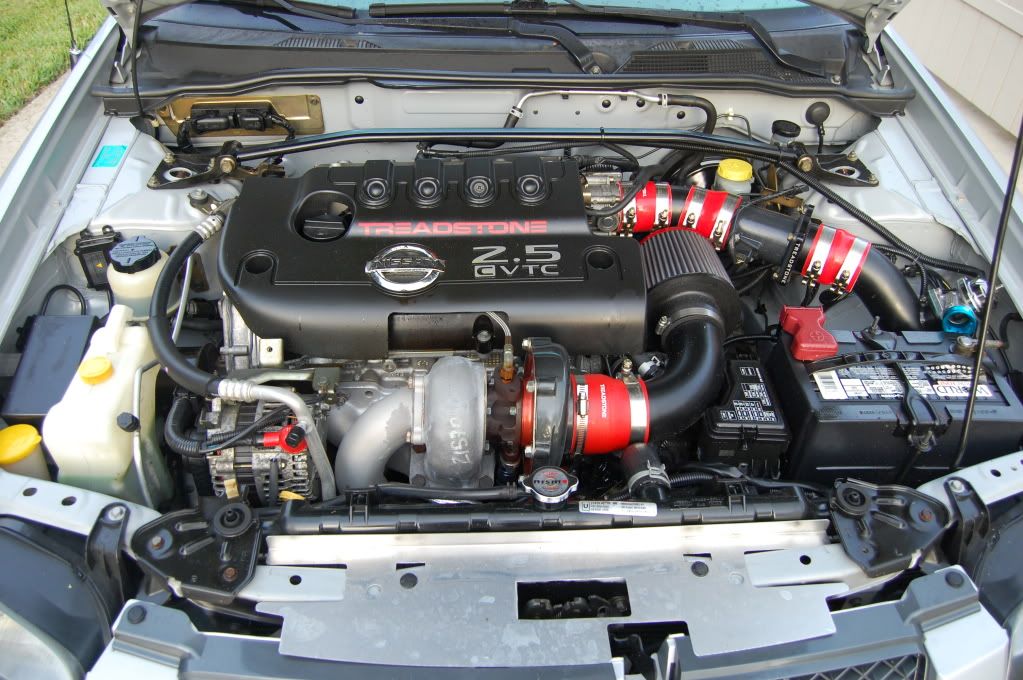 It's a Treadstone turbo kit with a Turbonetics GTK450 ceramic ball bearing turbocharger, front mount intercooler, Greddy blow off valve, Turbonetics wastegate, and an Apexi AFC Neo controller. All told, it adds up to 270 dyno-proven wheel horsepower on 6 psi of boost. Yes, it's fast. Goodbye G Stock; hello Street Mod.
The thing that attracted me to it was how subtly the whole thing was done. The builder powder-coated the intercooler black so that it totally disappears behind the grill. No stickers, no stripes, stock wheels, even the exhaust tips (exiting from a custom 3" exhaust all the way from the down pipe, including a 3" high-flow cat) powder coated black. There's nothing outside to indicate how special it is. Q-ship!
On my way home from work Friday, a new Porsche 911 was following close behind me approaching a red light. At the last second, he juked over to the left lane, almost cutting somebody off in the process. I snickered a little, just thinking about how low he regarded the plain-looking Japanese economy car in the lane next to him. The light turned green and I nosed ahead of him with a faster reaction time. I could see his front end lift as he nailed the throttle, but the boost had kicked in and I stayed ahead through first gear. It looked as though I might lose a little ground through second as I saw him inch up a bit, but when I caught third, his advance stopped and he stayed even with my A-pillar up through most of third. At that point, I spiked my brakes, haven proven my point and already going 80 in a 45 zone.
I looked it up – let's see, 2011 Porsche 911 Carrera S Cabriolet, 0-60 mph, gulp, 4.6 seconds.
And I beat it.
I have never owned a car even remotely this fast. It's scary, giddy, exciting, and wonderful. I'm in the process of setting up the suspension right now for its first autocross in Daytona on the 25th; I'll let you know how it goes. Considering it's heavier than stock by a little, I doubt if I'll be contending for Pax position, but we'll see how it goes on the overall scale. Should be fun!