Aug. 26, 2009 5:35 p.m.
So I am working on a 1987 e24 M6 with the craptastic SLS (Self Leaking Suspension) on the rear.
Since it is now dead, I need to replace it with some nice bilsteins and real springs. The challenge is that finding any sort of write up on these things is really tough and I don't know enough about the different SLS models to know how much of their instructions/parts carry over. The best I have found is instructions for the 5 Series 89 thru 96 and the 7 Series 88 thru 01.
BavAuto sells a "kit" but I get the feeling that if I knew what I was doing I could make my own kit and for cheaper.
This thing ain't no e30 or e36 so I am getting pretty lost.
thanks!
Aug. 26, 2009 5:44 p.m.
Contact your local BMWCCA chapter. Bet someone there has a DIY.
Aug. 26, 2009 6:06 p.m.
Have you checked any of the BMW forums? http://www.bigcoupe.com/ comes to mind, you could also try the M5 subsection of http://www.mye28.com since the suspension is essentially the same.
Aug. 26, 2009 6:09 p.m.
In reply to Timeormoney:
Try some of these links. The very first one is a discussion by someone swapping from self-leveling to bilsteins.
http://www.bmwcca.org/forum/showthread.php?t=3485
http://www.bmw-forums.net/bmw-6-series-forum-e24-e63-e64-vf4.html
http://forums.roadfly.com/forums/bmw/bmw-6-series-e24/
http://www.bimmerclub.org/forums/forumdisplay.php?f=21
http://forums.bimmerforums.com/forum/forumdisplay.php?f=237
Aug. 26, 2009 7:06 p.m.
@ djsilver Thanks for those links; I had been to most of them and learned that 6 owners seems to be very/overly concerned with the ride height of their vehicles. Either way, I hadn't thought of bimmerclub or bimmerforums so that is another source. Thank you for those links.
@stuart in mn and docwyte The local CCA folks recommended mye28; so I blasted through their threads. I I also posted on big coupe after going through MANY posts.
It would seem so far that the e24 has a self contained system so I can just remove it (unlike others that run off the Power Steering Pump). But there is some question in my head about What OEM parts I will need to pickup in order to add the bilsteins and springs.
The hunt continues
Thanks again!
Aug. 26, 2009 7:24 p.m.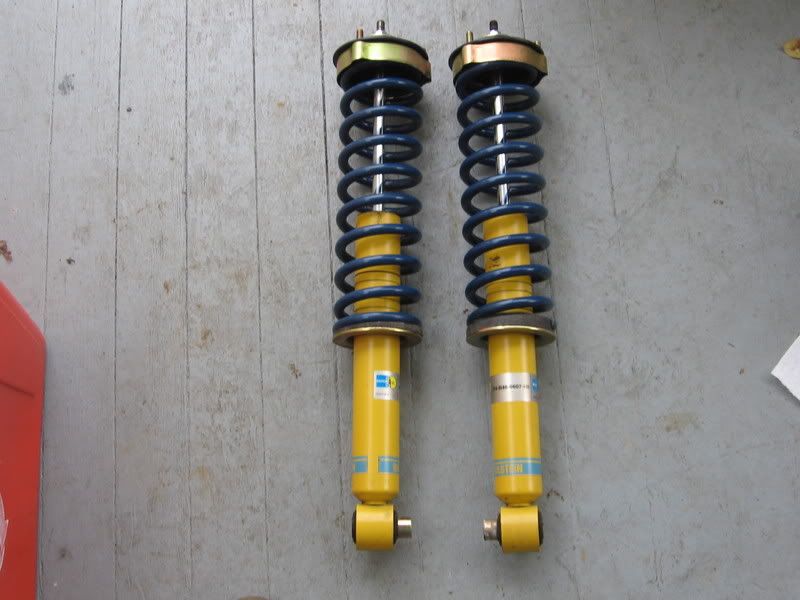 Looks like this is the setup, just need to figure out which replacements parts for the top mount are different.
Totally ninjar'd from Bimmerforums thanks for the advice to check them out.
You'll need to log in to post.
Also on Grassroots Motorsports