July 23, 2009 11:05 a.m.
CGLockRacer wrote:

randyvr6 wrote: Was the one you saw silver? It is a Type 34 Karmann Ghia. If so I know the owner who is from Tecumseh; about 20 minutes from Ann Arbor.

Yeah, it was. Also had VW logo covers on the inner lights. I live 5 min. from Tecumseh. Sweet car too, I've never seen one.
That's the one. The guys name is Bob. He has a sweet early VW bus as well.
There is a huge car show every September in Clinton for their Fall Festival; he usually brings both of them there. He has also had them at the big car show held at the ididit business in Tecumseh every fall. I found a picture of them from last year posted below
I live in Somerset just 6 miles west of MIS down US12.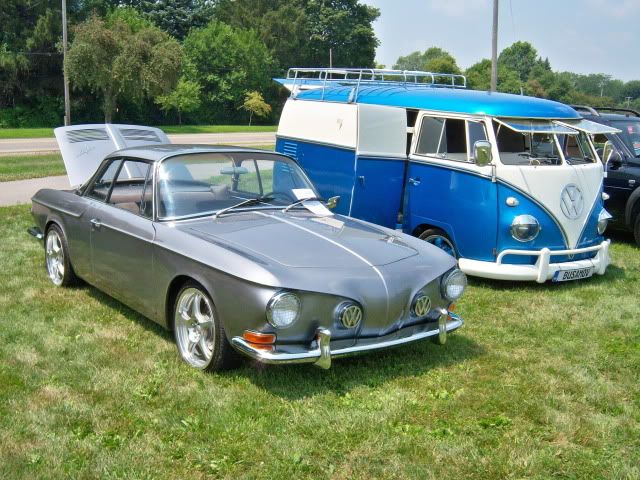 You'll need to log in to post.
Also on Grassroots Motorsports
1 day ago in News
Catch all the action of the Global MX-5 Cup race at Road America live this weekend.
1 day ago in Articles
A guide for installing an air compressor and air tools in your home garage.
1 day ago in New Car Reviews
Say hello to the Volkswagen Golf SportWagen TSI S with 4Motion. It comes with a turbocharged 1.8-liter engine that is ...
1 day ago in News
It already has a GRM sticker and everything.
1 day ago in News
Get both our magazines for the price of one!
1 day ago in News
Love a good MK5 GTI? You might enjoy this build thread.
2 days ago in Articles
Whether sleek, boxy or somewhere in between, all cars interact with the air while racing down the track.
2 days ago in New Car Reviews
Acura is introducing something new for the 2018 model year: the Acura TLX V6 A-Spec. It's the highest trim level ...
2 days ago in News
For sale: one of Suzuki's under-appreciated hot hatches.
2 days ago in Articles
All the information you'll need on GM's entry in the sport compact wars.
3 days ago in News
What do all these cans even do!?!?
3 days ago in Project Cars
Once again, some off-road action sent our project focus under the knife.