July 23, 2009 11:05 a.m.
CGLockRacer wrote:

randyvr6 wrote: Was the one you saw silver? It is a Type 34 Karmann Ghia. If so I know the owner who is from Tecumseh; about 20 minutes from Ann Arbor.

Yeah, it was. Also had VW logo covers on the inner lights. I live 5 min. from Tecumseh. Sweet car too, I've never seen one.
That's the one. The guys name is Bob. He has a sweet early VW bus as well.
There is a huge car show every September in Clinton for their Fall Festival; he usually brings both of them there. He has also had them at the big car show held at the ididit business in Tecumseh every fall. I found a picture of them from last year posted below
I live in Somerset just 6 miles west of MIS down US12.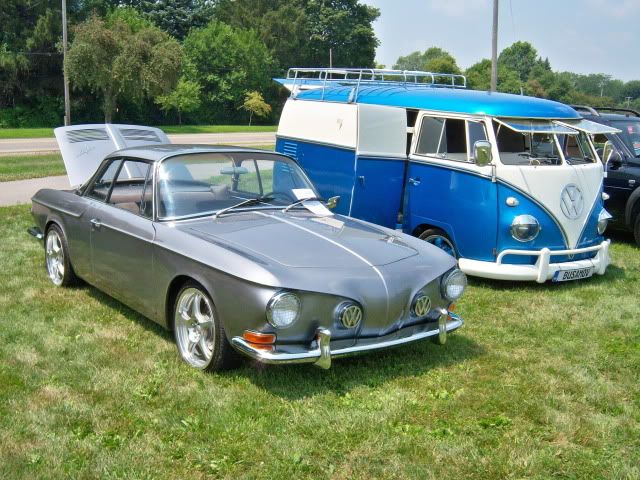 You'll need to log in to post.
Also on Grassroots Motorsports
14 hours ago in Articles
Christina Lam went from the sidelines to full-on track enthusiast in 8 simple steps.
15 hours ago in New Car Reviews
When it comes to luxury sedans, Audis are usually front-runners. The A8 L is the biggest and maybe most comfortable ...
17 hours ago in Project Cars
Few things slow down our project car progress more effectively than a broken arm.
1 day ago in News
Check your inbox for our Grassroots Motorsports Experience renewals.
1 day ago in News
We hit the track with Flyin' Miata's latest power adder.
1 day ago in Project Cars
We transfer the fire system to our new Miata.
2 days ago in Articles
All-wheel drive, turbo power and a Q-ship's stealth.
3 days ago in News
Gearhead heaven? We think it looks something like this.
3 days ago in News
Relive those desperado days through movie excerpts, and hear the real facts and wild stories from the legends themselves.
6 days ago in News
Gates open this Friday for the Classic Motorsports Mitty at Road Atlanta.
6 days ago in News
Add 70 horsepower and 70 ft.-lbs!
1 week ago in Articles
Thoughts on our racing plan for the year.