July 23, 2009 11:05 a.m.
CGLockRacer wrote:

randyvr6 wrote: Was the one you saw silver? It is a Type 34 Karmann Ghia. If so I know the owner who is from Tecumseh; about 20 minutes from Ann Arbor.

Yeah, it was. Also had VW logo covers on the inner lights. I live 5 min. from Tecumseh. Sweet car too, I've never seen one.
That's the one. The guys name is Bob. He has a sweet early VW bus as well.
There is a huge car show every September in Clinton for their Fall Festival; he usually brings both of them there. He has also had them at the big car show held at the ididit business in Tecumseh every fall. I found a picture of them from last year posted below
I live in Somerset just 6 miles west of MIS down US12.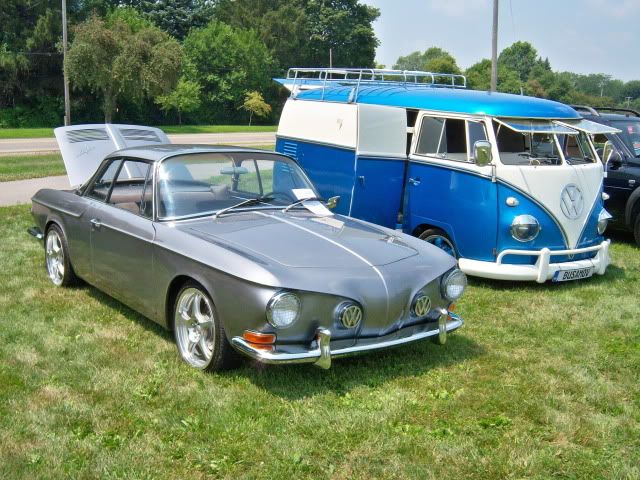 You'll need to log in to post.
Also on Grassroots Motorsports
12 hours ago in News
The goal is an even ton.
12 hours ago in News
Ready to race!
12 hours ago in News
Buy one of our favorite Q-ships.
17 hours ago in News
We're taking our sim-racing game to another level.
18 hours ago in Articles
I just spent 10 days in one of my new favorite cars: the 2017 VW GTE.
1 day ago in News
Wing, flares, V8 swap and more!
1 day ago in News
Today's special.
1 day ago in News
Another forum member put it best: "This build is absolutely mental. And I mean that in the best possible way."
1 day ago in News
It looks cool, matches our cargo shorts, and makes little sense.
1 day ago in Articles
This year's Concours d'Lemons celebrated two cars rarely associated with the glitz and glamor of Monterey.
1 day ago in News
Meet some brown '70s awesomeness.
3 days ago in News
Acura yesterday unveiled the new Acura ARX-05 prototype race car.
Birthdays