I'm watching my perfectly sanded build primer turn to orange peal with every pass of my paint gun that's splattering sealer on my car like its wall texture on sheetrock, a blob just fell from my gun on to my hood, my nerves have me breathing heavy enough that my respirator just dripped condensation on the wet sealer I just laid, again!, a slight draft just blew some dust from my garage ceiling onto my roof, drip marks, runs, fish eyes, I cant stop, I don't have time to sand this again, the base coat is going on this as it lays, and by the way it's looking "orange peel" will be the first descriptive word out of everyone's mouth when they see this. I'd scream, but the mask would stifle the effort and risk another drip. How in the world did I get here?
I decided to paint my own car.
Why? The previous paint job was crap. It was applied over three other bad layers of paint with god knows what, and I didn't even have enough money left in my project's budget to pay Maaco for a re-spray. So if this was going to get done, I was going to have to be the one to do it.
What's my background? Complete first timer. I've never sprayed a car before, I've never mixed paint, I've no experience with setting up a paint gun, heck! I've never even held a paint gun! Add in the fact that this car's body was covered in almost 1/4" of body filler (and it was hiding some HUGE repairs) and the odds were probably as stacked against me as they could possibly get.
What did it cost? JUST over $1000, here's a rough breakdown:
Eastwood.com: $316.88 for the DA sander, Concourse LT Paint gun, 3 needle sets (1.3, 1.5, and 1.7mm), dekups kit, cleaning kit, and adapters

local paint shop: roughly $500. $401.00 for one gallon of primer, one gallon of base, one gallon of clear, and all the reducers/activators needed. The other $100 was for laquer thinner (to clean the gun), wax/grease remover, block sander, and the associated block sander paper (150 and 220 grit)

Air compressor: $169 on sale at home depot. Husky 20galon. Rated at 1cfm above the requirements of the HVLP gun. A bit small for the sander though.

Sand paper (sheets and discs), blue tape, air/oil separator, air hose, bondo, kitty hair, respirator, filters, and beer (estimated $380 total)

Small, empty, 2-car garage
How did it turn out? Well, if you saw it on the road you'd be amazed. If you saw it Cars and coffee? Well I'm sure the armchair experts will have PLENTY to say.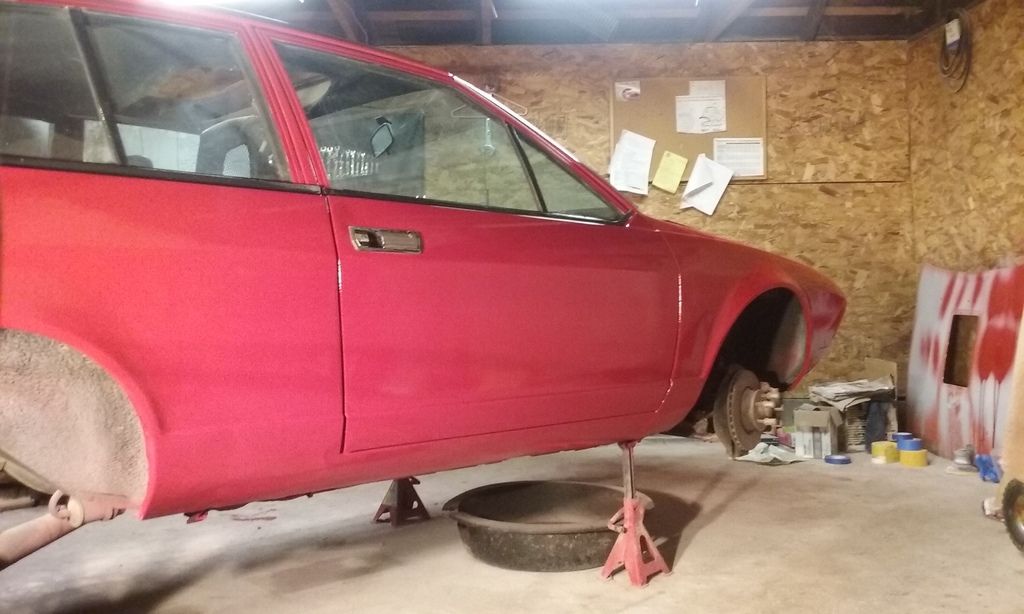 Why am I telling you all this? To brag of course! AND to tell the person who's on the fence about doing this themselves is: Do it! Oh please do it! I haven't been this happy about a car project since my first engine rebuild!
If you take your time, listen to the people with experience, and pay attention to the details as you go, you'll end up happier than you've ever been with any other paint job. I promise.
disclaimers:
not for concourse cars. Pay someone else concourse money for those

I knew I couldn't do it and was very close to quitting half way through masking for the final spray.

I was so worked up, I had to drink a beer before shooting the color coat.

no purchase necessary

void where prohibited

known to cause cancer in the state of California, but only in the state of California