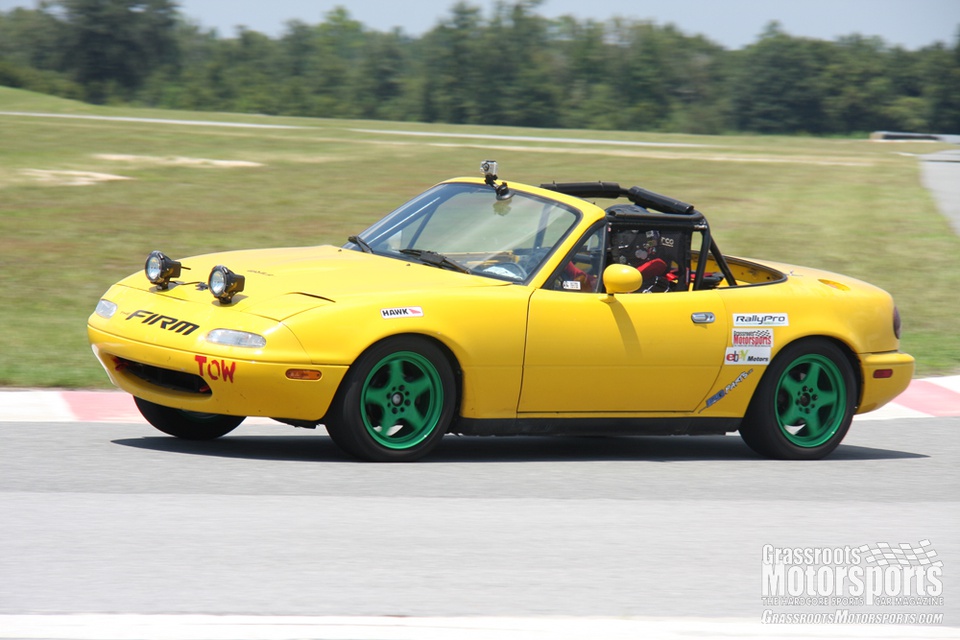 Before we entered a real race in our Sunshine Yellow 1992 Mazda Miata, we wanted to test it on track. A trip around the neighborhood can let you know if a car runs or not, but only a race track can let you know if it will survive a ChumpCar race.
So we dragged our little Miata to The FIRM for a full day of testing. The goal? Run as many laps as possible, and let every one of our drivers get comfortable in the car.
Unfortunately, our first problem surfaced after just 18 miles of driving on track: a broken gas cap was hemorrhaging fuel when the tank was full. We swapped the cap for a working one from one of The FIRM's Miatas and went back out for more laps.
Though the new cap fixed our fuel leakage problems, we weren't out of the woods yet. After 10 more miles, the car started misfiring terribly. A few simple tests of the ignition system didn't reveal any problems, so we loaded the car on the trailer and went home. We'd only covered 30 miles in our crapcan, but we'd uncovered a major issue.
On the bright side, the car broke during testing instead of waiting until its big day at Sebring. Hopefully, we can get it fixed in time for the real race.
More Miatas than you can shake a stickshift at. Subscribe to Grassroots Motorsports now.