We scooped up this already-prepped Volkswagen Fox race car for $500, with the goal of getting on track for a minimal investment of time and money. Before we could get started, though, we needed to do something about our Fox's appearance. It sported rust, dents, dings, and the remnants of at least two previous liveries.
Why fix it? Sure–we could have gotten on track without fixing any aesthetic issues–but shiny paint doesn't have to cost a lot of time or money, and it brings a host of benefits: We've found that pretty race cars are less likely to be driven like bumper cars, more likely to pass tech, and far easier to troubleshoot and repair. Plus, it's far easier to paint a car before it's filled with updated safety gear and covered in stickers.
So we went to work. Our goal? Get the Fox to be shiny, one color, and free of any major crash damage. We weren't looking for perfection, just something respectable enough to stand next to in a paddock.
First, though, we had a few structural issues to fix. Our Fox's cage was pretty good, but needed a little bit of work: We ground out the booger welds attaching the rear cage feet to the shock towers (clearly welded by somebody other than the original cage builder) and replaced them with fresh welds. We also cut out a portion of the floorpan that had a few small rust holes near the cage foot, and replaced it with 3/16" steel plate.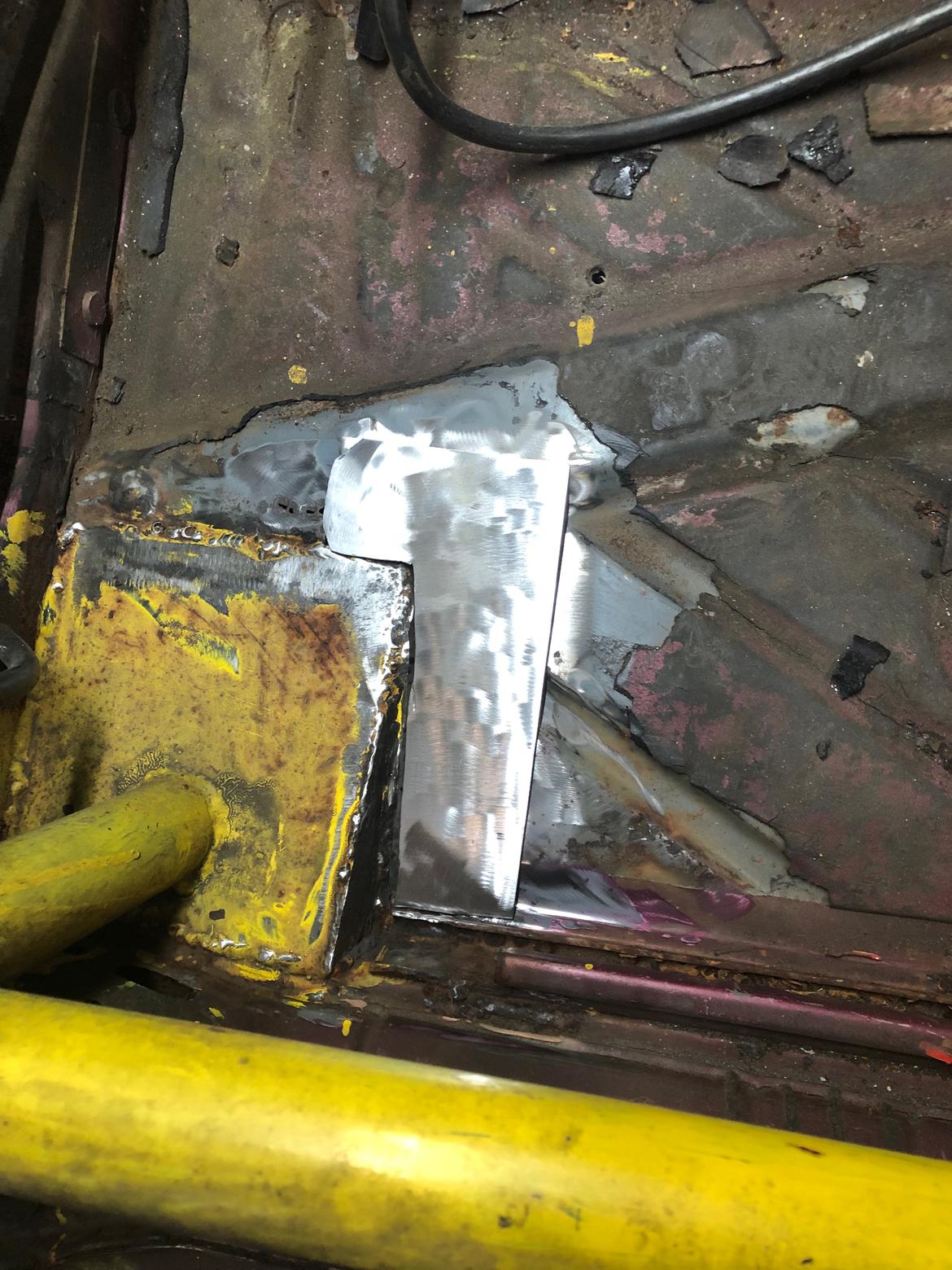 With the structural issues addressed, we moved onto aesthetics. First up: The factory sound deadening, which had never been removed despite this car's decade of racing. We chiseled it out. Why go through the hassle of removing it? Sound deadening is heavy and hard to paint, and it's also more flammable than bare metal.
With the interior more or less ready, we moved onto the car's exterior. The factory sheetmetal was scarred from years of racing bruises, but we were in luck: The car came with an extra front clip and doors, and they were fairly straight. We swapped the blue sheet metal out for the panels from our spares pile. While we had the nose off the car, we painted as much of the unibody as we could with black spray paint, too.
Once the new fenders were attached, we tested out the wheel and tire combination we're planning to run (205/50 R15 Bridgestone Potenza RE-71R tires wrapped around 15x7-inch Konig Dial-In wheels). Success! They fit.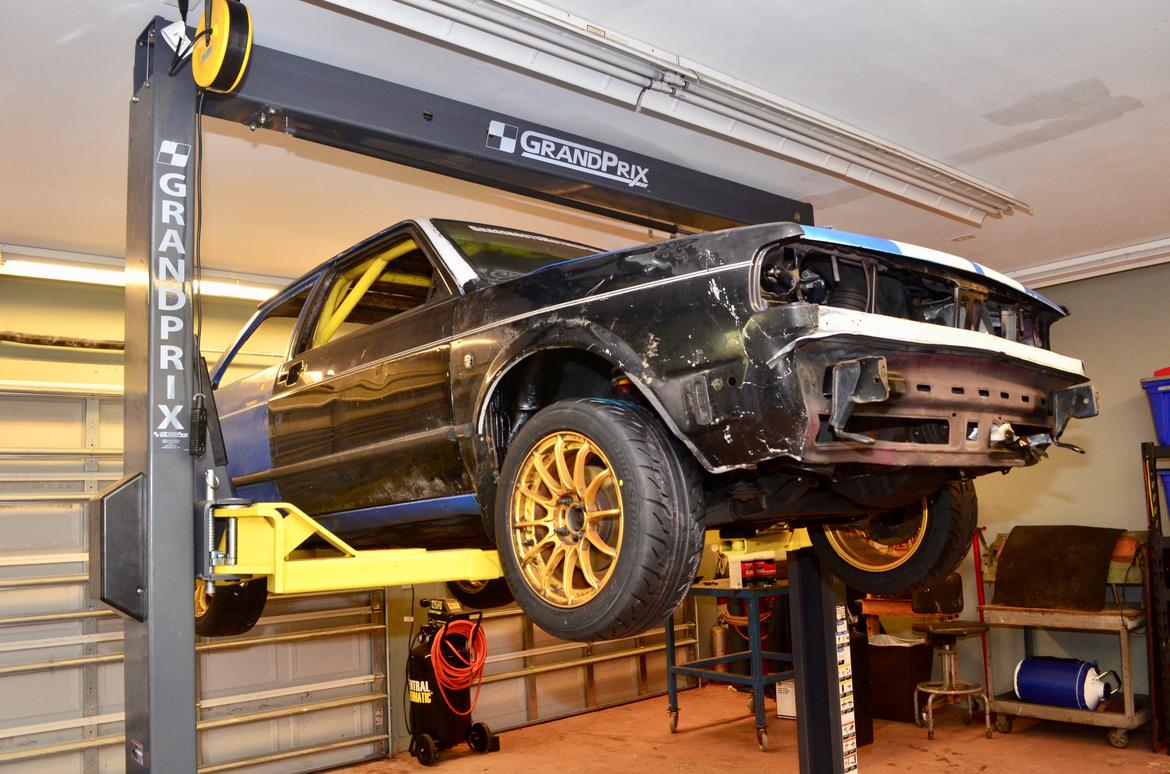 Next, we went to work. Every inch of the Fox needed to be sanded, so we attacked it with dent pullers, hammers, dollies, and 80-grit. We removed as many of the dents–and as much of the blue house paint–as possible. We also removed the car's remaining trim.
The Fox's passenger-side rocker panel needed special attention–it was too badly damaged to pull back out. Instead, we cut the quarter panel away from the door jamb, then straightened it to better match the door. We then removed the outer rocker skin and reshaped it on the bench, while we straightened the door jamb itself with a dent puller as well as we could. Afterward, we welded everything back together. Is it perfect? Absolutely not, but it's stronger than it was before and better looking.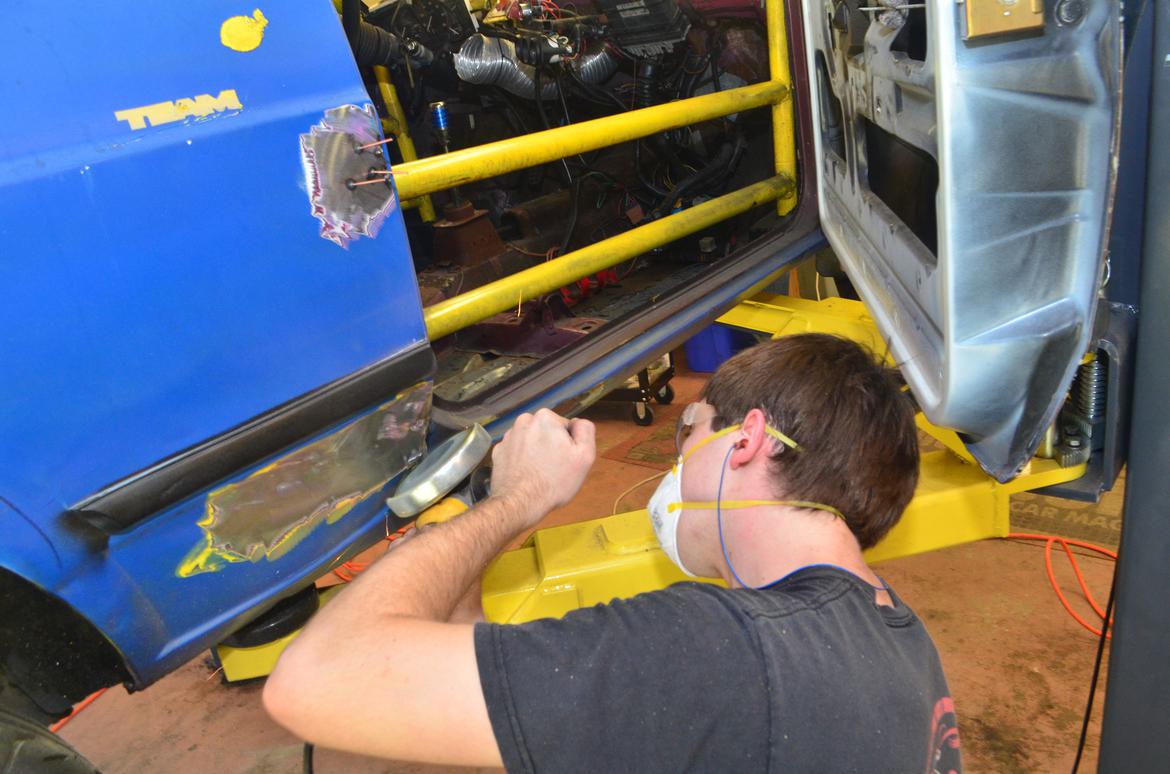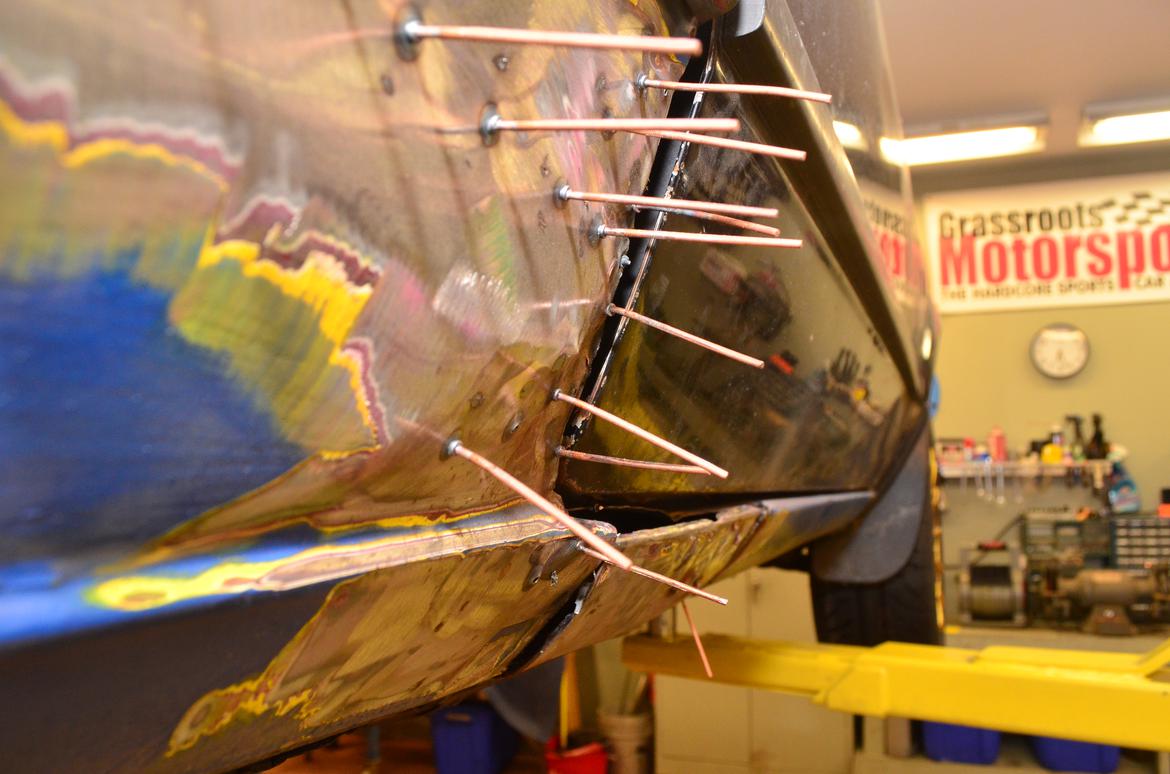 Success!
With most of the damage fixed, it was time for body filler. That meant sanding, sanding, and more sanding. We skim coated anywhere we'd made a repair with Bondo brand body filler.
Then we reached the roof of the car... and gave up. In short, it was ruined. Whoever installed the cage cut holes in the roof to weld the main hoop, and left a mess in their trail. We found warped metal, partial welds, holes, silicone bathroom caulk, and more as we sanded the roof of the car. We weren't willing to re-skin the roof, so we covered it with a generous layer of Bondo® Hair Long Strand Fiberglass Reinforced Filler, then sanded that and went over that with regular Bondo. Is it pretty? No, but there are no more holes and it should be fairly durable.
With the roof "fixed," we primed every spot on the car that was no longer factory paint.
Then, we sanded that primer to prepare for paint. We should have blocked the primer, too, like we block-sanded the Bondo, but again–it's a Lemons car, and we were pretty tired by this point.
Finally, it was time for paint. We called in a favor and borrowed a real, professional paint booth with the promise that we wouldn't mention the shop since this car would ruin its reputation. We will anyway: Thank you to The Body Werks in Daytona Beach for letting us borrow a paint booth for a few hours. And we promise, this car isn't representative of their usual work, which is amazing. The shop's owner, Tom Prescott, helped us tape the car up for paint.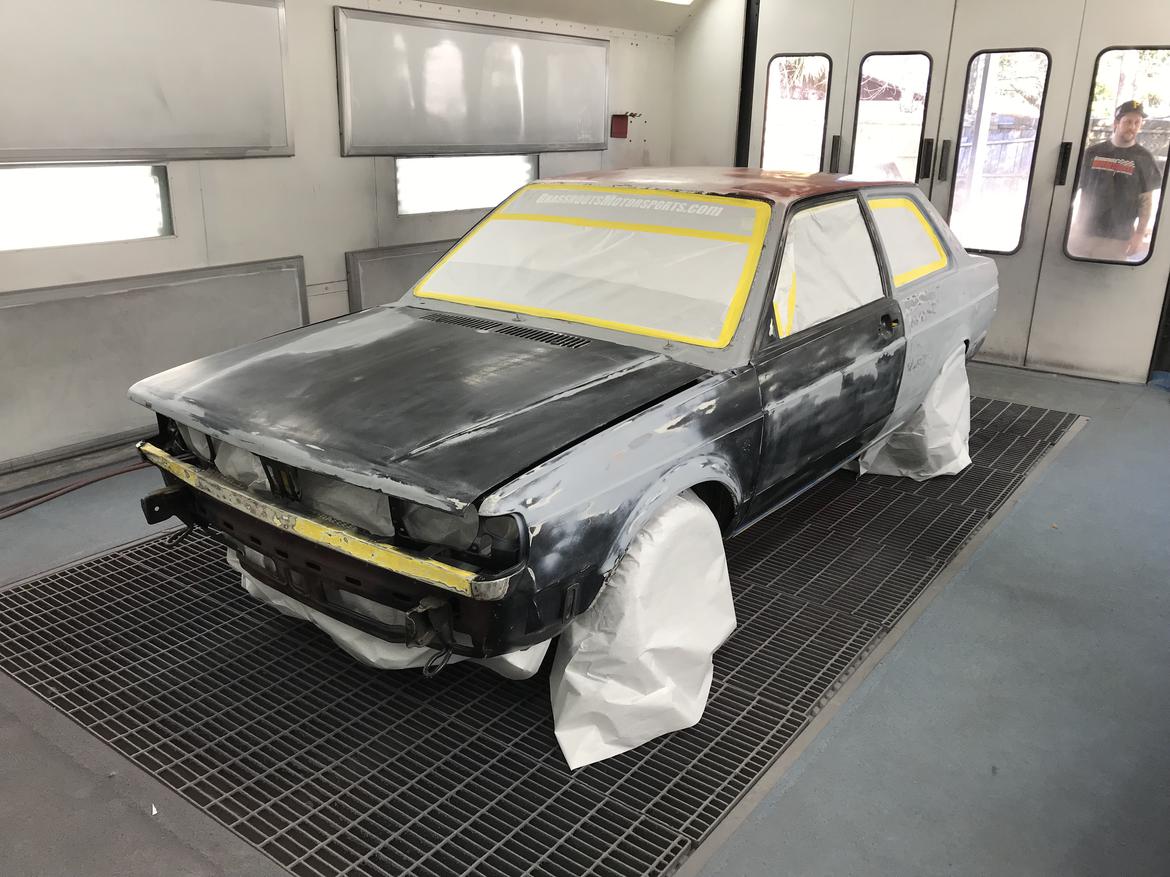 Finally, it was time to spray. We chose the cheapest single-stage paint that our local auto body supply store carried, a white acrylic enamel. Total cost of supplies, including the sandpaper and Bondo we used? Just under $300.
So, how's it look? It's better than we could have ever imagined. Our Fox is now one color, fairly shiny, and fairly free of dents and dings. This paintjob took four of us a week's worth of evenings and a Saturday, and cost less than $300. Considering what we started with and what we put into it, we're thrilled.
Time to add safety gear, which we'll do in the next update.