Jan. 6, 2011 3:02 a.m.
I've got both, on variants of the same engine. 1990 Miata 1.6 with a Voodoo II turbo, a Locost with a 1.6 Miata engine with high compression and TWM throttle bodies, and a 1994 Miata with a bored and stroked 2.0 high compression engine and OER throttle bodies. I also get to drive turbo 1.8 and 2.0 Miata engines on a regular basis.
Interestingly, the turbo 1.6 and the 2.0 make very similar power (at sea level) but the naturally aspirated engine makes more torque. The big n/a motor is a lot of fun to drive, a great engine that's much faster than everyone expects from the dyno charts. But it also cost somewhere around 4 times as much as the Voodoo II system. By the time you count the header on that car and the cams, maybe 5 times.
No polishing on the outside, only the inside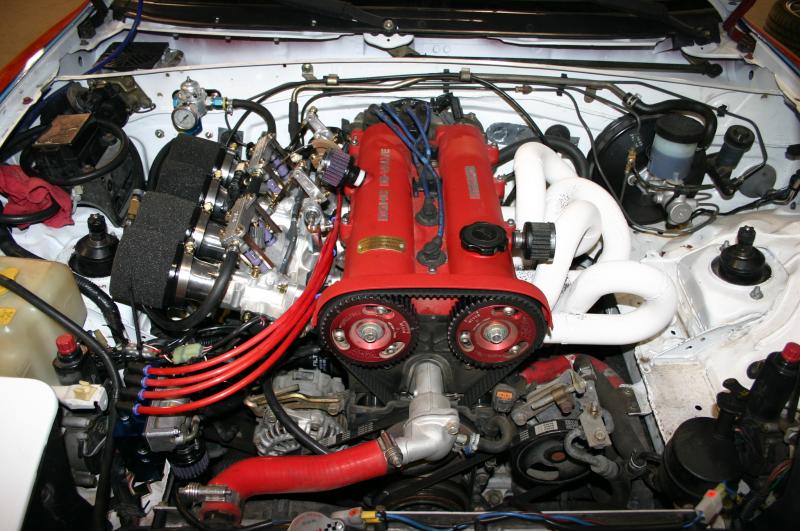 I also have a Miata 1.6 with high compression and throttle bodies. Fantastic engine. So much character, it's like a musical instrument instead of a piece of machinery. The feel of that engine as it stampedes to redline is like nothing else. Howls, crackles, pops and the throttle response of a sportbike. And the street behavior of a crotchety race engine. Less power than the turbo and less torque though. Not as expensive as the 2.0, but still definitely more than the turbo option. Probably by a factor of two if you started from scratch, I'd guess.
If I want a fast car, I'd go turbo. If I want one to drive for the sheer joy of it, I'll stick with my high compression mills. Now I'm starting to regret my future plans for that 2.0 car...
You'll need to log in to post.
Also on Grassroots Motorsports
1 hour ago in News
Ben_Modified's build combines some of our favorite things.
1 day ago in Articles
Christina Lam went from the sidelines to full-on track enthusiast in 8 simple steps.
1 day ago in New Car Reviews
When it comes to luxury sedans, Audis are usually front-runners. The A8 L is the biggest and maybe most comfortable ...
1 day ago in Project Cars
Few things slow down our project car progress more effectively than a broken arm.
1 day ago in News
Check your inbox for our Grassroots Motorsports Experience renewals.
2 days ago in News
We hit the track with Flyin' Miata's latest power adder.
2 days ago in Project Cars
We transfer the fire system to our new Miata.
3 days ago in Articles
All-wheel drive, turbo power and a Q-ship's stealth.
4 days ago in News
Gearhead heaven? We think it looks something like this.
4 days ago in News
Relive those desperado days through movie excerpts, and hear the real facts and wild stories from the legends themselves.
1 week ago in News
Gates open this Friday for the Classic Motorsports Mitty at Road Atlanta.
1 week ago in News
Add 70 horsepower and 70 ft.-lbs!