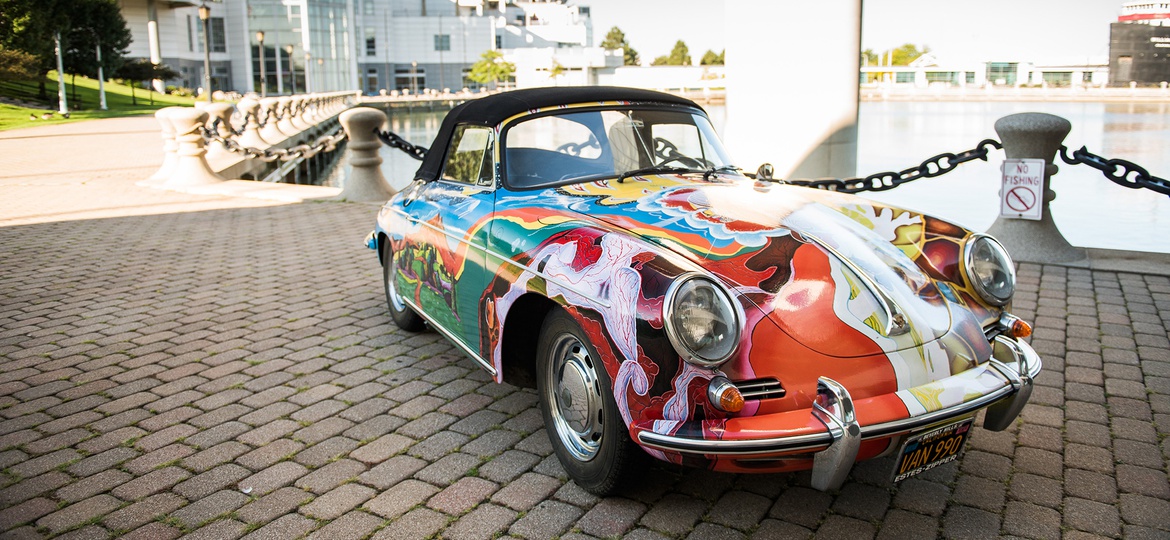 Hot music and cool cars have been intertwined since the dawn of time, with the love affair spanning genres and generations. Janis Joplin tooled around in the most psychedelic Porsche 356 Cabriolet—pictured above, the car sold for $1.76 million at an RM Sotheby's auction, Elvis had a thing for Cadillacs, and Marky Ramone, drummer for punk rock's pioneering leather-clad foursome, is a self-professed car guy who seems to have recently fallen for a white Alfa Romeo 4C.
John Entwistle, legendary bassist for The Who, also owned some neat machines, including a one-off Rolls-Royce Silver Shadow Estate used to ferry his Irish Wolfhounds. Reportedly, Entwistle never acquired a drivers license. Glenn Tipton, guitarist for metal gods Judas Priest, recently auctioned off the Porsche 930 that he bought new in 1985. Come to the Mitty, and there's a chance that you'll see Brian Johnson, one of the most famous frontmen in rock, out on track.
One of my favorite stories of this kind involves jazz keyboardist Herbie Hancock. This took place before his Academy Award. And his 14 Grammys. And the five MTV awards that he collected in 1984 for "Rockit," his electronic single that introduced millions of suburban kids to turntable scratching.
The year was 1963, and jazz trumpeter Donald Byrd had put a bug in Hancock's ear about the then-new Cobra. The 23-year-old Hancock just wanted to see this new Ferrari-beater, so he visited his local Manhattan dealer. As the legend goes–and as he recounts to Jay Leno online in a video for CNBC–the salesman wouldn't even look up at the young musician. "I'm getting a little hot under the collar," Hancock relates to Leno.
So to get the salesman's attention, an annoyed Hancock piped up that he actually wanted to buy the Cobra. The salesman asked him if he knew the cost of the car. Yes, the musician replied, he did: $6000.
Hancock, flush with cash from his recent hit "Watermelon Man," returned the next day to purchase that brand-new Cobra. It was white over red and carried serial number CSX2006, making it the sixth AC chassis to actually become a Cobra. Some 55 years later, he still owns the car.
I recently came across an interesting postscript to that article in a Vanity Fair article. Celebrated jazz trumpeter Miles Davis, at the time a Maserati owner, questioned the bonafides of Hancock's Cobra. "So we both got to a stoplight and when the light turned green we both hit it," Hancock recounts in the article. "I got to the next light, and I had time to light up a cigarette before Miles got there."
So many musical greats are no longer with us, with too many passing at a too-young age. All that remains of some are their music and the Wikipedia entries.
Sometimes, though, you get a closer look. The other night I was watching "I Called Him Morgan," a recent documentary about Lee Morgan, one of my favorite horn players. I knew Morgan's basic story, which ends tragically: After an all too brief jazz career that started promisingly, but was almost derailed by a heroin addiction, he was shot dead by his common-law wife between sets on a snowy New York night in 1972. He was 33.
The documentary filled in the details of his life. A comment by jazz drummer Charli Persip, who fortunately is still with us, perked up my ears: Persip, who had an Austin-Healey, would race Morgan's Triumph through the concrete canyons of New York City.
Triumph!? My editor tendencies kicked in. What model? And where is it today? Are we talking about the flowing fenders of a TR3, or the beefed-up TR6?
I quickly sent a text to Brandon Lee Lewis, a friend who lives in New York City. He's an amazing drummer as well as a die-hard car guy. Turns out that Brandon studied with Persip–yeah, Brandon's just that cool. I also pinged the producers of the film. I've gotten a few replies, but no real answers.
That doesn't mean the story has gone cold. Even if I come up empty–handed, there's always the thrill of the hunt–and the satisfaction of uncovering another cool story to share.