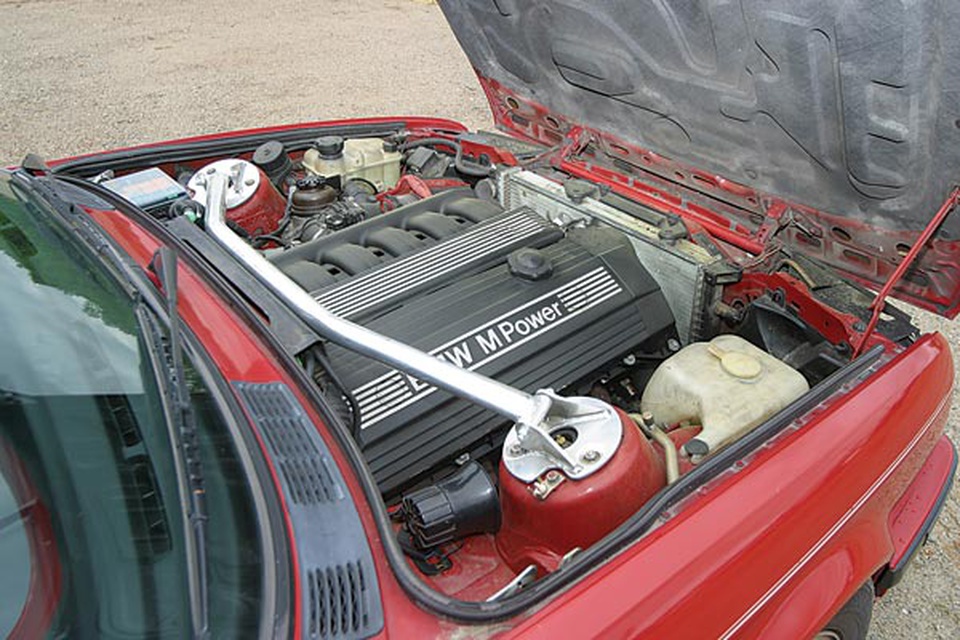 Big engine, small car: It's been a recipe for performance since our ancestors realized that two horses hitched to the cart were better than one. Fast-forward a couple of years, and man is still looking at ways to make his chariot faster by replacing the original powerplant with something bigger.
Whether the badge on the deck lid says Honda, Toyota or whatever, rummaging through the corporate parts bin can usually pay big dividends. In the case of the E30-chassis BMW--the ubiquitous 3 Series offered from 1984 through 1991--an ideal engine transplant comes from BMW's newer models thanks to some clever engineering, parts interchangeability and a few well-designed wiring connectors.
Sir Mix-A-Lot
If you've been to Road Atlanta, the odds are strong that you've passed Bobby Thrash's Strictly German shop. It's located down the road from the famed track, just before I-85. Bobby's specialty is BMWs, and he is no stranger to these engine swaps, as he has been doing them for about eight years. He now does about one per month.
"It's a pretty common thing," he says of the late-model, six-cylinder transplants into the earlier E30 cars. Both the four- and six-cylinder E30-chassis cars can handle the swaps, he says, and his engines of choice include those bearing the M50, M52, S50 and S52 designations.
The M50 and M52 designations cover the 2.5- and 2.8-liter engines originally found in the 1992-'98 325i and 328i cars, as well as the 1991-'95 525i. They also powered the Z3 roadsters and coupes.
These inline-six engines feature twin cams, four valves per cylinder and factory outputs starting at 189 horsepower. Right off the bat, that's a big increase over the stock '84 318i's 101 ponies; the later engines will also outperform the single-cam, 168-horsepower inline sixes that powered the 1987-'91 325is.
BMW M-brand cars can also be used as donors, as the 3.0-liter M50 and S50 and 3.2-liter M52 and S52 engines found in the U.S.- and Euro-spec 1994-'98 M3, M coupe and M roadster will also drop into an earlier 3 Series. In factory trim, you're talking at least 240 horsepower with this route.
"There's a whole lot of combinations you can do," Bobby Thrash says. He explains that the 1993-'95 525i is the easiest engine donor because it already has the proper oil pan and is fitted with the earlier OBD-I diagnostic software. Later engines--those built for the 1996 model year and later--must first be converted from the OBD-II diagnostic software to OBD-I.
What else is needed to make your swapped 3 Series a reality? A set of engine mounts from a 1982-'88 BMW 5 Series sedan and a 1992-'95 525i oil pan. Strictly German builds the wiring pigtail adaptors needed to mate the later engines to the harnesses found in the E30 cars.
"It's easier to use the E30 transmission," Bobby adds. The E30 transmission will bolt to the later engines, while running the later gearbox will necessitate a custom driveshaft. The E30 brakes, rear end and cooling systems seem up to the increased power levels, he explains, although those concerned about cooling issues may want to grab the radiator from a 1989-'99 3 Series; both the late E30- and all E36-chassis cars used the same piece.
The exact cost of swapping newer power into an early 3 Series depends on the engine used, although prices can start at less than $1000. Bobby says to figure about $4000 for an M3-spec engine if you're going whole-hog. Add another $1500 to $2000 to that figure for labor and the extra parts needed, including the exhaust. Strictly German sells the wiring harness pigtails alone for the do-it-yourselfers; they go for about $400 depending on the application.
Hybrid BMWs
Engine swaps in smaller cars are plenty popular, but Hondas and Mazdas tend to get most of the attention. So it's nice to know that there are plenty of options for the BMW, too. It's all thanks to those who sift through those corporate parts bins, looking for the best combinations for us gearheads.
Driving Impressions
Normally, when you take a bigger engine out of one car and put it into a smaller car, more bad things happen than good. Increased engine weight overtaxes steering systems designed for cars with lighter engines, wiring harnesses don't mesh, third members that were designed for less power break, and things rub and clang. Sure, the engine-swapped car is faster, but drivability always suffers.
Not so with Strictly German's E30-chassis car powered by a 3.0-liter, M50 B30-model engine from a 1995 M3. This combination matches one of BMW's smoothest, most powerful engines with their neatest, trimmest chassis.
The overall effect is wonderful. Power delivery is seamlessly smooth and immense. The 240 horsepower engine works wonders in a 3200-pound E36 M3; take that same drivetrain and put it in a 2800-pound E30 325, and it performs even better.
The chassis, power steering and brakes seem completely unaffected by the change. This is not hard to believe, as the M50 engine is only about 75 pounds heavier than the one it replaces.
The overall impression is one of a factory job.