BMW Strut inserts W0133-1614977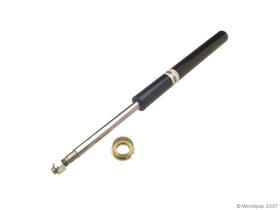 http://www.autopartswarehouse.com/details/QQBMWQQ3-dot-0SQQBilsteinQQStrut_InsertQQ1974QQW0133-1614977.html
They seem to be almost Universal to the BMWs of the 1970s
As some of you know I own a 1991 Isuzu Impulse RS, and well there is no aftermarket for these cars at all... I take that back, there are KYB GR2 struts available, but are seriously under dampened for anything sporty...
I was thinking about running these with Coilover Springs to keep the ride height down... I know that these are not meant to be lowered since they are the touring and not the sport... but for $30 dollars a strut, they are quite nice...
all 4 of the struts are blown on the car where one of the POs put coilover sleeves on stock struts, but it doesn't stop here though, they decided that it was not low enough so in turn cut the coilover springs down to about 2-3" inches...
unfortunately I am on a budget, and ran across these the other day and thought that I would search around to see what people though about them...