Last week, I picked up a 1983 911SC Targa. I had been looking for a restoration project. I really wanted to restore a lathe, but I accidentally typed "Porsche" into Craigslist instead of "Lathe" and the spell check let it slide. A few hours later, this was in my driveway.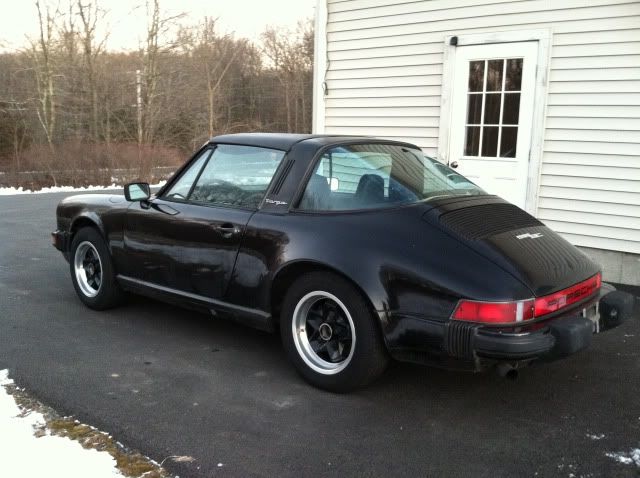 It's complete and it starts, but my compliments will end there. It was filthy and needed some love. The paint is awful and it has a broken throttle cable, which is what sidelined the car for the previous owner.
It's no secret that I don't expect to own it for very long, but I plan to do some work to it before I pass it along. Some of what I need to do is the same stuff that you would do to any old car that you drag home, but other things will be specific to 911s. I want to post a thread on my work because a lot of people are afraid of these cars and shy away from them. That's unfortunate because they're fairly simple cars; they just go about things a little differently. And not all Porsche parts cost a fortune. There are helpful (and very active) forums out there (I prefer Pelican) and even though you can't always run down to Advance Auto on Sunday evening to get the part you need, almost everything is available online and used parts are plentiful.
And so it begins...
I started by cleaning out the trunk and interior so I could get a decent assessment of what I was working with. I pulled the huge battery and put it on the charger while I cleaned things up.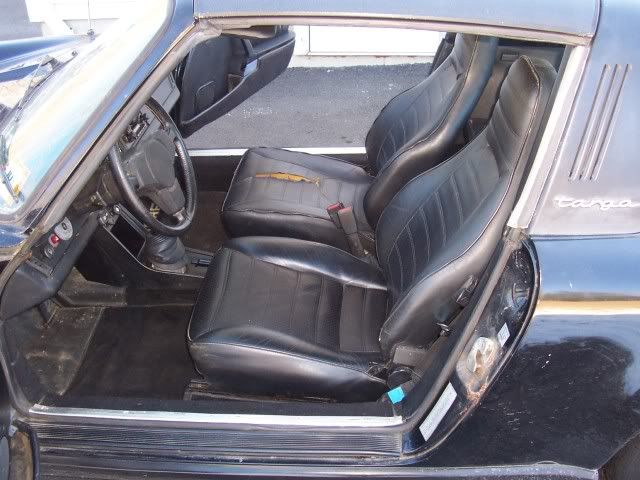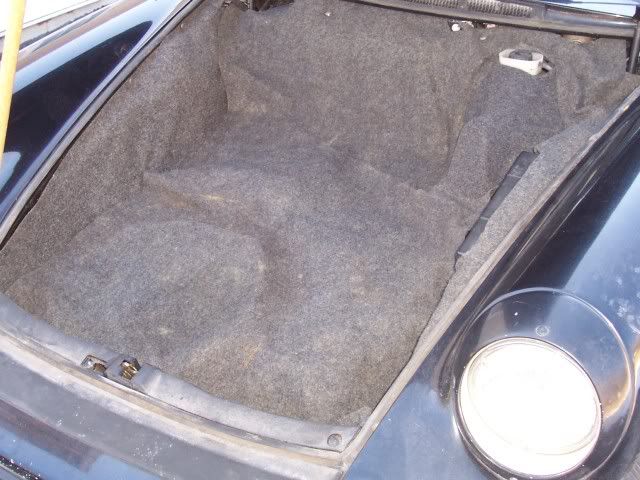 While it's still not great, at least it's presentable. I wanted to dive right in and get a good idea of it's mechanical condition, but there were a couple of obstacles in front of me. One was a tankful of fuel, age unknown. The other, was a huge inconvenience that needed to be addressed ASAP: the driver's side exterior door handle was broken and I had to climb across from the passenger side to open the door. It is not uncommon for the trigger to break on these, but while I could claim "bad design", I do have to admit that the car had been sitting for a long time, everything needed to be cleaned and lubed and, not insignificantly, the original lasted 29 years. I found a good used one locally and had it installed within 24 hours. Once I had the door panel off, it was two bolts and no linkage to disconnect. Very simple design.
The door panel storage pocket was looking a little shabby and since it was already off, I cleaned it up, repaired a crack with some Gorilla Glue and reattached the carpet with some spray adhesive. I haven't reinstalled it yet.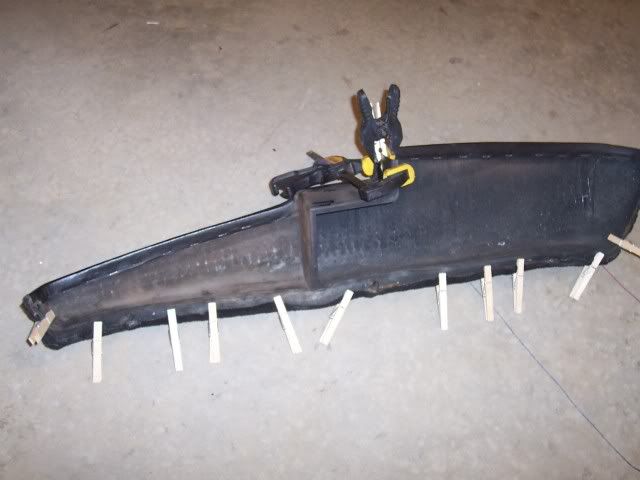 As evidence of the hand built nature of these cars, here's a blurry photo of of one of the power window switches. Note that each of the five wires on each of the three switches had to be attached by hand.
I removed the steering wheel because the leather had started to come off. I made three attempts at restitching it before giving up. First, thread failure (two types) then leather failure. You used to be able to buy nice stitch on leather covers, but they don't seem to sell them anymore.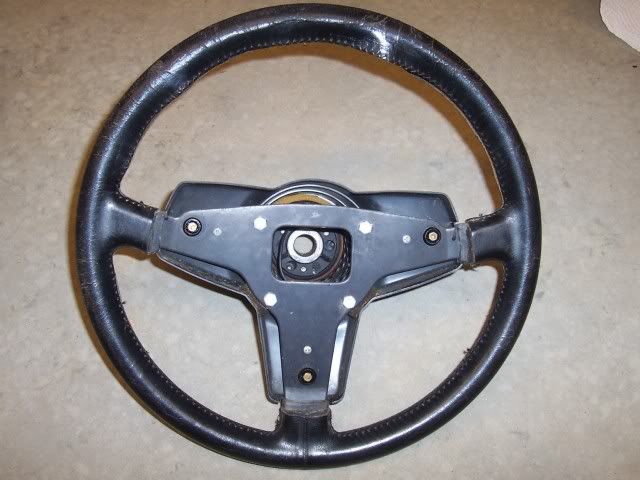 I scored this off Craigslist: A like-new Momo Monte Carlo for $90. Combined with an eBay sourced adapter, it may find its way into this car. I'm not sure. I like it so much, it might end up in my other car.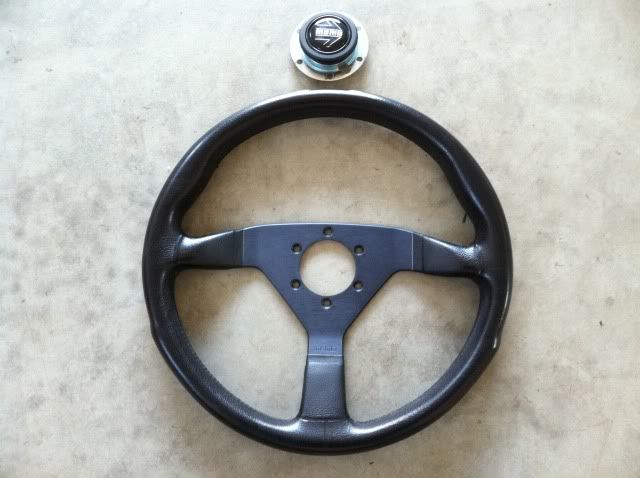 For now, the old one will go back in the car.
Gotta love the VDO gauges. Big tach, front and center.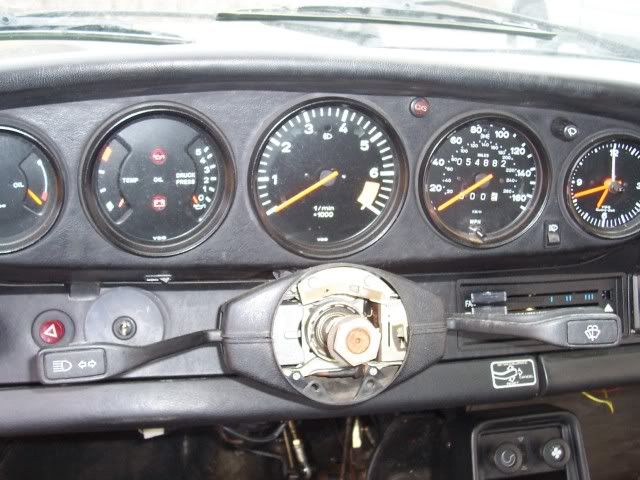 Since the throttle cable is busted, I decide it would be a good time to remove, sandblast, paint and rebuild the floor mounted pedal cluster (don't be afraid of them; you won't even notice). I ordered new bronze bushings for pedals and the clutch and throttle pivots for about $13. This will look much prettier by next weekend.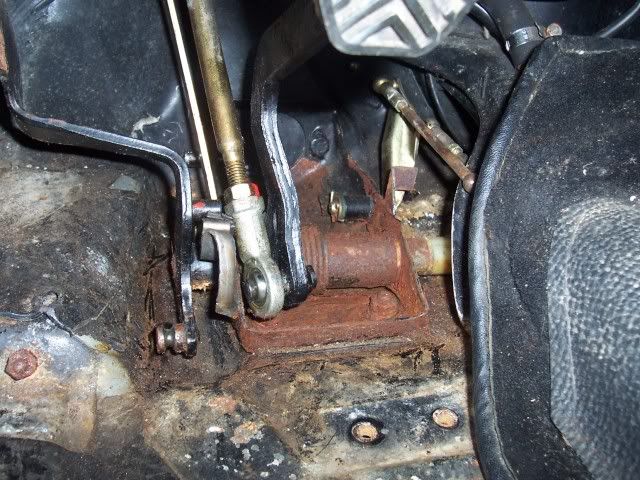 Damn.
Since there's no room at the inn, the car resides outside and I lost a couple of days to the snow. Hard to complain, though, after the otherwise mild winter.
Back to work. I finally got a chance to clean up the engine compartment. By "clean", I don't actually mean "clean" but rather "ditch the cruise control and air conditioning". No 911 deserves these. The A/C barely worked when these cars were new and its beyond useless at this point. Besides, it's a Targa...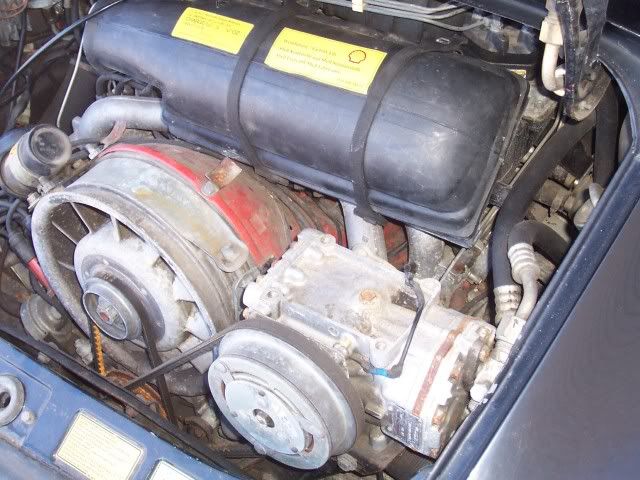 Now it should be a lot easier to get at all the good stuff underneath.
Next up: drain the old fuel, new plugs, check and clean all the ignition wires and contacts and those pedals...