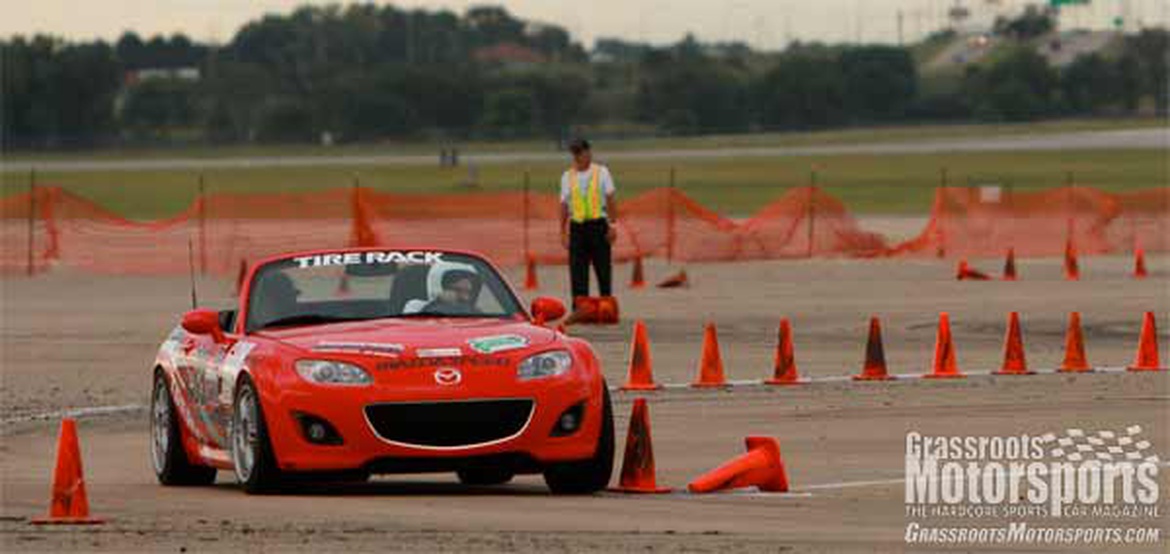 This is what we've worked for all season: to compete in the Tire Rack SCCA Solo Nationals on the wide-open concrete of the Lincoln Air Park in Lincoln, Nebraska. Our lead drivers, Chris Harvey and John Rogers, were joined by former G Stock Ladies champ Angie Rogers in the quest for glory in our bright-red Mazda MX-5. Our team found both courses to be longer than anything they've driven on so far this year, with several spots that really stretched the MX-5's legs. There were also plenty of technical elements along with a mix of slow and fast corners. Nine ladies and 51 open-class drivers would fight it out for top honors in the new STR class.
Angie started things off in the first heat on the West course, putting down a solid time on her second run. Both Angie and her closest challenger, Meredith Najewic, coned away quicker times on their third and final runs, leaving Angie in front by less than 0.4 second heading into day two.
Chris was fast right out of the gate, but he couldn't improve on his first run time; he sat in 11th place after day one. John had trouble staying off the cones on his first two runs. His third run was safe, but it was only good enough for 14th place. Both drivers had some work to do the following day.
Day two dawned overcast and cool, which worried some drivers hoping for extra tire traction from higher temps.That didn't bother our team, however, as our Dunlop Direzza Sport Z1 Star Spec tires have proved to work well even when cold. Day two's course featured a mix of transitions, long sweeping corners and a hairpin turn leading to the fastest section of the course. Angie started off strong and kept her momentum as she posted the quick time on all three of her runs. She clinched the inaugural win in STR Ladies by nearly a full second.
John and Chris were ready to drive flat out when their turns finally came. Our MX-5 was in its element through the quick slalom transitions and sweeping corners. However, it was evident that third gear was needed in two places to post a quick time. John ripped off a second run that would prove to be the third-fastest time of the day. Chris's second run was slightly faster than John's, but it was pushed back 2 seconds with a cone penalty. He had to settle for his first run time, which was sixth fastest for the day. Neither driver improved on their third runs, but the gains on day two moved John all the way up to sixth overall, with Chris close behind in ninth place overall.