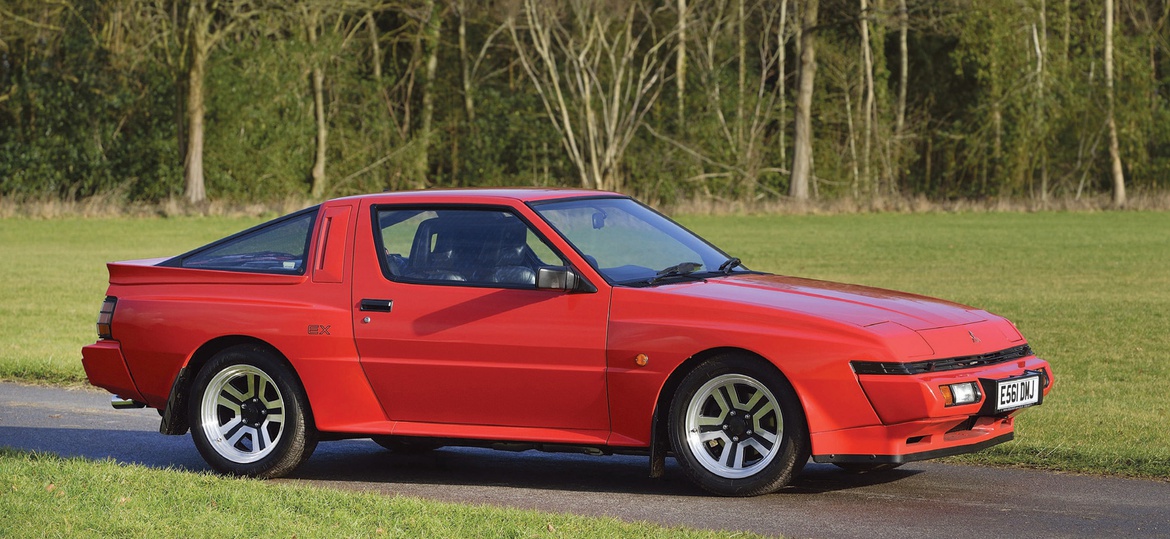 There's just something so right about a car sporting box flares from the factory. It's like its engineers got partway through the design before realizing, "Nope, we need to stretch the car even wider in order to fit in all of this awesomeness."
It's a solution perfectly demonstrated by several favorites, including the Porsche 944, Nissan Skyline GT-R and, of course, the original BMW M3. There's one more to add to that list, though: the Mitsubishi Starion ESI-R and its stateside twin, the Conquest TSI.
The car didn't start out so beefy. Mitsubishi released the Starion in 1982 as a narrow-bodied, somewhat meek 2+2 sports coupe. Turbo and non-turbo variants were offered in the home market.
American imports started with the 1983 model year, and stateside consumers weren't limited to shopping at their local Mitsubishi dealer. The exact same car, with the appropriate labels, was also sold as a Plymouth Conquest and, later, a Chrysler Conquest. Either way, all U.S.-market cars received a turbocharged 2.6-liter, single-cam inline-four.
"Somewhat meek" doesn't mean it was a dud, though. Dave Wolin and others turned that original Starion into an endurance race winner, and before he became a Hollywood movie star, Jackie Chan drove one across the silver screen in "Cannonball Run II."
And then things got serious for 1986: a set of IMSA-worthy box flares for those top-of-the-line Starion ESI-R and Conquest TSI models. Fat, 16-inch wheels–7s up front and 8s in the back–filled those flares. Mitsubishi also added an intercooler, boosting horsepower to 176. (Starting with the 1988 model year, an ECU change helped push that figure to 188 ponies.)
While it was a bit of a niche player in the mass market, the wide wheels, torquey engine and limited-slip differential helped the car dominate the G Stock class in SCCA Solo competition from 1989 to 1993–until competitors figured out the Mazda MX-6, the class's next superstar.
The Conquest and Starion left our showrooms after the 1989 model year, with Mitsubishi abandoning the rear-drive sport coupe market in favor of the all-wheel-drive 3000GT Enthusiasts, too, seemed to gravitate to options sporting either more power or less weight. As a result, prices have remained kind of flat. A nice 1987 example recently went unsold on Bring a Trailer at $6518.
Still, if you're looking for the perfect, unique accessory for that Members Only jacket, then a clean Starion might fit the bill.