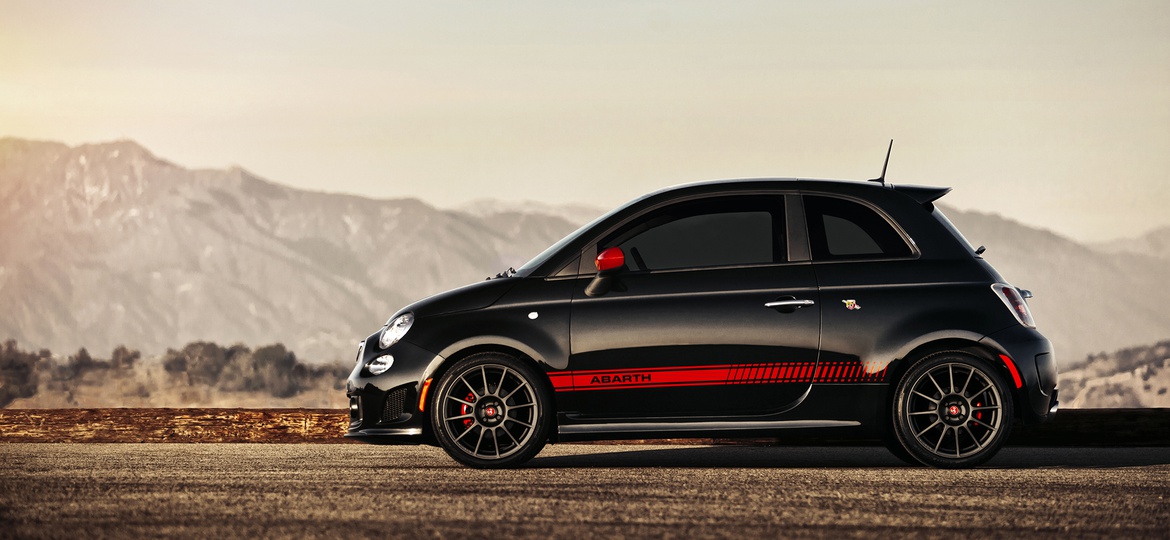 CHRIS CANNIZZARO
Eurocompulsion
238 Kettles Lane
Medford, NY 11763
eurocompulsion.net
(929) 235-3456

Chris Cannizzaro and his team at Eurocompulsion in New York have been tuning and working on Fiat 500 Abarths ever since they first arrived in the U.S. in 2012. Chris shared his wisdom on these cars, and he invites readers to shoot him questions and comments at chris@eurocompulsion.net.
One thing that really drew us to the car was its shape. Its classic but still modern styling is much different than most of the cars you see on the road these days.
The Abarth is one of the few cars on the road that comes from the factory with a straight-through exhaust–no mufflers–and an afterrun coolant pump for the turbo. You don't normally see those things on stock vehicles in this price range.
The car off the lot is fairly visceral and driver-connected, which many other modern cars cannot claim, especially in this price range. If you take one of these for a test drive, make sure you press the Sport button, as it changes the attitude of the car quite a bit. When pressed, it increases power, tightens up the steering, and increases the sensitivity of the gas pedal. These cars are also generally underrated from the factory, with many actually surpassing their stock specs on the dyno.
If buying, one thing you should look for is slightly peeling side skirts near the rear wheel. They can be repaired with doublesided adhesive tape, but in most instances you'll have to remove the entire side skirt. Another common cosmetic issue involves the front badge. It tends to dig into the paint on the bumper and cause tiny chips. If the car is still under warranty, the dealership will repair these issues for you.
Mechanically, a few things you should look for besides the usual and obvious items are loose CV boots and leaking intercooler hoses. Some cars actually came from the factory with under-tightened or even missing intercooler clamps and loose CV joint boots. Most, if not all, of the cars should have been corrected by now.
Some of these cars also tend to have rear main seal leaks, so look for a wet or dirty area where the engine seals to the transmission. Again, most of these cars are fairly new and have low miles, so the dealer will be able to remedy this issue for you. If the car is out of its factory warranty, this repair requires you to remove the engine and reseal the engine and transmission.
In general these cars are pretty stout and can handle some hard miles, despite their dimunitive size and friendly appearance.
The suspension modification that offers the best bang for your buck and an immediately evident improvement is an upgraded rear torsion bar. Most people begin with this part. It levels out the rear of the car under heavy cornering loads and helps dial out instability over uneven pavement and in corners. Neu-F by Neuspeed makes a high-quality bar that's very reasonably priced at around $160.
The two most popular power upgrades for this car are made on the intake system and ECU. The stock intake system is very restrictive on this car and is a big hindrance to performance. Meanwhile, the stock intake tract takes sound baffling and overall airflow restriction to a new level. We offer a handful of intakes to suit your power needs and your preferred sound levels. Whether you prefer the sound of the turbo or want to focus strictly on the wonderful exhaust note, you can expect a tangible increase in power and throttle response.
Similarly, the stock ECU leaves much to be desired with its seemingly on/off power and occasional flat spots in the powerband. There are a lot of secrets to this car's ECU, and it has made tuning very time-consuming, but we've finally nailed it down. With our Unichipbased system we essentially have full control over the stock ECU, allowing us to turn up the power safely and effectively while offering a staged system so you can decide what is right for you.
If you're starting out and have to choose just one upgrade, we suggest an intake system. It makes the car sound better and increases power and throttle response.
One popular and low-buck modification is called the "freehorsepower mod" or "boost leak fix," and you can easily find instructions on the online forums. It involves altering or removing the line that comes from the boost pipe and assists the car's EVAP system in purging vapors back into the intake tract. After completing this mod, owners have reported smoother power delivery and more consistent and linear boost pressures.
Gear changes into reverse can be tricky–and embarrassing–at times. If you don't shift into first before shifting into reverse, you'll sometimes get a little grinding from the gearbox.
The seating position is fairly high and upright, so it requires some time to get used to. Fiat addressed this issue with its 2013 models, which have seats that can be lowered an additional inch or so.
Whether you currently own or want to buy an Abarth, fiattech.com and fiat500usa.com are great places to interact with fellow Fiat fans and seek wisdom. Technical advice is especially accessible at fiattech.com, where you can read tech articles and interact with a great group of folks who are always willing to help you with a repair or modification project. You can keep tabs on upcoming Fiat releases there, too.
Fiat Club America, affectionately known as FLU, hosts a four-day national event called the Fiat FreakOut. This annual gathering has been held in or around major U.S. cities for the last three decades, and it always offers something for every age– of enthusiast and of Fiat. FLU has local chapters all across the country, so it's easy to meet up with fellow fans in your area.
JOHN MONTGOMERY
Benson Fiat
500A W. Wade Hampton Blvd.
Greer, SC 29650
fiatusaofgreer.com
(888) 380-1716

John Montgomery carries one of the brightest torches for Fiat in North America. Not only does he help manage Benson Fiat, he's also the president of Fiat Club America.
If you have a Fiat 500 Abarth and are looking for quick avenues to better performance, you've chosen the right car. Sizable performance gains are possible with simple bolt-on modifications.
The first change most owners make is adding what's called a "power pedal." This little black connector plugs in between the gas pedal and its wiring harness. It doesn't add power, but instead works like a Sport button does in most other cars, quickening throttle response and sensitivity. This little device is worth its weight in gold for these cars, and it takes about 2 minutes to install.
For many people, the next upgrade is a cold-air intake. Again, this modification is very simple, taking about 15 minutes to install. It increases power and the volume of angry turbo noises emanating from your car.
One interesting modification that has become fairly popular is replacing the stock throttle body with one from a Dodge Dart, which happens to share the same engine. With the Dart's throttle body, you can increase airflow by up to 20 percent and horsepower by about 7.
The next-biggest step people tend to take is adding a Unichip, which actually does add horsepower and torque to your output. It's a plug-and-play module that links to the car's computer and effectively manages the engine to put down more power. A shop will need to set it up. If you have a Unichip, there is no need for the power pedal.
Despite Fiat's reputation, the Abarth is actually over-engineered and the drivetrain is fairly bulletproof. It can handle the extra power that these upgrades provide without skipping a beat. Not many people realize this car's potential, but when tuned correctly it can be a true Mini Cooper S-killer.