March 29, 2011 6:26 a.m.
Actually, I guess you wouldn't call it peeling, tho I wouldn't say it's "burned" like folks on CL do, either.
I mean, on a car that has had the clear coat...."disappear" over time or due to lack of polishing, can the paint job be resusitated somewhat with wet polishing? Can the clear coat be removed and the base coat be "brought back" somehow? Or iss it just cheaper/easier to repaint?
March 29, 2011 7:02 a.m.
I guess it depends on your plans for the car. On my truck, the clear is chipping off. The entire hood is pretty much down to the color coat along with most other horizontal surfaces. Just for kicks, I took a patch on the top of the fender and cleaned it up and sprayed it with some rattle-can clear gloss I had laying around, It really doesn't look that bad--on a 25-year old truck.
Eventually, I realize that I will have to repaint the truck. It's actually in excellent shape, and I've recently done some work on the interior.
Short answer: I dunno?
March 29, 2011 8:22 a.m.
Any vehicle that has a factory basecoat/clearcoat system will need a re-paint if the clearcoat goes away. The base color is not formulated with enough clear resin to shine or give the pigments protection from the elements. There is also a possibility that the chemical bond between the base and clear coats wasn't very good, leadig to the clear dissapearing/flaking/peeling. All the manufacturers have had these issues at some time. The answer is strip the paint and respray for a proper repair. I was a paint rep for Sherwin Williams and we saw service bulletins from all the car manufacturers with this reccomendation.
March 29, 2011 12:31 p.m.
This is in fact on a truck, tho to be honest the top of the cab looks like it's close to going into a "surface rust" mini cratering look.
I figured it would have to go the MAACO route, or barring that, going the rattlecan route if it wasn't going to get holes in the sheet metal.
And no, I don't own it.
March 29, 2011 2:43 p.m.
In the same boat as you are, integraguy. The clear on my beater '94 Geo Prizm is coming off everywhere. Looks like hell. Some of it is just "worn" away, some spots are actually peeling. Drives my wife nuts. Thought about Maaco, but their base paint job is so crappy and ghetto looking, I'd prefer to just leave it as is. I may try to throw a thick coat of wax on it just to see if it helps any....anything is better than nothing.
March 29, 2011 3:17 p.m.
Wondering if sanding down the old clear and re-clearing would be viable? especially for something that doesn't need to be show car flawless, should be cheaper than a complete repaint...
March 29, 2011 3:21 p.m.
You can sand and re-clear most anything. As has been pointed out above, if you lose the color coat it'll look odd. But then, paint matching has gotten very, very good in recent years.
March 29, 2011 3:29 p.m.
With nothing to loose since all the clear coat peeled off this hood, I hit it quick with the buffer to see how it'd come out. Granted without the clear coat protection the glossy look doesn't last as long but it looks better than it did! YMMV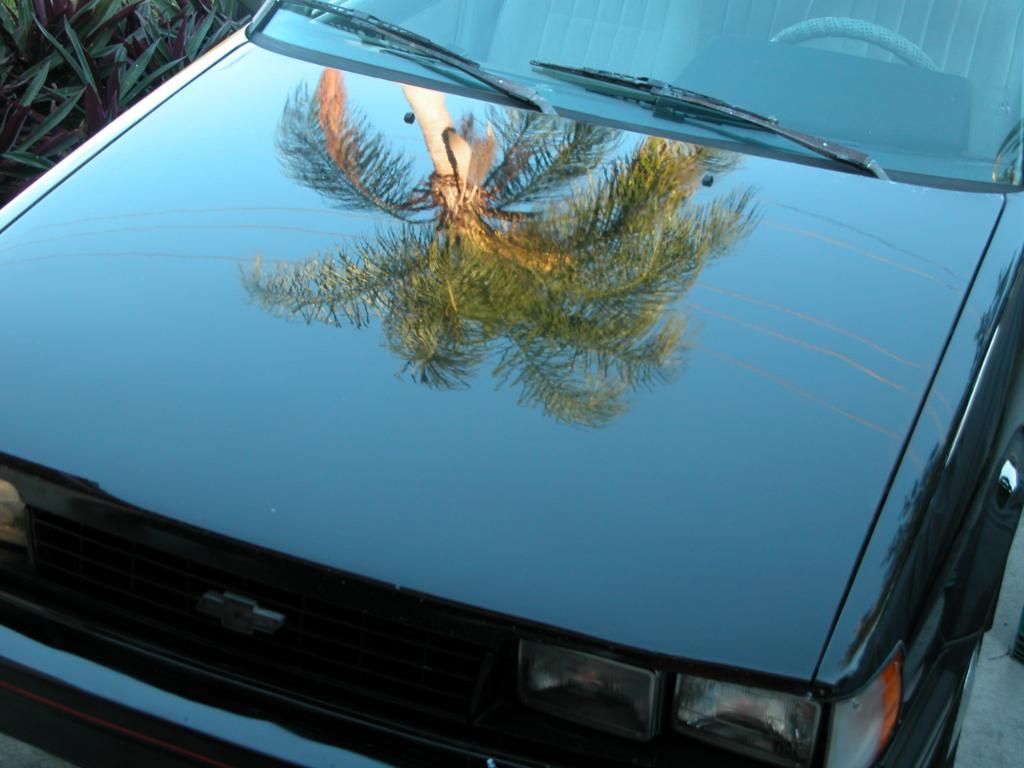 March 29, 2011 7:50 p.m.
I recleared a carbon fiber hood on my Eclipse with rattle cans. Lasted long enough to get it sold!
March 29, 2011 7:59 p.m.
Best (inexpensive and not gonna last forever) bet is to carefully wet sand off the peeling/crazed clearcoat, then shoot more clear on top. No it won't look like a high end job but you won't spend a zillion on it either. The rattlecan stuff won't last a real long time on dark colors.
You'll need to log in to post.
Also on Grassroots Motorsports