Nov. 7, 2013 12:43 a.m.
I bought this car with around 33k on the clock in 2011 and it has been cared for by myself since. Current mileage is around 57k. I am a former Porsche dealer mechanic so nothing has been skimped or half-assed on this car. I'm honestly just starting to get bored and considering moving to something with a bit more aftermarket support. Already had the LN IMS bearing update, the stock bearing had no visible damaged when removed. Never saw the track before I owned it, only used for 5 DE events since I purchased it. This is a great dual purpose car, very quick on the track and comfortable on the street. It has had all the necessary updates/repairs/and mods to make it reliable. Needs nothing mechanically. Only issue is the typical 2nd gear grind when softly shifting when the trans is cold, after a few miles it goes away. Exterior has a minor nicks and scratches in the paint. The front lip is wrinkled from the terrible Michigan roads so it will need to be redone. Up to date on all maintenance both major and minor. I have all the maintenance records since I've owned the car. Could easily be returned to stock for street use or stripped out for race use, I can reinstall the airbags (a new clock-spring would be needed) if desired. KBB rates this car at $19,200 in "good condition". Asking $18,000. Located in Farmington, Mi (about 25 minutes from Detroit). Will consider trades for an aircooled 911, 944, 968, S2000, C5 corvette, or any interesting track cars.
Factory Options: - Meridian Metallic paint - 18" Sport Design Wheels - PSM equipped - Crest embossed seats - Paint matched rollbar
Maintenance: - LN IMS bearing installed in June '13 - Updated RMS installed with clutch - New MAF (old one failed) - New AOS (preventative) - All new ignition coils (2 were misfiring so I replaced them all) - New spark plug tubes and seals (2 cracked, replaced all of them with the coils) - Brake fluid recently flushed with ATE 200 - Trans fluid flushed recently - Oil changed every 5k with Rotella 5w40 and factory filter - New rotors recently installed - All 4 CV boots replaced last year (inner boots replaced preventative) - New clutch, flywheel, and pilot bearing roughly 14k miles ago - Plugs, air filter, fuel filter, and cabin filter replaced at 40k
Mods: - LN IMS bearing - Non-amber headlights, markers, and taillights - LN deep sump oil pan spacer - Bilstein PSS9 coilovers with swift 450#/500# springs - Professionally aligned at Porsche of Farmington Hills - Hawk HT14 pads F, HT10 pads rear (track) - OEM Porsche pads (street) - Black OEM hardtop - Black OEM Aerokit I trunk and wing - Riveted metal front air dam - GT3 console delete - Momo steering wheel with Momo hub - Boxster SII wheels with Potenza RE11 tires, 235f, 255r (track) - OEM 993 Cup wheels with misc. tires (street) - Fabspeed cat bypass pipes - Borla Catback - Desnorkled airbox - Spare tire removed - Airbags and module removed
Spares/Extras: - Spare AOS and tubes - Planted Technologies seat rail bracket for installing a race seat - Factory 3-spoke wheel with airbag - Factory power spoiler assembly - Factory trunk lid - OEM touch-up paint kit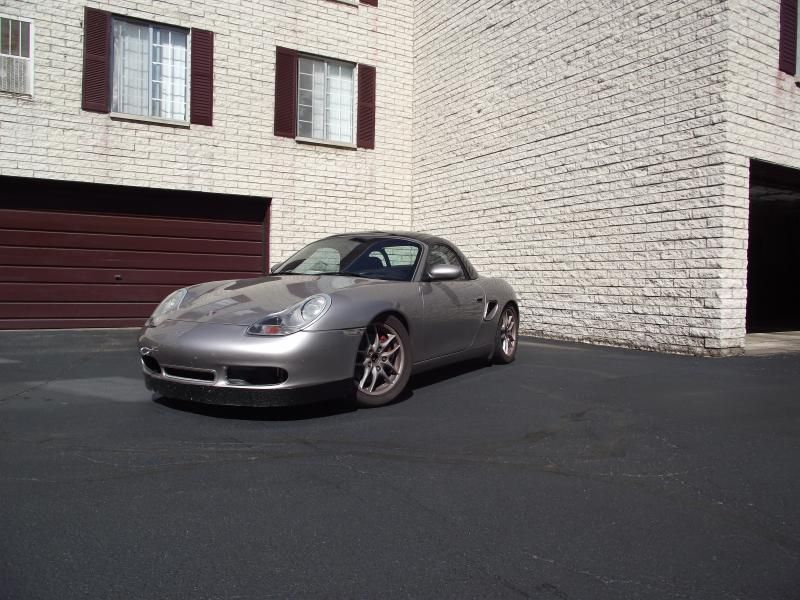 You'll need to log in to post.
Also on Grassroots Motorsports
Birthdays