Vredesteinknows that Grassroots Motorsports knows a thing or two about performance tires. And they know that our readers do, too. That's why they came to us with a simple request: Find five readers worthy of a set of Vredestein'slatest performance tires, their Ultrac Vorti and Ultrac Vorti R. Over the next six months, you'll be seeing feedback from these readers in the form of regular blog posts on our site.
Story and Photos provided by Peter Doane
As I mentioned to the GRM staff when they selected me and my car for this Vredestein assignment; starting a 6-month tire evaluation in the fall was a bit questionable for my location in the Northeast US. If my car was something that most people drove thru the winter months, that would be different, but I do not take my 2014 GT-R out in the snow even though it is All Wheel Drive. It just isn't worth the risk of damage (getting hit by someone who doesn't know how to drive in the snow) or the rust problems (from all that salty slush being flung into every nook and crevice of the car). From my experience, wide, low profile, tires also do not do well in the snow. Further complications to my efforts to report on the Vredestein tires came up when I suddenly purchased a 2017 McLaren 570S shortly after my first post. My plan is to sell the GT-R now because having both seems like a waste of funds and garage space. That not only means an end to track days with the GT-R, but also even fewer miles driven than even the snowy Northeast weather was permitting.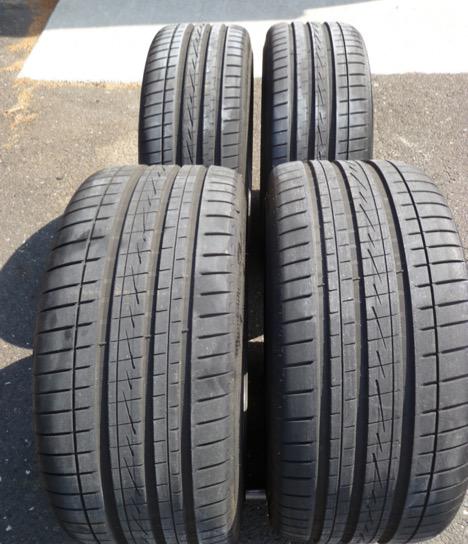 The few street outings (mostly to car shows) I have used the GT-R for since my last report have always been in dry conditions, so I can't comment on the wet traction offered by the Vredestein tires. My only serious wet experience with the GT-R was coming home from a track day in a torrential downpour. Those 220 treadwear tires did very well, but I assume the car's heavy weight and the AWD contributed to that. I would expect the 320 treadwear Vredesteins to be comparable. Only once or twice in my experience has a tire had good dry traction and miserable wet traction.
The street manners of these Ultrac Vorti tires have been very pleasant. In the past I've had low profile tires grab any imperfection in the pavement and steer the car very unexpectedly. The Vredesteins do not have that characteristic. I still get very quizzical looks from folks who ask what brand of tire I am running on the GT-R. So far none of them have heard of Vredestein, but I patiently explain that they are a Dutch tire company that is 100 years old. It just doesn't have much of name/following in the US yet. Hopefully these GRM reports will help change that.
Comments
View comments on the GRM forums
You'll need to log in to post. Log in