Poor Florida! With a vicious cold front extending from Mexico to Maine just a few days away, bringing snow and ice and miserable sub-zero temperatures to parts of the country that seldom see it, most everyone at the IMSA WeatherTech SportsCar Championship's Rolex 24 At Daytona were grousing about nighttime temperatures that plummeted into the mid-30s.
[Thank you for joining us at Daytona | 2022 Rolex 24 at Daytona recap]
Most everyone, that is, except the drivers. "Actually, it's really comfortable in the car," said defending champion Ricky Taylor, part of the Wayne Taylor Racing Konica-Minolta Acura Daytona Prototype International team. Of course, Taylor's DPi had a twin-turbo V6 heater sitting right behind him.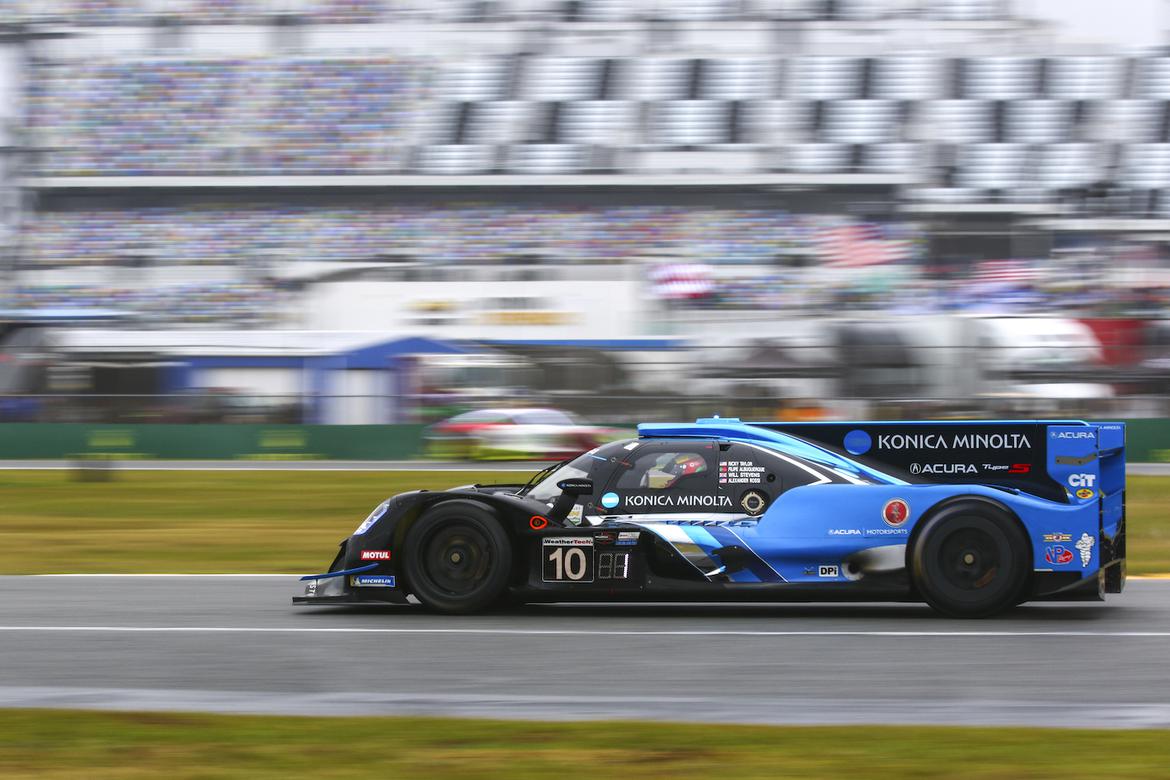 Well, almost. The chilly weather was tough on tire traction, as it took a lap or two to bring tires up to temperature. That partly accounts for the 17 full-course cautions, surpassing last year's total a little over halfway through the race.
But the sun was out on Sunday, allowing for a spirited run to the checkered flag with 31 straight minutes of caution-free racing. You know who won: The darkish-horse No. 60 Acura fielded by Meyer-Shank Racing, with drivers Oliver Jarvis– available due to Mazda's exodus from IMSA WeatherTech racing–and IndyCar shoe Simon Pagenaud, newcomer Tom Blomqvist and, of course, four-time Indianapolis 500 winner Helio Castroneves, who at age 46 so much as said that Tampa Bay Buccaneers quarterback Tom Brady, 44, may have stepped away from the huddle a little too soon.
Castroneves, as is his habit when he wins, stopped the car at the flag stand and climbed the fence, joined by the rest of the team. Most of them, anyway. Asked if he climbed the fence, co-owner Jim Meyer, who retired in 2020 as chairman of SiriusXM at age 65, grinned and said, "No. I did not."
If Meyer-Shank keeps it up, Meyer may want to take a course in fence climbing from Castroneves. The team also owns Castroneves' IndyCar and were an even darker horse for the Indy win last May. Any chance of Castroneves hanging up his helmet? No. "I can't live without it right now," he said. He'll be going for an unprecedented fifth 500 win in May.
One race Castroneves would like to tackle is the 24 Hours of Le Mans, which might happen in 2023 when the current DPi Prototypes will be replaced by GTP cars, which will be legal to run at Le Mans. "It's up to Acura and Honda," Shank said. "We're ready to go if they say so." Castroneves said he's ready to go "right now."

Those 31 caution-free minutes allowed for a nice battle between Castroneves and Ricky Taylor, before Castroneves built a comfortable lead. Taylor and co-drivers Filipe Albuquerque, Will Stevens and IndyCar star Alexander Rossi settled for second–not bad unless you consider that the team was going for its fourth straight Rolex win but came up 3.028 seconds short.
The LMP2 win went to the No. 81 DragonSpeed USA team; the Bill Riley-built LMP3 car of Gar Robinson's Riley Motorsports took that class.
GT Daytona Pro (replacing the defunct GT Le Mans class) was won by the plucky Pfaff Motorsports Porsche 911 GT3R, helped along by last year's DPi champion, Felipe Nasr, who was signed to help develop Porsche's GTP car (in case you missed it, just before the race IMSA announced that the car formerly known as LMDh would now be GTP, a wise move) but is driving with Pfaff at the four longest IMSA endurance races.
But it wasn't Nasr who brought the No. 9 Pfaff car to the finish line. It was Porsche factory driver Mathieu Jaminet, who had an absolutely blistering battle the last few laps with fellow Porsche driver Laurens Vanthoor in the No. 2 KCMG Porsche. The pair beat and banged their way around the track until Vanthoor went wide, spun and settled for third; he lost second place to the No. 62 Risi Ferrari 488 during the spin.
"It was the most stressful race of my life. Laurens is one of best GT drivers out there. Sometimes we were on the limit and maybe over," Jaminet said.
It was arguably the best race to the finish in GT since 2014, when Scott Tucker's Level 5 Ferrari beat the Flying Lizard Audi, but only after a 4-hour delay while the sanctioning body read and re-read its notes and eventually reversed a penalty against the Ferrari for unnecessary contact, then immediately declared the Audi the winner–even though the cars never touched. It was not a great start for the new Tudor United SportsCar Championship, which is now the IMSA WeatherTech series.
And in GT Daytona, which, unlike Daytona Pro, still requires a certain number of amateur drivers, the win went to the No. 16 Wright Motorsports Porsche 911 GT3R, a nice full-time debut for driver Jan Heylen, who replaced the retired Patrick Long.
In all, it was a very good 761-lap race, especially since the majority of caution laps seemed to occur in the middle of the night and not when most of the audience was watching.
More like this
Comments
View comments on the GRM forums
You'll need to log in to post. Log in