Sponsored Content Presented by FCP Euro.
Track time is limited, especially on a race weekend. From the moment the hauler lands, the clock is ticking until showtime. There's a setup to maximize, drivers to ready, and an entire machine to steer toward a common goal.
Team FCP Euro campaigns the Volkswagen Golf GTI TCR in the TC America series. Team driver Michael Hurczyn, who also serves as Brand Director for FCP Euro, is the reigning drivers' champion. Teammate Nate Vincent—also the team's Director of Motorsports—finished last year in the runner-up spot.
In fact, FCP Euro employees make up the majority of the race effort. In the end, it's all about taking that knowledge from the track to the customer seeking parts for their European car.
So, how do teams like FCP Euro maximize their time at the track? We asked Vincent.
GRM: How do the pros get their setup "close enough" before arriving at the track?
FCP Euro: Time is one of the most valuable resources during a race weekend, so it is imperative that we come prepared. The way we do this depends on if the track is new to us or if we have previous experience and data.
Our engineer and drivers analyze the track layout, looking for critical corners leading onto long straights, potential passing zones, and places that our car may be weak compared to our competition. For example, our GTIs are boxy and have a high roofline, making them not the fastest TCR in the straights. So at VIR, a track that has long straights, we know we are sitting ducks. Our response to this is to make sure we set the cars up to be able to consistently defend by outbraking the competition.
GRM: How does the team chart past setups and use that info for a new track?
FCP Euro: First off, every change that could affect the car's handling and overall performance is recorded. Things like weather and temperature as well as other environmental elements that could affect the setup are also recorded.
It is critical to be organized, have designated roles, and have prepared sheets to record data. This data is constantly updated, focusing the conversation and driving it to be fact-based over opinion.
GRM: How does FCP Euro tackle testing to quickly take that setup from "close enough" to race-ready?
FCP Euro: Any changes that are going to be made are predetermined and planned ahead of time. For example, there will be a predetermined setup change if the car is understeering; there will also be a predetermined setup change for instability or oversteer.
On top of all of that, there will be setup changes for the cars even if the driver doesn't have complaints. If you are not trying new ideas, you will stagnate—not to mention these new ideas will be recorded and expand our repertoire of possible changes for the car.
From a driver and crew perspective, this means everyone must be able to do their job quickly. The driver often has only one or two laps to get a read on the car, and the crew will need to make spring, bar and damper changes in minutes.
The crew must also come prepared with preassembled components and all the tools to hot-swap them. And you can't forget, when the crew is making all of these changes, the car is hot, so they rely on brake rotor blankets and heat-insulating clothing. Working on a hot race car isn't for the faint of heart. Every minute in a 30-minute session counts.
GRM: What kind of changes is the team making on a race weekend?
FCP Euro: We primarily focus on three elements: overall balance, outright qualifying pace, and end-of-race pace.
Overall balance ensures that we have a good, competitive car that can be driven with confidence. For qualifying pace, we emulate a qualifying session: fresh tires, aggressive setup, and we expect a top lap time in two to three laps. This forces the driver to warm the tires and get the car up to speed as quickly as possible, just like a 15-minute qualifying session.
One of the best pieces of advice ever given to me about racing was to remember the race starts when the car leaves pit lane. The faster you can get temp in your tires and brakes, the faster you can go on lap one.
Now, for end-of-race pace, we try and run consecutively on the same tires to emulate what the tire degradation and handling balance will be at the end of the race. This is tricky to do, and some things like heat soak in the braking system are hard to replicate unless you run straight for the whole session.
Often in front-wheel-drive cars, this balance shifts massively during the race as the front tires degrade. A quote from our 2019/2020 engineer Cody Ragone that I've heard many times is, "If the car doesn't feel like it wants to kill you in the beginning of the race, you will have a slow race car at the end."
GRM: What questions do you ask the driver to quickly distill feedback?
FCP Euro: Most importantly, the first thing the engineer and drivers do—even before we take our race suits off—is sit down and talk through each change, corner by corner, with a track map handy for some notes.
It's extremely important to do this immediately when coming off the track while the session is fresh in your mind. We then take this one step further and start digging into the Motec logger data to add data into the discussion. This meeting is what leads the conversation of what the next steps will be to set up the car.
Since we race two identical cars, often, to make the best use of time, we split the changes on the two cars. This essentially allows us to double the amount of ground we can cover. The only downside of this is that the drivers of the two team cars need to communicate these changes with each other. Video alongside data is often the tool of choice to communicate driver to driver on a certain setup or technique.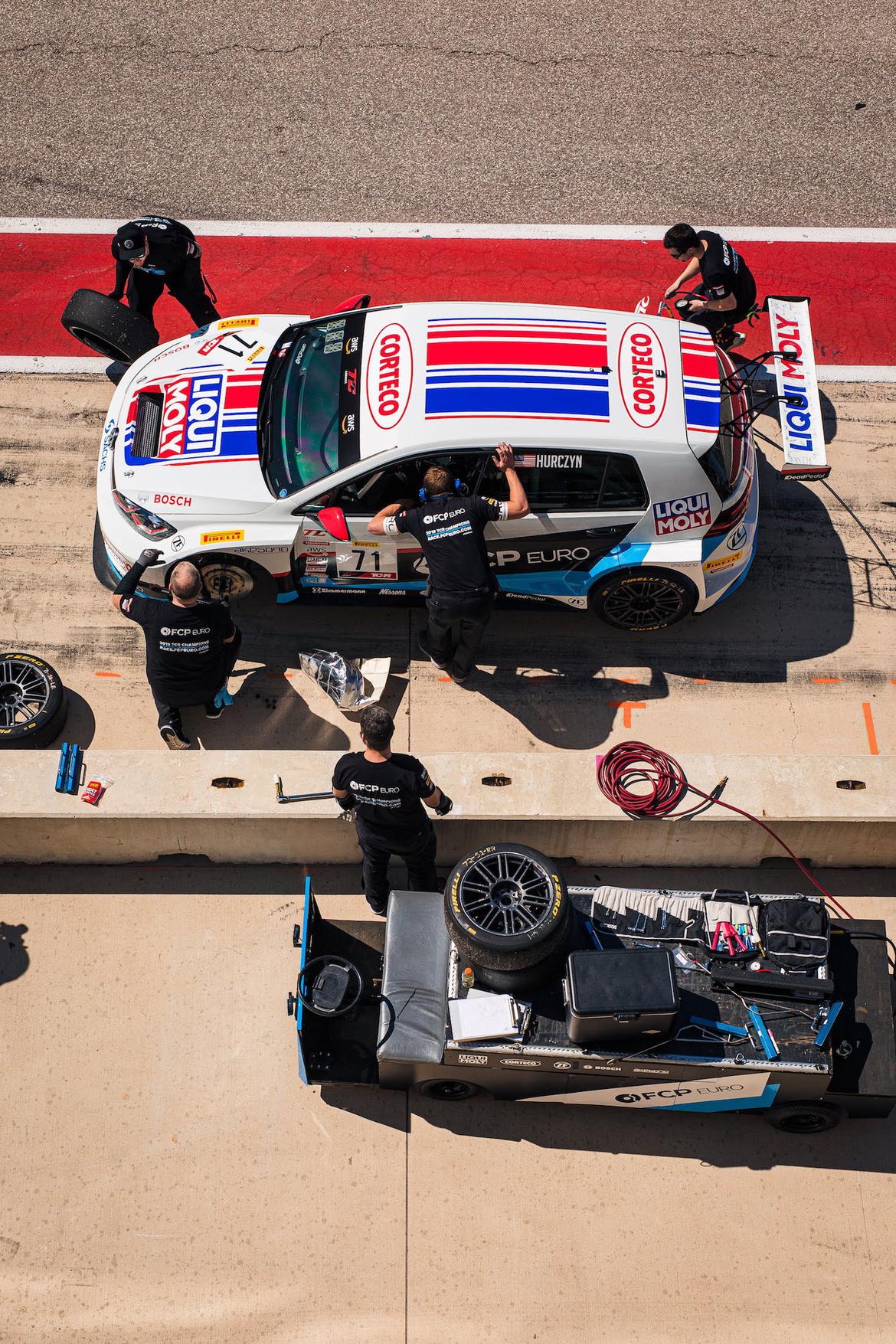 GRM: When do you know a setup is right, and when in the process do you know that you need to punt and start over?
FCP Euro: We have a myriad of data points that we like to check off to verify that the setup is optimal. The first is going to be lap times–if you can't get within a few tenths of the fastest cars, something isn't right. That said, at the professional level, we must consider BOP and reward ballast—sometimes you have to understand that the best you can achieve may be a top 10 rather than an outright win.
Second is the physical data coming from the car: things like tire temps, trap speeds, brake pressures and cornering force. All of these tell the team that the car is being maximized for the circuit.
The last factor that we take into account is driver confidence: Does the driver feel like they have a machine that can win?
One of the factors that makes racing so interesting is that you don't have time to start over with a new setup. With limited sessions on track, sometimes the team has to compromise and work with what they have.
Like what you're reading? We rely on your financial support. For as little as $3, you can support Grassroots Motorsports by becoming a Patron today.
Comments
View comments on the GRM forums
You'll need to log in to post. Log in