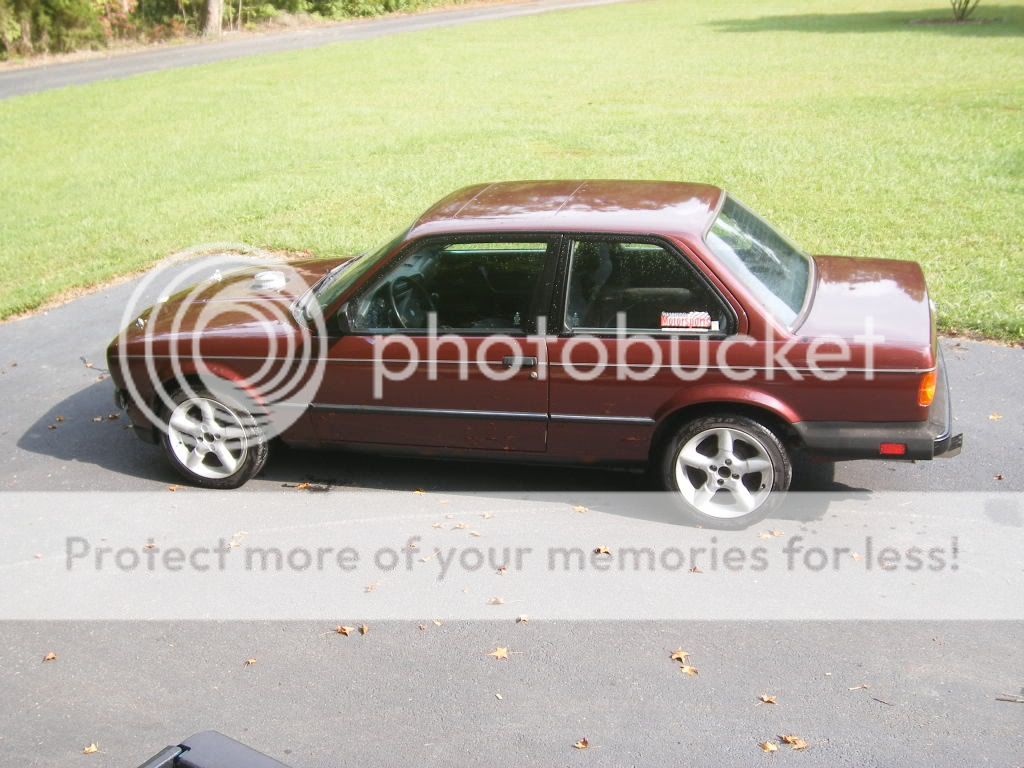 Yes, that is a breather sticking through the hood. I built and had the car at this year's Challenge. This is a 1984 BMW 318i with a Chevy 4.3L Vortec V6 and 5 speed transmission swap. The motor and transmission came from a 1996 S-10 Blazer. The motor was then converted to a carburetor using an Edelbrock intake and 4 barrel carb. Performance cam and HEI distributor with vacuum advance. 100hp nitrous system with purge installed. 4.10 limited slip differential. Drive shaft professionally fabricated by a local shop. Kuhmo street tires are in excellent shape, aftermarket 16" x 7" wheels have some curb rash. Custom gauge panel. "Grassroots" digital speedometer. Stainless Magnaflow muffler. Tokico performance springs. Volvo radiator and temp controlled electric fan. Modified bumpers. Wheel studs installed.
It ran the quarter in 13.8 at 105 mph on street tires with little traction, lots of tire spin and not so good driver (me). It has more in it
Body is in good shape for its age. Exterior and dash/gauge lights work. No power steering, but the car is light enough that it is really not needed. The power rack is still there. Power brakes using a Mitsubishi Gallant booster and remote reservoir adapted to the stock master cylinder. It is an AC car but the compressor, hoses, and dryer have been removed. Heat works though. Battery has been relocated to the trunk in a metal box. There is a push/pull master electrical cut-off switch. Factory sunroof. Upholstery is good without any rips or tears. Interior is mostly intact, no carpet or radio. The floor has a fresh coat of paint.
Included in the sale are the original BMW bottlecap wheels (4 total but one is bent and painted a different color) with tires and some misc. parts and pieces. I have a good title. Car is located in the Richmond, VA area. $1,600
More pictures available at: http://s462.photobucket.com/albums/qq343/dlmater/