i am cashing out of all my projects to go in a completely different direction, everything needs work but is definately worth the project work, i selected all these chasis for the lack of rust and their roadworthiness.
first up is my autocross set up aw11, its an '85 hardtop lightweight version, the most desireable of all N/A trims, it has ZERO options, no power anything, (all mr2s came with AC so condenser is still hooked up and working). the car was a california car its whole life (still has the CA sticker under the engine bay hood) until 2003 when its second owner brought it out to kentucky, where it was converted to run stock class SCCA autocrosses, and HPDE's. staying in the stock class meant its on OEM springs with tokico illumena's (white adj.'s) and ST sway bars front and back (the adjustable ones) with poly bushings, the car has front air dam dents and side dents from being track run, cone damage i am not trying to hide that, but its all exterior nothingness that impacts performance ZERO, i have owned 4 aw11s and this is by far the most hardcore one i have had the pleasure to steer. the car is currently not running its been in storage for a year and before that it blew out its master cylinder on the track, thats what i get for using used parts at an event.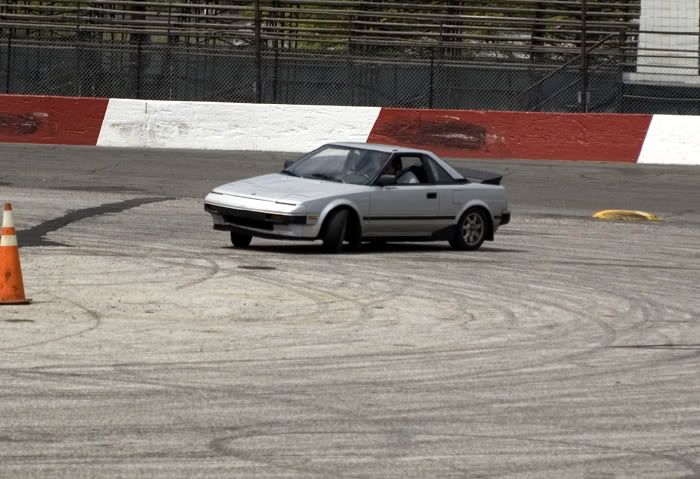 i am hoping to sell this as a package deal, including a parts mr2, a red hardtop, 4 sets of rims including a set of OEM miata rims (under 12lbs each), a spare engine, and harnesses, body panels from three separate mr2s, and just so much more, if your looking to jump into Autocrossing or just the joy of midengine HPDE's, this is the car trust me. it needs a new master cylinder, and a storage wake up, fluids and so forth.
next up is my alltrac shell, a mechanic was paid to work on this car while i drove in the first season of drift indy to aim at rallycrossing and ice racing in '08, the deadbeat stole my money and half repaired it, it blew its motor on the drive home, i have the shell and the blown motor, a spun crank bearing is the culprint. i just want to cash out of this investment, this is a real alltrac, awd and turbo before mitsubishi or subaru even thought about it. the head on the original engine and most accessories can be saved, i have an unused gasket set and some spare parts as well as a second tranny, center diff, and rear diff, for back ups, as they are impossible to find, and i picked them up from a part out.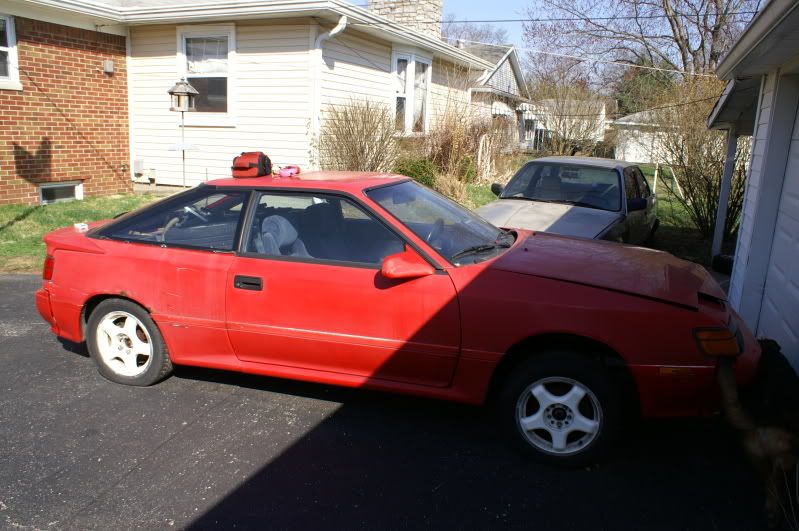 the interior is MINTY, and the chasis has 104k on it.
full album is here http://s82.photobucket.com/albums/j252/petergrave5/alltrac/
i also have a broken e30, its a '86 coupe 325es, with msport interior, its got very little rust on it and was a hawiian car most of its life, with papers to prove that (navy man owned it, must of shipped it back stateside in the 90s), the engine is strong but the cooling system has issues (must likely thermostat) as well as the driveshaft guibo and the rear end w/ suspension (tranny mounts, rear shock mounts most likely culprits), that all comes from a years worth of drifting, it needs combed over but its a strong runner when sorted out. it does have a upgraded cooling hosing system and engine motor mounts (vorschlag), there super strong allumiun mounts. yes it has an LSD thats working great, yes its the ETA motor.
its the one thats been flat blacked, it needs tires too, there totally gone.
and now to the real bottom line.
aw11 project with everything (including parts car) $1900 or best offer.
alltrac project $1350 or best yeah
e30 project $750
OR i will trade you EVERYTHING (you can literally have everything in my garage) for a SORTED out RWD track car, something turnkey, as my i am trying for a second child and would rather be in bed making the baby dancing with my wife then freezing outside spinning wrenches. more interested in trades than cash, cash just funds more time in the garage, cold, alone, not making...yeah.
i have clean titles for all of them. contact me via here, or transparent.peter@gmail.com or 317 881 4025. I live in greenwood, indiana the cars are stored at "my garage" at my fathers place.