Well, I bought another driver/project, after daily perusals of non-driving projects I just realize I don't have time for, not that I have time for this one.
It's a 1979 Alfa Romeo Alfetta coupe with no rust. No, really. Seriously. Come on - I'm not kidding. It's a California car, that some buddies bought, flew out from Colorado, got it running and went through a bunch of it over two days, and drove it back, with very minimal issues. Their adventure is a real story in and of itself.
Before I get into it as it sits - what's the goal? Well, make some period-ish sports purpose mods and run it in the Silver Summit Classic Car adventure. Lower, stiffer, larger wheels, more/better lighting, better sounds and maybe a bit more power and reliability. When I'm done playing with it, it will likely be listed for sale, but I'm not sure how long I want to play with it yet!
Anyway, it's a Mille Miglia edition - one of 500 (oooohhh, aaaaahhh, rare - but not really valuable) that amounts to some extra badging and spoilers, I think. It has the venerable dual overhead cam 8 Valve all alloy Alfa 4 cylinder, in 2 liter iteration. The SPICA injection is still there and still functioning surprisingly well. The transmission sifts well and easily (once warmed up a bit), and the suspension and brakes are in, again - surprisingly good condition. The shocks were swapped from the parts car at the time of this car's resurrection, because they were Konis, and in good shape. They aren't bad at all. Many of the rubber bushings look poor, but no clunks or rattles, other than from the exhaust that looks like it's been welded together from about 20 different (emphasis on different) pieces. It starts and runs easily, almost all of the things in it work, so it's got what I call, good bones.
First order of business, because it broke down on me the day after I bought it, is a new starter. The solenoid is hanging up and it keeps the starter spinning, even if I turn the key off sometimes. I can turn the key off and back on quick and shock it into closing, but it definitely needs replaced. Ordered and on the way from Timbuktoo. I have also ordered a full set of polyurethane bushings, as most of the important ones look cracked and frayed, and an exhaust leak melted the De Dion rear axle bushing on the drive back from Cali. The two guys that brought it back bought a bushing that was close from a parts store, and (literally) whittled it to fit in the parking lot and that's what's in there now. I really, really like a firm, taut chassis (that many of my passengers think is too stiff) but I'm on a budget with this one, so I'll try to find some GTV6 torsion bars and springs that are stiffer than the 4 cyl versions, but not really sporting, and add some Bilsteins and maybe a bigger sway bar.
It came with new rubber brake hoses, but I think I am going to go with braided stainless steel brake hoses. I've used them on most of my builds over the years, and really like the increase in feel it gives.
In the interest of sound, and sanity - I will build a 2.25" mandrel bent exhaust with a resonator and a turbo muffler to make the Alfa sound like a European sports car, and maybe free up 5 or 6 horsepower. I like the SPICA injection (evn though I'm not familiar with it), and have read enough reviews on the stock airbox to know that it is a very good design that shouldn't be messed with. So, likely, I will mess with it. Sidedraft carbs or ITBs sound awesome - and I would like some of that sound but not to lose the benefit of the airbox, so there could easily be some ugly husbandry of intakes.
Cosmetics is usually the last of my worries, and that will be the case here as well. I'll throw in some H4 and H1 headlights, because I sell them, and it just isn't smart to use sealed beams on anything driven in the dark, IMO. I will also add some extra driving and fog lights to give a little rally flair as well as function. I dislike USA market bumpers on most Euro cars from the 70s, and while these aren't awful, I think they will have to go away. Maybe some Camaro bumpers modded to fit, or just a tube bumper/light bar in the front or something. Have to see what I find.
Anyway, here she is:
[URL=http://s61.photobucket.com/user/greggearhead/media/Alfetta%20GTV/DSC_0157_zpskxi85yxr.jpg.html]
[/URL]
[URL=http://s61.photobucket.com/user/greggearhead/media/Alfetta%20GTV/DSC_0158_zps766wt0g7.jpg.html]
[/URL]
[URL=http://s61.photobucket.com/user/greggearhead/media/Alfetta%20GTV/DSC_0159_zps6olslojo.jpg.html]
[/URL]
[URL=http://s61.photobucket.com/user/greggearhead/media/Alfetta%20GTV/DSC_0160_zpsextigfbk.jpg.html]
[/URL]
[URL=http://s61.photobucket.com/user/greggearhead/media/Alfetta%20GTV/DSC_0161_zpsq0g0z1pq.jpg.html]
[/URL]
[URL=http://s61.photobucket.com/user/greggearhead/media/Alfetta%20GTV/DSC_0162_zpsi2bn7dg4.jpg.html]
[/URL]
[URL=http://s61.photobucket.com/user/greggearhead/media/Alfetta%20GTV/DSC_0163_zpsu2beqmyo.jpg.html]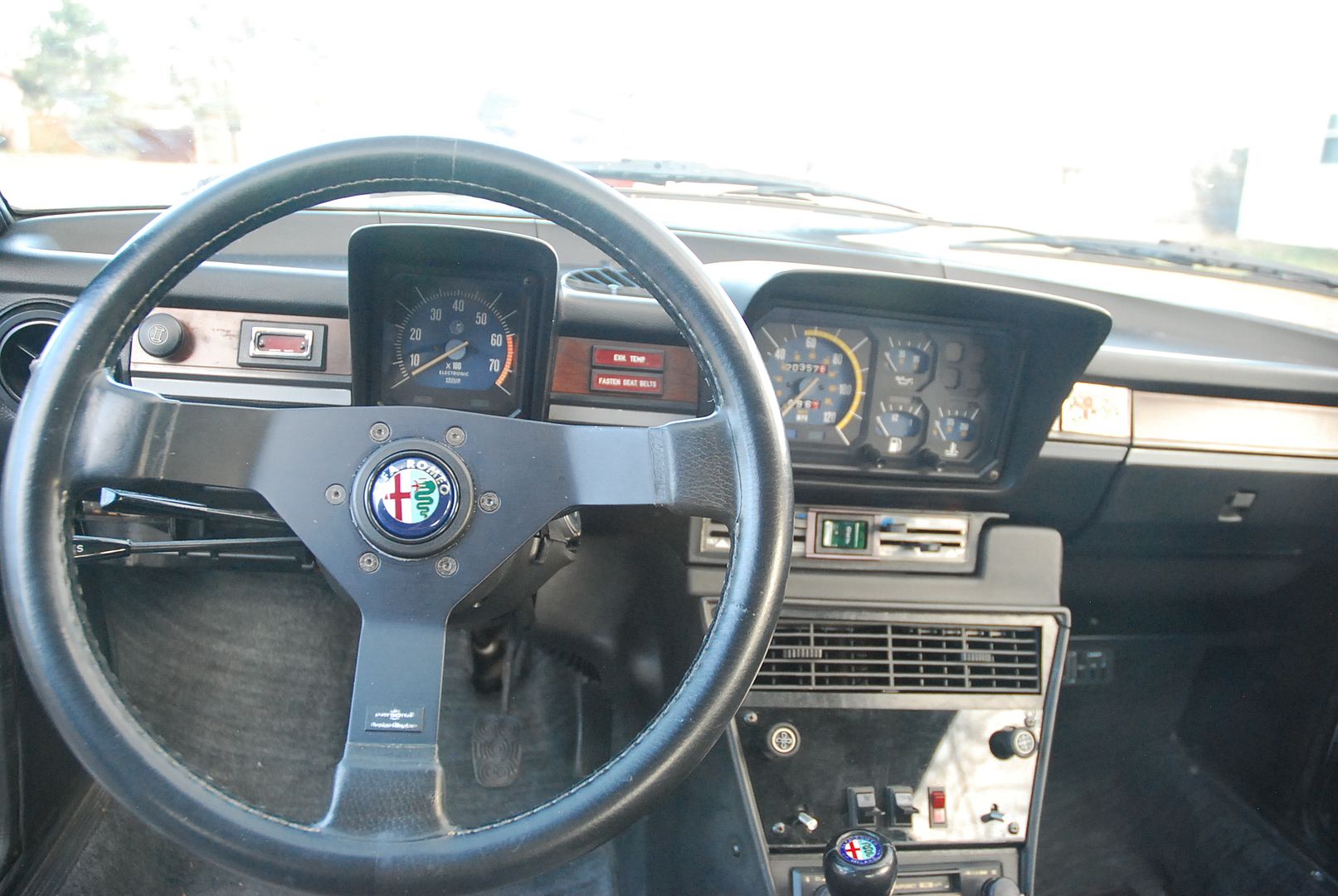 [/URL]