I went up to my friend's garage today. It's nice to work in an enclosed and well-lit garage (though it was freezing cold! No heat aside from a dinky space heater). He had already scoped the air intakes before I arrived and found nothing out of the ordinary. We also tried something a old mechanic he knows suggested. He put dowels in all six of the spark plug holes and we watched the highest two dowels. If the dowels stopped at approximately the same height either way we turned the crank, then there is likely some foreign object in the cylinder. The thing is, they did not stop at the same height. The two dowels were higher when stopped in one direction than when going in the other.
So instead we focused our attention on the oil pan. It took about 3 1/2 hours to get it separated from the engine, though we still can't get it all of the way out (the pan is stuck on the bottom of the oil pump). As far as I could see there were no bolts missing but then again I did not have a view from straight below. When we turned the crankshaft the sound of it stopping was louder with the pan off. We think we're going in the right direction but we need to get the oil pan out of the way first. That will have to wait until Thanksgiving is over.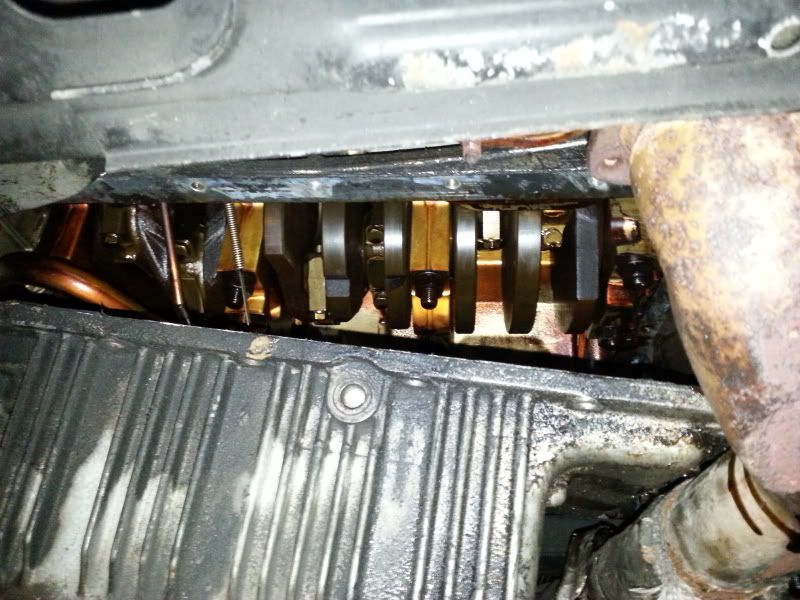 If the engine is salvageable then I'm also going to need a new inner CV boot for the passenger side and a new engine mount. I assume this one was original.