Hey GRM!
I figured I would start a build thread here of my on/off project for the past year and a bit. I never visit the Sentra forums where I originally posted it and I lurk on the forums here pretty much all day (GRM has the best mobile web format, EVER! Thank you guys...) so I figured I'd share it here. I originally bought the car in November 2013.
I work at a Nissan dealership and someone traded in an 04 Sentra Spec V with no compression. I was in need of a new winter beater/daily so I bought it for $600. Nissan makes an excellent 3.5L V6 called the VQ35. This engine is used in Altima, Maxima, Quest, and Murano cars, and a variation of the same engine was also used in 350Z and older Pathfinders. I had heard of VQ35 swaps into Sentras before buying mine and was really interested in them, but after figuring out costs I decided the only way it could be done economically was to buy a complete VQ powered manual trans parts car, which isn't a very common thing.
Here's the Sentra:

I initially planning on rebuilding the QR and as the first step ordered an OBX header from Amazon to eliminate the cat. As fate would have it, after a couple weeks Amazon never shipped the header and refunded me the money. At the same time, a 5 speed 2003 Altima showed up at the local public insurance auctions. I took a morning off work and won the auction for $475
My donor Altima: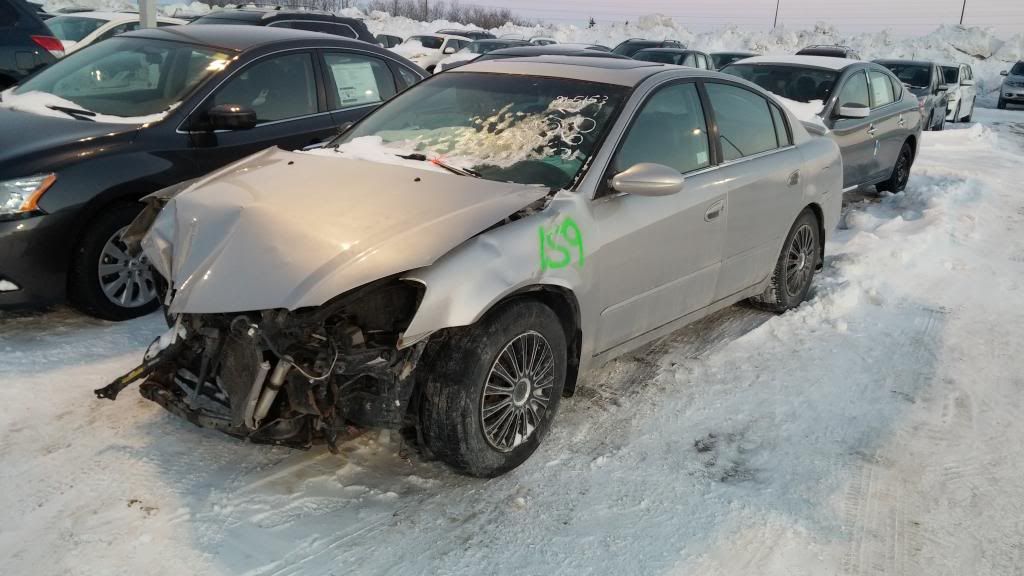 It had been hit pretty hard and there was some casualties. After cutting away the front end I was able to program my Sentra key to the car and start it up to make sure everything was good.
The accident had pushed the frame rail over into the alternator, smashing it to pieces and taking a small chunk of the inner timing cover with it. The A/C compressor escaped any damage, the front primary O2 was bent, and the IPDM (Intelligent power disctribution module - NIssan speak for a "smart" fuse and relay box) suffered some cosmetic damage.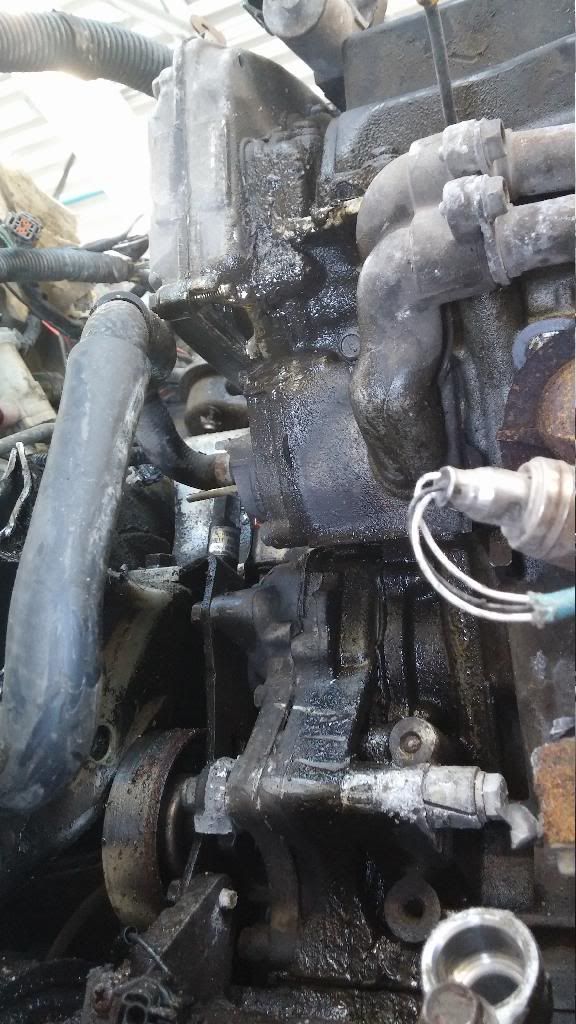 Free!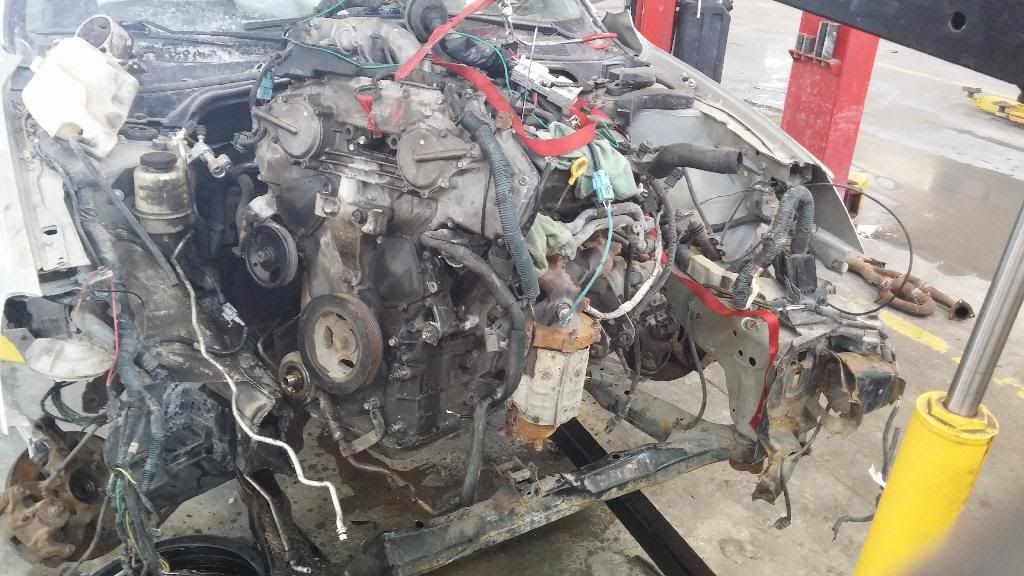 The car had 213,000kms (~132k MI) on it but the engine has clearly been out before (some missing bolts and stuff...) and had junkyard marker on the intake manifold so I don't know it's mileage.
Fixing the timing cover: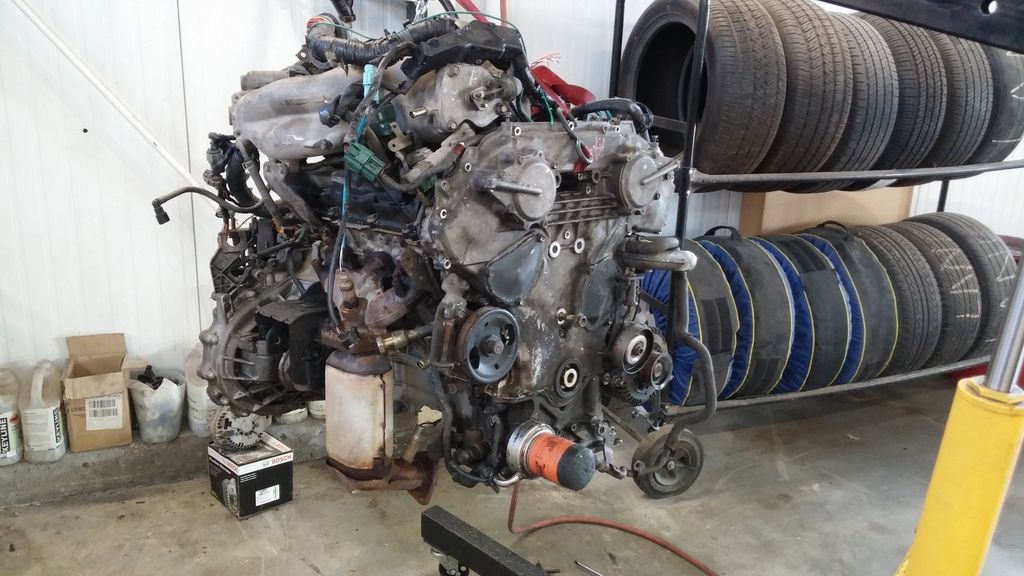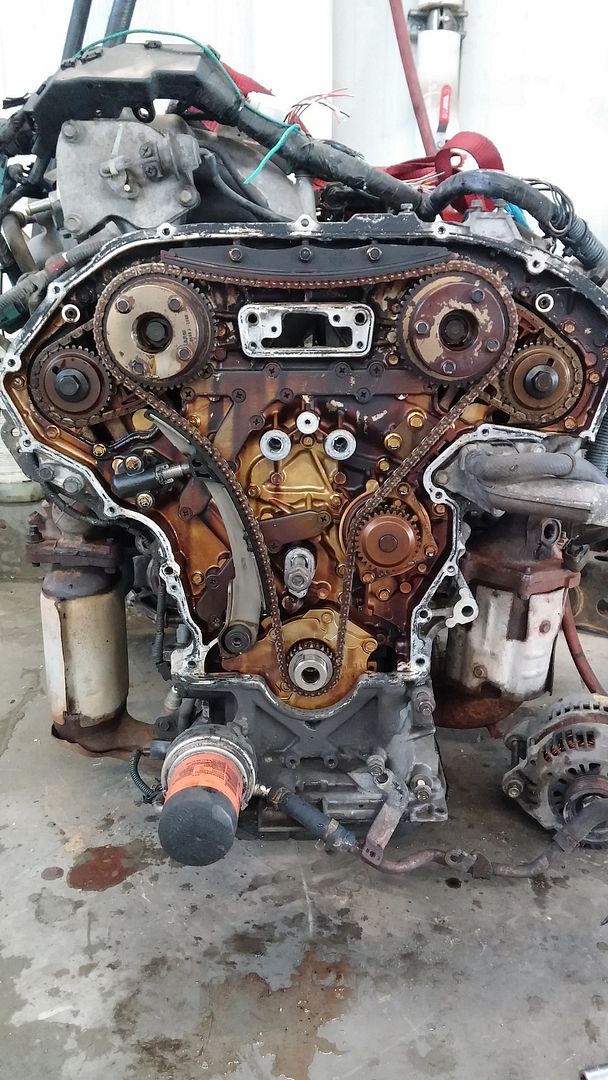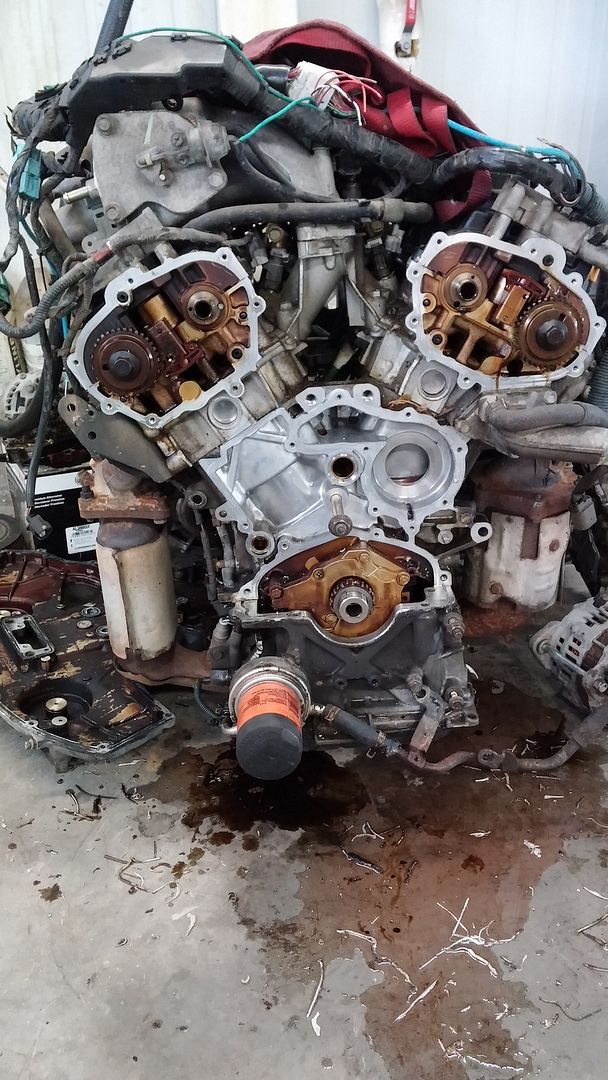 New inner cover from a junked VQ at work ready to go on: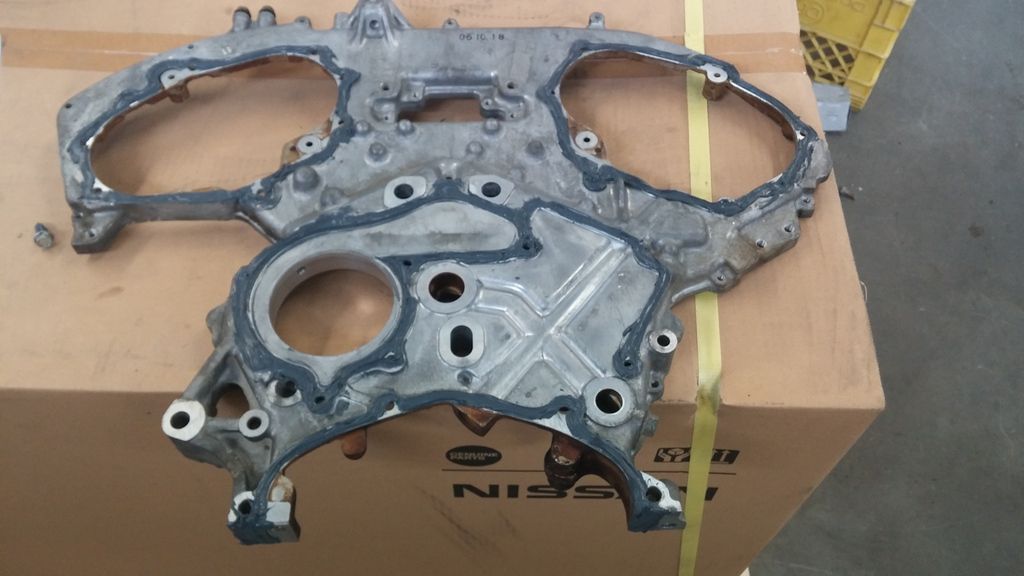 Also de-pinned and replaced the cracked connector for the front O2:
New inner cover on: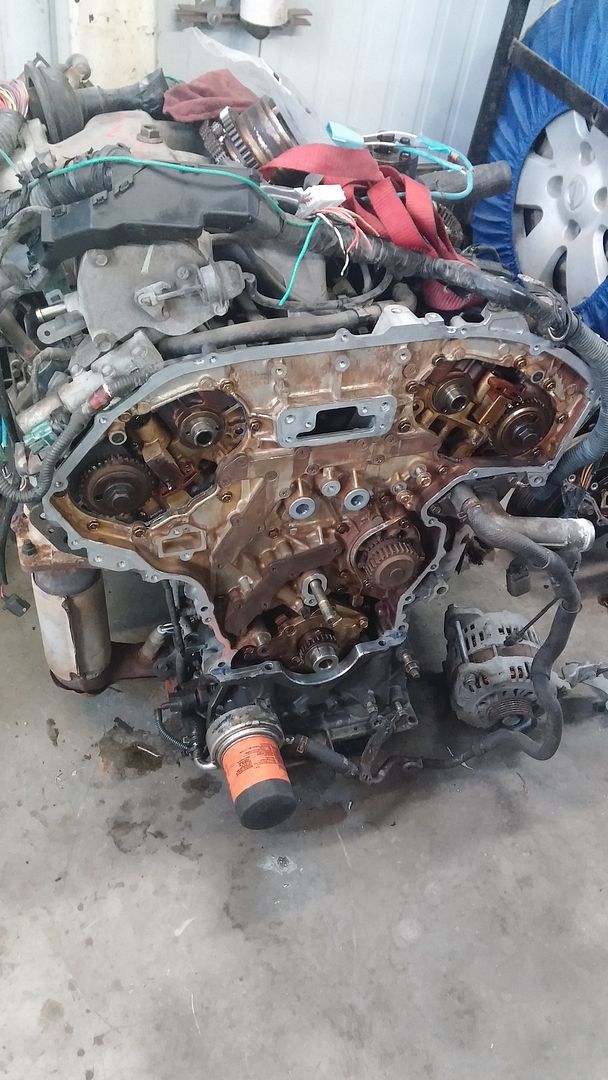 I seem to be missing some pictures, but I put a new OEM Nissan main timing chain, tensioner and guides in on re-assembly.
I placed the engine into the Sentra and got to work fabricating a passenger side engine mount.
I copied an idea from a user on the Sentras forums and cut the stock Sentra mount down to make a platform, and welded together a 4" spacer to raise the stock Altima mount up.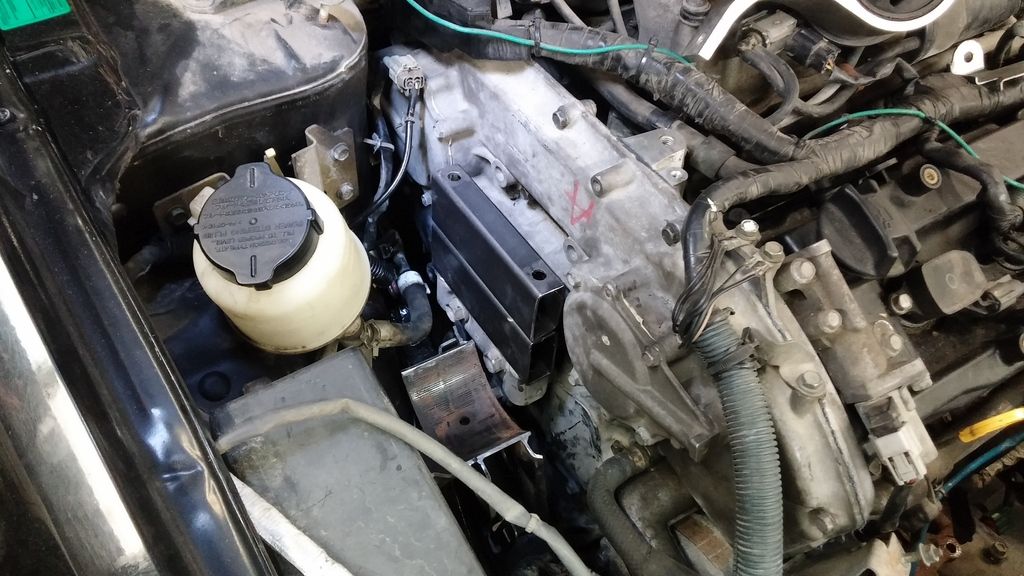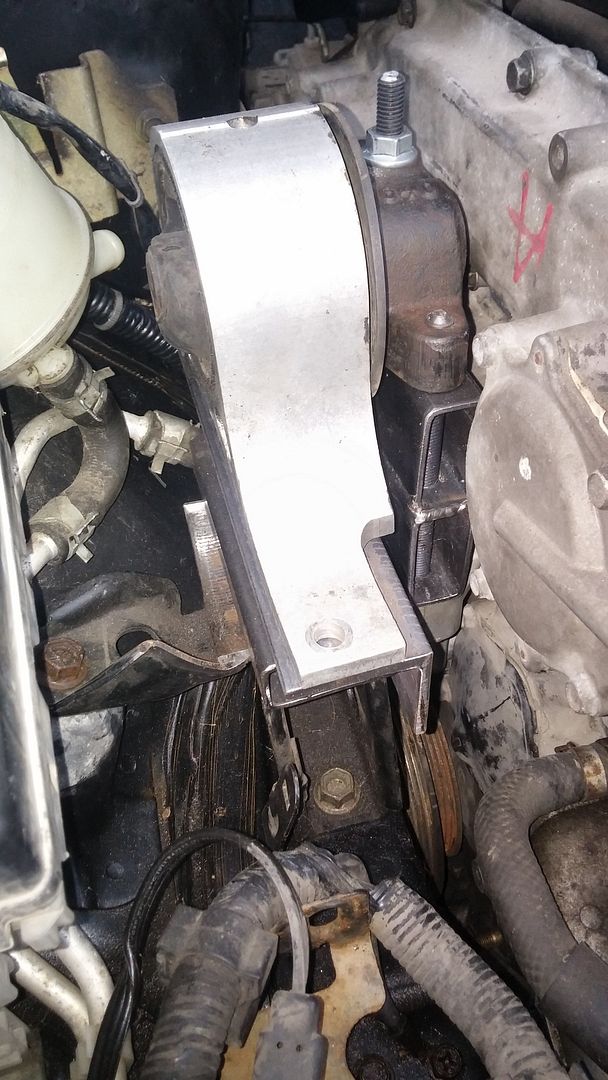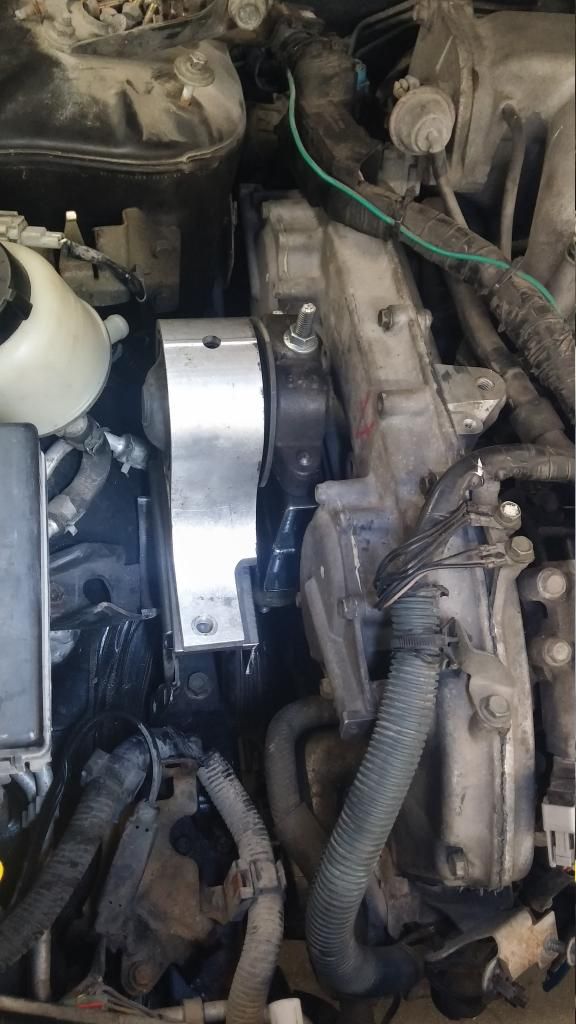 This was my first real attempt at fabrication, and I quickly got fed up with my slow progress. I then decided to order a mounting kit from a company called 2J Racing.
Trying to install the mounts which only resulted in frustration for me, so I decided to walk away from the mount issue and just focus on wiring it up. This is early 2015 now.